This post may contain references and links to products from our advertisers. We may receive commissions from certain links you click on our website. As an Amazon Associate Rhythm of the Home earns revenues from qualifying purchases.
Please consider making a donation if you like our article. Our website depends on donations from visitors like you! Share this article:
Thanks to massive improvements in display technology, you can find nowadays many impressive TVs that are ultra-thin. These are ideal for taking up less space in the living room while providing an extra stylish look for any area. If you wish to invest in the thinnest and slimmest TVs available right now, you've come to the right place. This article contains a great selection of televisions with various features and screen sizes. The only thing they have in common is the thickness of fewer than three inches.
Opting for a very thin TV can be a smart idea, especially if you plan on mounting the device on the wall. The reduced thickness will create a more elegant visual effect that's easier to integrate into the room's overall design. Although it's safe to say that you need to spend a lot of money for an ultra-thin TV, there are a few models that can also fit smaller budgets. This article aims to provide you with a balanced list of the best ultra-thin televisions currently on the market. Check it out down below.
Buy On AmazonBuy On Walmart
With a very competitive value-per-cost ratio and decent thinness, the TCL 55-inch 6-Series is worth a shot. This Smart TV offers 4K image quality through its QLED Quantum Dot display. It's packed with THX Certified Game Mode while arriving with optimized voice control features to enhance user control. There are four HDMI inputs provided while the Mini-LED technology delivers excellent picture clarity.
Although the frame isn't as slim as other models on the market, it still manages to keep the thickness under 3". It appears like a budget TV at a first impression but the unit packs a lot of punch in terms of performance. The TV features Dolby Vision HDR which enhances details to a new level. It's a perfect companion for watching movies or TV shows but gamers can also enjoy the large screen via its dedicated Game Mode. Various settings are optimized for smoother gameplay.
Best Small Ultra Thin TV
Buy On AmazonBuy On Walmart
The LG C1 Series represents a great choice if you're searching for an OLED 4K TV that features an ultra-thin look. With impressive thinness of just 1.8″, this is truly a spectacular television to include in any living room. Although the slim appearance makes this model stand out, it's also a remarkable TV in terms of image quality. The OLED technology with self-lit pixels delivers incredible contrast and color performance.




The TV is available in multiple size styles to fit the dimensions of your room. You can opt for a diagonal size ranging from 48 to 83 inches. This is a balanced 55-inch model that should be an ideal choice for most people. Aside from a breathtaking cinema-like experience, this ultra-thin TV also boasts Game Optimizer technology for better performance in games as well as advanced voice control features. The latest AI processor from LG makes a huge difference to bring any type of content to life.
Best High End Ultra Thin TV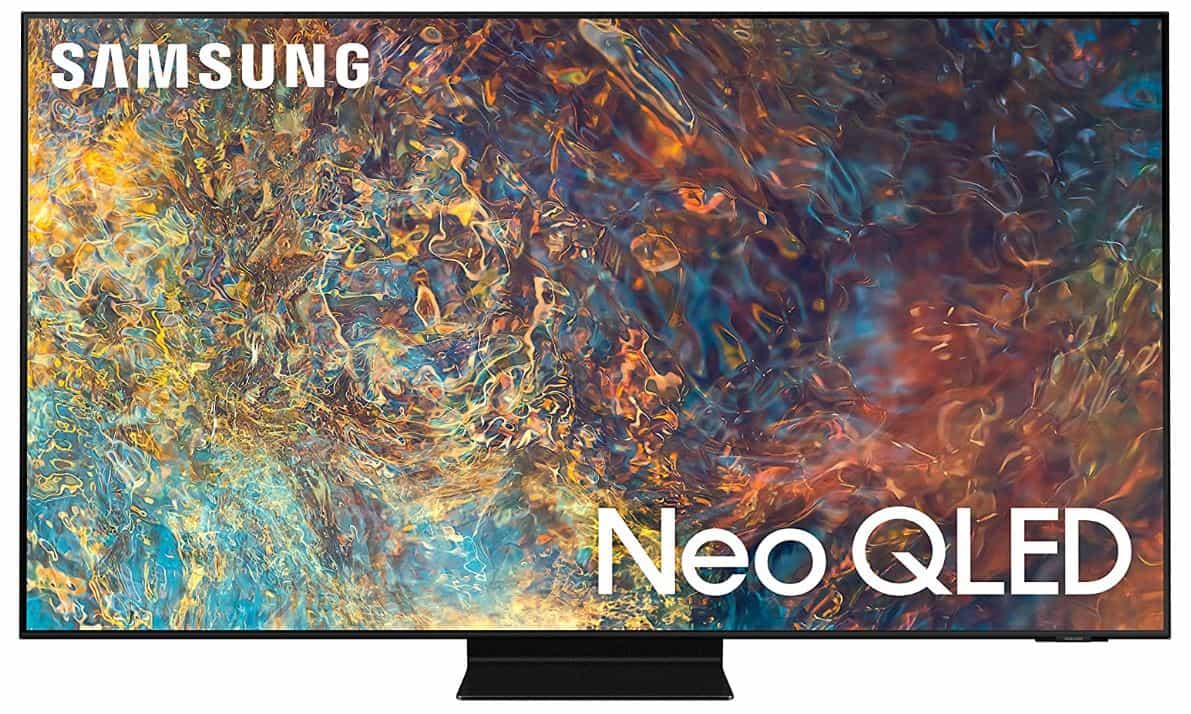 Buy On AmazonBuy On Walmart
One premium ultra-thin TV option comes from Samsung. The QN90A series has a lot to offer for the cost. This is the latest generation of QLED televisions from the Korean manufacturer. It features state-of-the-art Quantum technologies and sophisticated visual enhancements. Despite promising image quality, the TV makes no compromises when it comes to looks. It features an amazingly slim depth of just 1″ so that it looks fabulous even when the TV isn't in use.
Thanks to the Quantum Matrix and HDR 32X image enhancements, you will be able to see movies and TVs in a completely new light. Every color and detail is spectacularly showed to create memorable scenes that bring the cinematic vision of the director to life. Considering the price range, it's not surprising to see this level of picture quality. You will also benefit from Object Tracking Sound+ realistic audio performance and a fine-tuned gaming experience.
Buy On AmazonBuy On Walmart
Sony is another important brand to consider if you're in the market for a premium 4K TV that shows an extra-slim design. While the A80J model isn't as thin as other models out there, it still achieves a respectable depth of just 2 1/2″. It's certainly an attractive TV no matter where you decide to put it in the room. When it comes to image performance, this Sony television won't disappoint.




It's equipped with a revolutionary XR cognitive processor that will automatically adjust image quality for the ultimate visual experience. Paired with the contrast performance expected from an OLED screen and the TRILUMINOS PRO color boosting, it's safe to say that you'll feel like bringing the cinema into your home. Choose between various other sizes if 55 inches doesn't feel like the right one for you. This model is also available with larger screen sizes such as 65 and 77 inches.
Buy On AmazonBuy On Walmart
A more budget-friendly option for an ultra-thin TV, the Samsung Q60A deserves an important place on our list. It integrates many advanced features for delivering brilliant picture quality. The lower cost can be easily explained by the smaller screen size of just 43 inches. The series also provides other options all the way to 85 inches if that's too small for you.
The main highlight of this TV's construction is probably the ultra-thin depth that makes this model ideal for wall mounting. You'll be able to more easily enjoy the vibrant colors and bold contrast of Dual LED and Quantum technologies packed here. It features AirSlim construction that's focused on minimalist details and the sleekest appearance possible for a TV. While Samsung includes a TV remote in the package, you can also set up voice control commands with the help of the integrated Alexa assistant.
Best Large Ultra Thin TV
Buy On AmazonBuy On Walmart
With an ultra-thin design of just 1″, the Samsung AU8000 series shouldn't be missed. This is a relatively affordable line of televisions available in multiple screen dimensions from the smallest 43-inch model to the largest 85-inch version. Although it lacks more advanced Quantum or Dual-LED technologies, this is still an impressive 4K TV that won't disappoint in terms of image quality.




The TV features a reliable Crystal 4K processor with the characteristic vibrant colors that you can expect from Samsung. Thanks to its very slim design, the TV is ideal for wall mounting to create a refined look in any room. Keep in mind that you need to purchase the required hardware separately. In terms of functionality, this Samsung TV offers the usual suite of great features such as multiple voice assistants, tailored content recommendations, and a total of three HDMI ports.
Best Budget Ultra Thin TV
Buy On AmazonBuy On Walmart
If you want your TV to work like a slim picture frame, your best bet is to make an investment in the Class Frame series from Samsung. Check out this ultra-thin 4K TV measuring 50″ that's engineered for seamless wall mounting without leaving any unsightly gaps behind. As opposed to regular televisions, this model features an Art Mode that lets you display some beautiful artworks when not in regular use.
The thinness of just 1″ represents an important aspect for those who want to enjoy a premium look. This TV offers some interesting features to customize the frame style to your liking so you can truly create a masterpiece. When it comes to the image performance under the hood, the TV is equipped with Quantum Dot technology and high-end 4K AI processor so there's no compromise in terms of cinematic qualities.
Buy On AmazonBuy On Walmart
Anyone who values a slim look in their TV won't necessarily have to spend a fortune. There are some ultra-thin 4K TVs out there that still manage to be accessible for budget-conscious users. A notable example is the LG UP8000. Available in different size versions such as 43″, 50″, or 65″, this stylish TV can bring a decent entertainment experience in an attractive package.




This is a fairly standard 4K TV compared to more premium options but the image quality can exceed your expectations at this cost. It's equipped with a reliable quad-core 4K processor to maximize clarity in any scene while the Active HDR technology takes control of color performance for a brilliant movie-watching experience. With the help of an advanced ThinQ AI interface, users can control the TV more effectively. Other notable highlights include Game Optimizer, Sports Alert, and Filmmaker Mode settings.
Buy On AmazonBuy On Walmart
The LG NanoCell 75 is a well-designed ultra-thin 4K TV that's quite reasonably priced for its abilities. It boasts many versatile features to create a solid all-around entertainment experience. One of the most notable characteristics of this TV is the NanoCell display that offers an enhanced color spectrum and superior contrast for crisp cinema-like visuals. Gaming is also fun on this TV thanks to its Game Optimizer settings.
This slim TV packs some integrated voice assistants to simplify user interaction. It's also equipped with an impressive range of wired and wireless connectivity options such as Bluetooth and multiple HDMI ports. Although this particular unit features a 50″ screen size, there are different versions available, including 43″ and 86″ models. Considering the premium nanoparticle lifelike picture quality and quad-core 4K processing power, this is an excellent ultra-thin television for the price.
Buy On AmazonBuy On Walmart
Another great QLED ultra-thin TV from Samsung, the Q70A series shouldn't be missed if you want a significant image quality upgrade compared to regular 4K LED models. This unit shows off a reduced depth that creates the impression of refined elegance that only a very slim TV can manage. At the same time, this model packs some powerful abilities to keep high picture quality standards.
The Dual LED backlighting is the most stunning feature because it can truly capture a full spectrum of breathtaking colors while taking contrast performance to a new level. As opposed to simple motion enhancement, this thin TV is equipped with Xcelerator Turbo+ that offers a massive performance boost at 4K 120Hz. The extra cost could be worth it for many users who want to elevate picture quality and still retain an ultra-thin stylish design.