This post may contain references and links to products from our advertisers. We may receive commissions from certain links you click on our website. As an Amazon Associate Rhythm of the Home earns revenues from qualifying purchases.
Share this article:
Instead of relying on herbicides that feature strong chemicals, you can get rid of weeds in your garden by investing in a specialized tool. Stand-up weeders take care of the physically demanding task of removing undesired plants from the yard. Elderly people with reduced mobility or anyone who finds garden maintenance a chore will appreciate this ingenious solution. The tool lets you grab pesky weeds sitting upright without having to experience back pain or muscle soreness.
Although stand-up weeders are incredibly convenient, not all of them are built in the same way. These tools boast different features and more distinctive abilities. If you're looking to tackle weed removal jobs more efficiently, it's important to make a smart purchasing decision. This article will help in that sense by showcasing only the best stand-up weeders for the money. Whether you prefer multi-claw or plug-style weeders, these are the most reliable models in terms of durability, ergonomics, and overall value for the cost. Check them out down below.
Buy On AmazonBuy On Walmart
There are many practical stand-up weeders on the market but few can match the value for the money provided by Fiskars. Check out the company's 4-claw weeder that lets you comfortably remove unwanted plants from your garden. Compared to costly herbicides, this tool is a much more reliable investment. It features a long shaft and serrated claws for grabbing and cutting the toughest weeds.
While you will still have to deal with some manual work, this weeder can be considered a gamechanger compared to simply pulling weeds by hand. The long shaft length prevents bending your back and painful kneeling. With the help of the stand-up weeder's metal claws, you can grab the targeted plants firmly complete with their stubborn roots. If you're dealing with some extra hard soil, you can apply more force through the sturdy foot platform.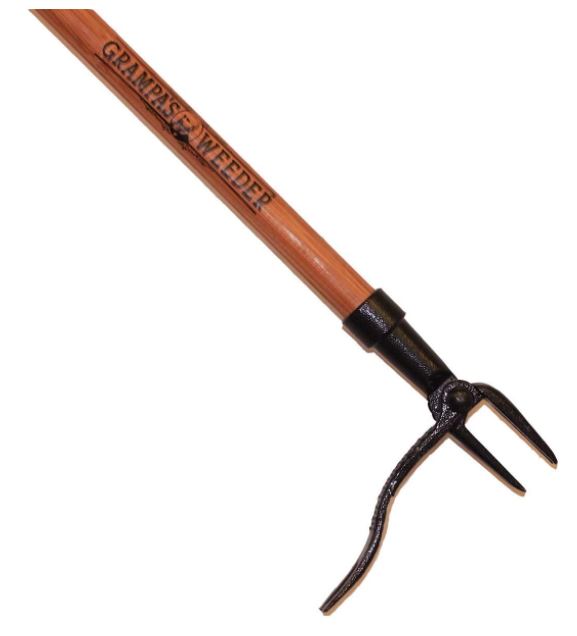 Buy On AmazonBuy On Walmart
If you're looking for a traditional weed puller tool, take a look at Grampa's Weeder stand-up model. It relies on timeless design abilities while making use of modern construction techniques to improve the level of durability. Ever since 1913, this tool has helped gardeners maintain a lush garden free of pesky weeds. At the same time, the stand-up weeder design ensures that you will not have to deal with back and knee pain.
You can operate the 4-claw head of the weeder while standing up comfortably thanks to the addition of a 45-inch handle. Although it's recommended to remove unwanted plants in the yard when the soil is wet, the weeder is strong enough to handle any type of soil. While the design is quite simple, it's a highly efficient tool in its purpose. You can depend on it to last a long time considering the powder-coated metal construction.
Buy On AmazonBuy On Walmart
The Corona GT 3040 is a reliable stand-up weeder that's easy to use and very portable. It's crafted with an aluminum handle that allows convenient extending according to the weed-removal job at hand. The weeder extends from 18 inches in its most compact form to 32 inches at its full height potential. Thanks to heat treatment, the head of this tool feels robust enough to withstand pulling weeds for a long time.
A high-quality stand-up weeder needs to be comfortable to use without hand fatigue setting in. This model is equipped with a textured grip designed for reliable shock absorption as well. It's a pleasure to hold in your hand when you also take into account the weeder's reduced weight. Another notable feature is the special coating added on the head of the weeder to protect against rust.
Buy On AmazonBuy On Walmart
A very performant stand-up weeder for the cost, the Garden Weasel step-and-twist model provides you with a convenient system for weed removal. It allows you to extract the unwanted plant completely with its root system to do a more effective job. The weeder boasts a practical stand-up operating style thanks to its considerable handle shaft length of 36". You just need to press the tines and twist the handle to get the weeds out.
With the help of the thumb release, you can speed up your workflow by quickly removing the extracted plant from the metal tines. The construction of this weeder tool relies on high-quality carbon steel that's virtually impervious to rust. You can take advantage of superior versatility considering the ability of the weeder to work well for digging planting holes in the garden. All in all, this is a highly recommended stand-up weeder to simplify gardening chores.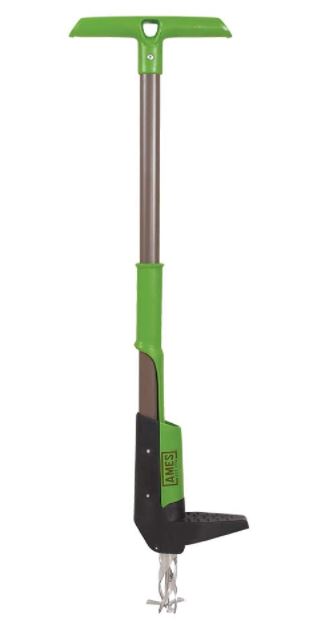 Buy On AmazonBuy On Walmart
With a sturdy and ergonomic design, the AMES stand-up weeder lets you handle the removal of undesired plants without resorting to strong chemicals. It provides a natural weeding solution while keeping your back and knees healthy. The tool is equipped with a practical steel ratchet system and a sliding ejection mechanism. This means you can quickly grab the weeds together with their roots and throw them directly in the garbage or compost bin.
The plunger design of the stand-up weeder has a unique construction to also contribute to soil aeration. Comfort matters a lot when it comes to using any kind of gardening tool. This model won't disappoint considering its reliable T-grip that maximizes the level of control in the process. When you take into account its innovative design, bending-free operation, and lack of yard damage, it's safe to say that AMES made a great stand-up weeder for the price.
Buy On AmazonBuy On Walmart
Some weeds in the garden can be particularly tough to remove. For these types of jobs, you should consider a more robust stand-up weeder that offers industrial strength such as the Radius Garden 205 PRO. It's built using stainless steel and carbon steel reinforced to maximize gardening work performance. This tool packs a highly comfortable thermoplastic grip while the elevated step makes it safer to use.
The weeder lets you deal with this gardening chore while sitting upright. It's primarily engineered for removing unneeded plants in the garden but you can also put it to good use for other tasks such as planting bulbs in hard soil. While there are many heavy-duty stand-up weeders on the market, this model is more impressive because it doesn't compromise in terms of weight. It's very comfortable to handle and won't cause fatigue as easily as others.
Buy On AmazonBuy On Walmart
Inexpensive and easy to use, the Yard Butler stand-up weeder deserves a mention on our list. It includes a special foot pedal to bring more dependable leverage in the process of weed removal. Press the button near the handle to quickly release the extracted weed and get on with your next task. The best part is that you don't even have to get your hands dirty in the process. Weeds can be tackled quickly and efficiently with this revolutionary tool.
Whether you have a garden full of crabgrass or struggle with invasive dandelions, the stand-up weeder can remove them all without chemicals. It's designed for reliable work in the long run considering the powder-coated steel construction. The jaws will easily grab even some of the most stubborn weeds complete with their roots. Although the handle isn't particularly comfortable, it's reasonably ergonomic and helps to get the job done.