This post may contain references and links to products from our advertisers. We may receive commissions from certain links you click on our website. As an Amazon Associate Rhythm of the Home earns revenues from qualifying purchases.
Share this article:
Candles that rely on soy wax are eco-friendlier and healthier to use compared to many other chemical-based alternatives on the market. Even though soy candles are typically slightly more expensive than regular paraffin-based ones, it's safe to say that the extra cost is worth it for their tremendous benefits. Most people shopping for candles to enhance the coziness of the room are usually only interested in the fragrance but that's only one factor to consider.
The strength of the candle's scent is important but you should also take into account how it affects the air quality in the room. A soy candle burns cleaner due to its natural vegetable wax that doesn't leave any harmful residues in the air. Another notable advantage is the longer-lasting burn style. At the same time, you can fill the air with a very nice aroma that stays pure and fresh thanks to the soy candle's natural properties. Check out the best options available right now to try the amazing benefits of soy candles.
Best Scented Soy Candle
Buy On AmazonBuy On Walmart
If you're searching for a high-quality soy candle that's long-lasting and cost-effective, this Chesapeake Bay model can enchant the atmosphere in any room. This scented candle offers lots of great aromas to choose from as well as multiple sizes to meet different needs. It relies on a quality soy wax blend with fragrances based on natural essential oils.
Each soy candle features a convenient self-trimming wick and is designed to be eco-friendly. It has imported ingredients but it's poured in the USA to ensure the best level of quality possible. When it comes to lasting performance, this soy candle won't disappoint. It has a burn time of around 70 hours. All the fragrances contained in these soy candles draw inspiration from local fruits and botanical flavors. This unit also features a stylish design that's paired well with the relaxing vibe of the candle.
Best Long-Lasting Soy Candle
Buy On AmazonBuy On Walmart
Made in the USA using premium ingredients, the Lulu Candles scented soy candle could be a very attractive choice for the money. It can enchant your sense of smell through a wide range of fragrances such as fresh linen, wild lemongrass, cedarwood-infused mango, and many more. The soy candle offers a cotton wick and promises an incredibly long burn time to enjoy the scent as long as possible.
Thanks to being handcrafted in the USA, the candle shows off better workmanship than cheaper alternatives. When it comes to the soy wax formulation, only natural ingredients are used without animal products or parabens. It's also engineered to burn cleanly while slowly releasing the infused fragrances. Although all aromas of this soy candle feature essential oil-based fragrances, synthetic perfumes can also be added for certain scents.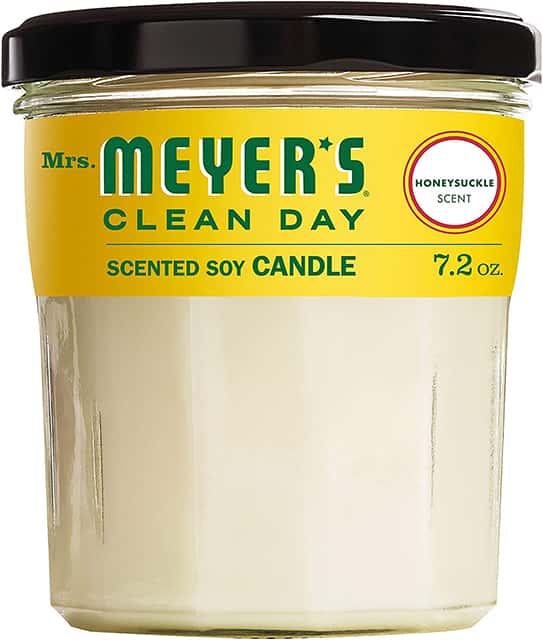 Buy On AmazonBuy On Walmart
Anyone who wants a reliable aromatherapy candle should check out Mrs. Meyer's Clean Day. This company's soy candle promises great value for the cost by using a clean-burning soy wax blend and long-lasting scents. In terms of aroma options, this candle features many pleasant fragrances including honeysuckle, apple cider, basil, and lemon verbena. The candle uses a glass jar that's fully recyclable.
Another great detail of this model is the use of a lead-free candle wick that provides a burn time of approximately 35 hours. That's quite a decent result considering the 7.2-ounce size of the candle. This product isn't tested on animals. Keep in mind that it relies on a blend of soy wax and vegetable wax so the formula doesn't contain 100% pure soy. Whether you're busy with some house chores or plan to enhance the atmosphere when receiving guests, this is a highly recommended soy candle.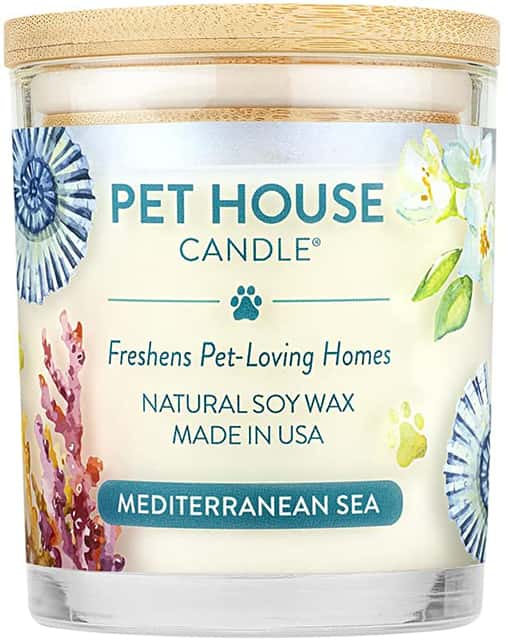 Buy On AmazonBuy On Walmart
The One Fur All soy candle is made from natural ingredients without toxic chemicals and boasts great pet odor elimination properties. When it comes to fragrance types, there's a great variety available to suit all kinds of tastes. There are garden-inspired scents such as fresh cut roses and lavender, fruity aromas like mandarin sage and ruby red grapefruit, and delicious fragrances such as pecan pie and hot cocoa.
Thanks to using 100% soy wax, you can expect clean and long burn times. The formulation steers clear from dyes, phthalates, and formaldehyde so you can enjoy a fully non-toxic fragrance without affecting your indoor air quality. The soy candle's wick is crafted from cotton and can last for around 60 hours. Aside from contributing to a more pleasant atmosphere, the infused fragrance also works very well to clean the environment from unwanted pet odors.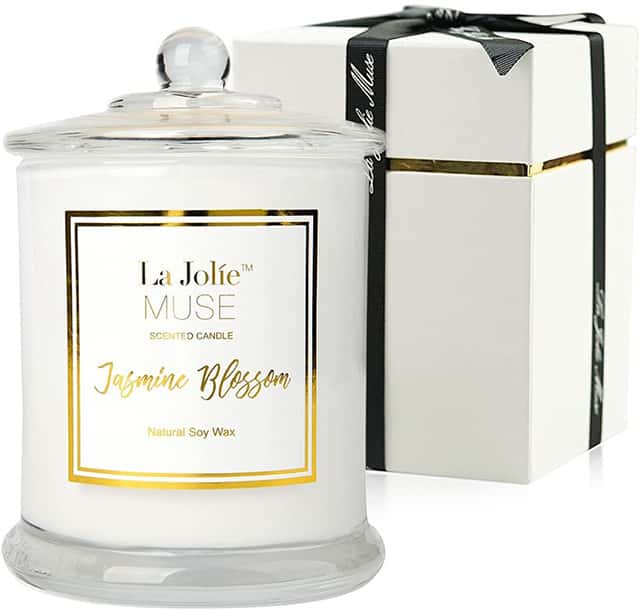 Buy On AmazonBuy On Walmart
One excellent soy candle comes from La Jolie Muse. This is a luxurious model that offers jasmine, plumeria, wild rose & fig essential oil versions to improve the ambiance of any room. The soy candle delivers an intense fragrance that has the ability to work as a natural remedy against stress and relaxes your mind. While the formulation is important, the look of the candle matters as well.
It looks like this is one of the most elegant soy candles out there considering the translucent design and stylish tint of the heavy-duty glass jar. The candle arrives in a beautiful gift box to improve the sense of receiving a premium product. It's made using 100% soy wax without any extra ingredients aside from a great-smelling fragrance. Together with the addition of a cotton wick, this soy candle can provide long-lasting burn times of up to 60 hours.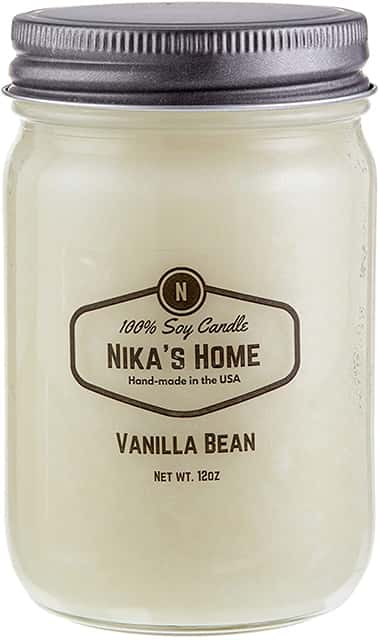 Buy On AmazonBuy On Walmart
Those who like the rustic aesthetic of a mason jar candle should consider Nika's Home soy candle. It features a concentrated vanilla bean fragrance that's designed to fill the room with a delicate aroma and enchant your senses. The candle is built using simple, natural ingredients to provide a pure aroma without harmful chemicals. The wax is white because it lacks dyes and the cotton wick doesn't use lead.
As opposed to other soy candles on the market, this unit features 100% soy wax without any other blended additives. This not only ensures long-lasting performance but also a cleaner burn quality. The wick is specially designed to prevent wasting wax through uneven burning. Once the candle's wax fuel is finished, you can also take advantage of a reusable mason jar so that's a neat bonus feature.
Buy On AmazonBuy On Walmart
If you need a larger soy candle, make sure you don't miss this 22-ounce model from Milkhouse Candle Company. It's not a pure soy candle because it also incorporates beeswax to maximize the burn time as much as possible. This beautiful candle is like a solid investment for the atmosphere of any room. Take your pick between lots of fresh fragrances such as eucalyptus lavender, caramel apple, and sweet woods.
Similar to other high-quality soy candles, this unit boasts a cotton wick for the cleanest burn experience possible. Each scented candle is infused with premium essential oils for creating a relaxing ambiance anywhere. The farmhouse-inspired design also contributes to your overall enjoyment through a stylish decorative effect. This soy candle is sustainably made in the USA. It promises an extended burn time that can reach approximately 120 hours.