This post may contain references and links to products from our advertisers. We may receive commissions from certain links you click on our website. As an Amazon Associate Rhythm of the Home earns revenues from qualifying purchases.
Share this article:
While there are many aspects that play a role when it comes to getting a good night's sleep, it's safe to say that many people downplay the importance of having great sheets. Some fabrics and materials are better than others in terms of comfort. It's essential to avoid scratchy or hot feelings if you're trying to get a restful sleep. Low-quality sheets can pose other problems as well given how they're less durable or reliable overall. It's time to invest in a high-quality set of sheets and get rid of all these issues.
There are lots of details that can each have its own contribution to crafting a high-quality sheet set. Finding sheets that offer an optimal balance in terms of texture, warmth, and moisture represents a challenging task. This article intends to simplify your research and enable you to make your selection for the next set of sheets only from the best products currently on the market. Important aspects like budget considerations have been taken into account so you should find a comfortable set of sheets that's truly worth the money.
Best Overall Sheet Set
Buy On AmazonBuy On WalmartBuy On Target
Silky soft and incredibly easy to care for, the Mellanni bed sheet set has all it takes to transform your sleeping experience and enhance your mornings with fresh energy. While other sheets only offer elastic around the corners, this set takes it a step further and provides all around. The brushed microfiber used offers an impressive level of quality for the cost.
Whether you plan on getting some simple light gray sheets or want a more flamboyant choice like hot pink or bright orange, this set provides you with a great selection of shades to choose from. Durability-wise, this sheet set allows you to indulge in silky soft comfort for quite a long time considering the solid fade and stain resistance. Similar to other microfiber sheets, these are crafted to be light and breathable so you can be refreshed in the morning even if you sleep through a hot night.
Buy On AmazonBuy On WalmartBuy On Target
Available in a vast range of vibrant colors and patterns, this 4-piece sheet set from Sweet Home Collection delivers premium quality at a reasonable price. Thanks to its deep pockets, this set should easily accommodate mattresses with a maximum size of 16″. In terms of maintenance, the 1500 Supreme sheets require a thorough machine wash at a low temperature.
If you take good care of these sheets, they will last for a great deal of time. Make sure you wash them in cold water and never use bleach. Go for a more exotic color choice if you wish to add some character to the bed and craft a magazine-like appearance. This sheet set provides many beautiful shades as well as a nice collection of abstract collection to improve the visuals all-around. Thanks to the double brushed design, this microfiber sheet set promises an excellent balance between comfort and durability.
Best Microfiber Sheet Set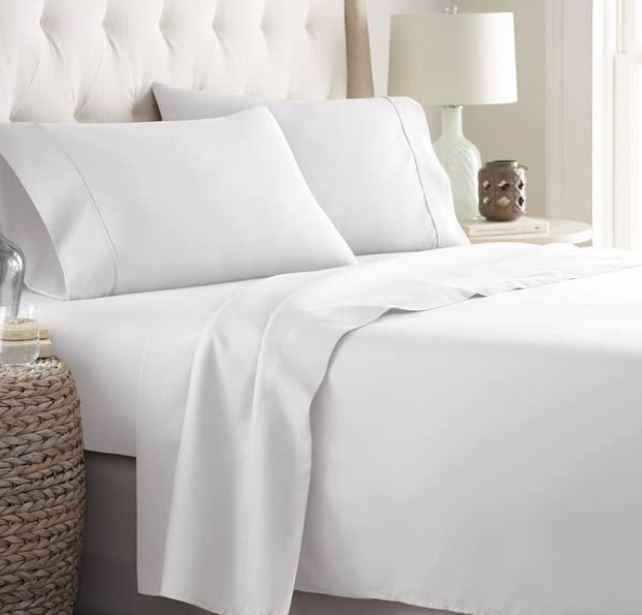 Buy On AmazonBuy On Target
HC Collection's 1800 Platinum Series stands out on the market for sheet sets due to its luxurious and practical design. Double brushed microfibers are used in the construction of the sheets. The professional workmanship focuses on creating a softer and more breathable material compared to other sets while boosting the overall durability to craft long-lasting sheets.
While there aren't as many color choices as you can find for other sheet sets, this model makes up for that through its top-quality construction. The tailoring is professionally done so you can enjoy a plus of elegance in the bedroom. Just by taking a look at these sheets, you can get a reasonable impression about how they feel to the touch. The brushed microfiber is soft, hypoallergenic delivering solid resistance to wrinkles and fading. HC Collection provides an optimal value per cost ratio for this sheet set.
Best Cotton Sheet Set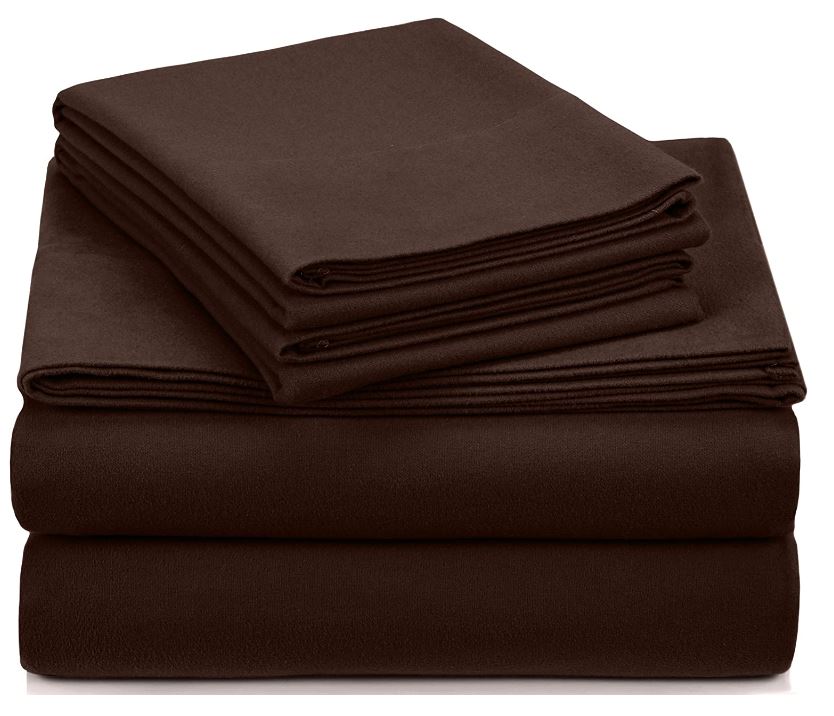 Buy On AmazonBuy On Target
Built to respect the highest construction standards, the Pinzon Signature 190-Gram sheet set could be an ideal model for those who prefer a velvet flannel texture that provides superior comfort. The sheets are made in Portugal and include pillowcases. Only 100% high-quality cotton is used in the manufacturing process which has combed yarn for extra strength and removal of uneven fibers and debris.
Given how it makes use of flannel fabric type, this sheet set promises a balanced combination of both softness and durability. An extra construction detail is the napping on both sides which contributes to warmer sheets for the winter season. This set contains pillowcases as well and the color choices are reasonably varied. There's even a patterned option with colorful flowers. All in all, this is a great year-round set of cotton sheets for the money.
Best Budget Sheet Set
When it comes to budget sheet sets, perhaps the best solution is to get this microfiber model from AmazonBasics. It might surprise you with its softness considering the reduced cost. The sheets deliver a decent level of comfort suitable for a college dorm room or apartment. While you won't find some impressive quality features here, this is still a great set to have for everyday use or as a fresh backup.
The sheets have a natural resistance to wrinkles and despite the suppleness, they're fairly durable. You can purchase the sheet set in multiple size options including Twin, King, and Queen. You shouldn't experience problems with fitting on the mattress as the sheets are carefully designed to form the best match possible. The stretchy elastic will definitely help to give you a comfortable sense of security that the sheets are correctly attached on the bed.
Buy On AmazonBuy On WalmartBuy On Target
Designed with maximum comfort in mind, the Bare Home Premium 1800 is a set that offers 100% microfiber sheets. It's carefully tailored to fit your bed size as snuggly as possible offering a reliable durable elastic. The craftsmanship can easily remind you of premium hotel sheets that need to be both durable and soft. Another aspect that you will like about this set is the use of double-brushed microfiber yarns.
If you're prone to allergies, this sheet set will help you sleep better considering the breathable hypoallergenic material. The construction process for the sheets has been done while taking many aspects into consideration so that the final product is resistant to fading, wrinkles, stains, and will stand the test of time overall. Thanks to the OEKO-TEX certification, you can rest assured that this bed sheet set doesn't have any harmful substances. Solid value for the money.
Best Deep-Pocket Sheet Set
Buy On AmazonBuy On Target
Able to fit nicely even larger mattresses thanks to its deep pockets, this well-crafted sheet set from Southshore Fine Linens shouldn't be missed. The manufacturer opted for 110 GSM double-brushed microfiber promising enhanced durability without sacrificing the comfort and style. A lot of attention went into stitching and fabric construction details to create a high-quality sheet set.
If you are picky about your sheets, this set is definitely able to satisfy you. While other polyester sets can feel scratchy and not particularly breathable, this one seems to be an exception. It provides a soft, brushed feel that's can only be described as luxurious. Despite repeated washings, the sheets can maintain their qualities so it's obvious they were made to last. A great aspect in regard to this set is that it offers true deep-pocket sheets.
Buy On AmazonBuy On Walmart
Comfortable, practical, and affordable, the Nestl Bedding 4-piece sheet set features lots of interesting features if you're looking for some nice microfiber sheets. Aside from the lightweight construction, hypoallergenic properties, and snagging resistance, the sheet set also stands out thanks to its impressive range of colors you can choose to match the look of your bed more easily.
Thanks to a powerful elastic, this sheet set is fully capable of delivering a secure fit. This is important because sheets moving around at night can impact your sleep. The set is pet-friendly and easily machine washable for your convenience. Organic cotton sheets might be preferable for some, but choosing polyester instead can come with some nice benefits aside from the reduced cost. These sheets are sturdier compared to cotton and double brushed on its sides. Surprisingly great quality at a fair price.
Offering a smooth feel and durable construction, this 4-piece sheet set from Utopia Bedding easily makes it on our list. With the help of a careful manufacturing process, the microfiber has been treated to keep wrinkling and color fading to a minimum. The brushed yarns design ensures adequate softness and a superior level of breathability for a restful sleep at night.
The texture of this sheet set is comparable to the soft feeling offered by more expensive models. It can even rival cotton fabrics in some regards as the microfiber promises a plush texture that's also breathable. There's no need for special caring procedures to keep this sheet set in top shape. Just make sure you use a delicate cycle and cold water. Utopia Bedding's soft and cool sheets are fitting for a wide range of mattresses – definitely worth the minimal investment.
Buy On AmazonBuy On Walmart
If you want a refreshing sleep, investing a little extra in a high-quality sheet set definitely pays off in the long run. Check out this luxury model from Cosy House Collection. It features an incredibly soft polyester material that's specially designed to resist countless washings. The sheets are elasticized all around and can be purchased in a considerable range of vibrant color shades.
The microfiber fabric has been designed with an ultra-tight knit which means they can handle multiple washes without worrying about tearing. Thanks to the 1500 thread count, the microfiber quality is more than enough to take your sleeping experience to a new level of comfort. These luxurious bed sheets arrive in a special package with tassel-trim zipper ready to be gifted to someone if you want. Hypoallergenic, durable, and providing premium quality construction, this Cosy House Collection set is recommended.