This post may contain references and links to products from our advertisers. We may receive commissions from certain links you click on our website. As an Amazon Associate Rhythm of the Home earns revenues from qualifying purchases.
Share this article:
The delicate feel of satin can provide a unique textural sensation when the material is used for the bed's sheets. At the same time, the shiny look of satin can also introduce a sleek luxurious vibe to improve the appearance of any bedroom. Satin can rely on various materials such as polyester or silk that's woven specifically to create a soft texture that's more pleasant to the touch. Sheets made from satin aren't just comfortable and elegant but fairly durable as well considering the material's decent resistance to moisture.
Choosing the best satin sheets for the money can be a difficult task. There are various aspects that you should take into account, such as the fiber content and thread count. These details can indicate the softness of the sheets and the reliability of their moisture-absorbing properties. The appearance of a satin sheet set is also important to match your bedroom's design style. Make sure you choose the proper size to fit the dimensions of your mattress. Here are the best satin sheets available right now on the market.
Buy On AmazonBuy On Target
The Pure Bedding satin sheets rely on a quality synthetic material that feels incredibly soft and luxurious. It has great potential to improve your level of comfort while also boosting the style of the bed. The set of sheets can be purchased in a fairly large range of colors such as black, burgundy, purple, yellow, and navy blue. It contains only pure microfiber designed for a long lifespan.
Each pack contains four silky satin pieces so you can envelop the bed, pillows, and a comforter with the same comfortable style. When it comes to maintenance, these satin sheets won't disappoint. The material is reasonably durable against sunlight fading or liquid stains. Make sure you follow the correct cleaning instructions to keep the sheets looking as new. These synthetic satin sheets are more durable than cotton thanks to their impeccable workmanship and construction strength.
Buy On AmazonBuy On Walmart
When it comes to polyester satin sheets, few models can match the value for the money provided by MK Home. Take a look at this elegant set that offers a comprehensive selection of sizes and colors to cover any need or preference. Whether you opt for burgundy, gold, coral, or aqua blue satin sheets, it's safe to say that you won't be disappointed by the construction quality and soft texture.
Aside from flat and fitted sheets, this pack also contains two pillowcases so you can fully outfit your bed with the silky smooth touch of satin. All the sheets included are machine washable so there's no need to treat them like they're very delicate. The sturdy polyester can easily rival other sheet materials in terms of durability. Transforming your bed in a silky haven is a breeze with the help of this high-quality MK Home set of satin sheets.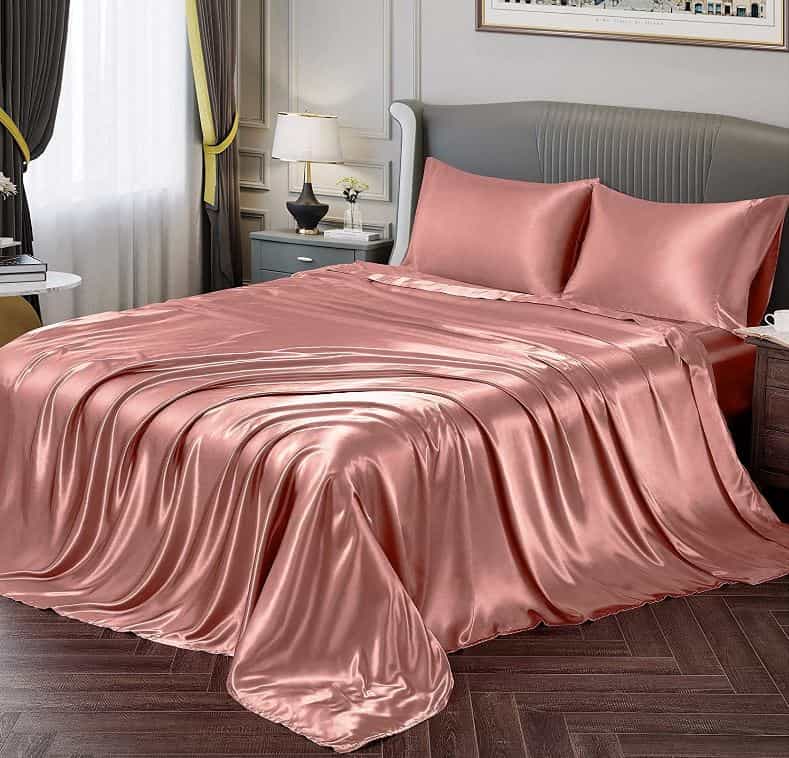 Buy On Amazon
Easy to keep clean and carefully designed for exquisite softness, the Vonty satin sheets deserve a top spot on this list. As opposed to other synthetic satin sheets out there, these show off a brilliant glossy luster that instantly makes any bed appear more luxurious. The fabric looks quite stylish but most people choosing satin sheets are usually more interested in the quality of the texture.
The smooth and soft feel of these sheets has great potential to enhance your sleep and contributes to a much more comfortable lounging experience. From blush pink and ivory white to navy blue and black, there are plenty of color choices to spruce up the look of the bedding. You can also pick matching sheets without too many hassles considering that the five most common size options are available. These satin sheets can be cleaned in the washing machine for added convenience.
Buy On Amazon
Anyone who wants to experience the luxurious feel of satin sheets needs to check out this set provided by Lanest Housing. It's a 4-piece pack of hypoallergenic sheets crafted using premium polyester with a high thread count. Each sheet has been carefully designed with an intensive weaving technique that results in an elegant satin appearance that's incredibly soft. You can easily feel like you're at a 5-start hotel in your home.
A multitude of colors and a few patterns are available to spruce up the look of any bedroom with fresh satin sheets. While the soft touch of the sheets feels great, you can also appreciate the ability of these sheets to keep you cooler compared to traditional alternatives. Thanks to meeting the OEKO-TEX standards of purity, it's safe to say that you're looking at premium satin sheets. Caring for this pack of sheets couldn't be easier. Just make sure you rely on cold water for washing.
Buy On Amazon
If you wish to enjoy the authentic feel of satin sheets, there are lots of options on the market. Not all of them can be as reliable as the Baltic Linen sheets with their vibrant colors and glossy appearance. These satin sheets are based on premium polyester with a balanced weaving style to ensure they can be comfortably used during all the months of the year.
While the selection of colors is more modest compared to other sheets, they offer all the classic options that are highly appreciated by homeowners everywhere such as ivory, gold, black, and red. From Full to Queen, King, and California King, the sheets provide many different sizes to try. Thanks to the addition of elastic corners, fitting these satin sheets won't take a lot of time. They'll eliminate the typical frustrations associated with the process.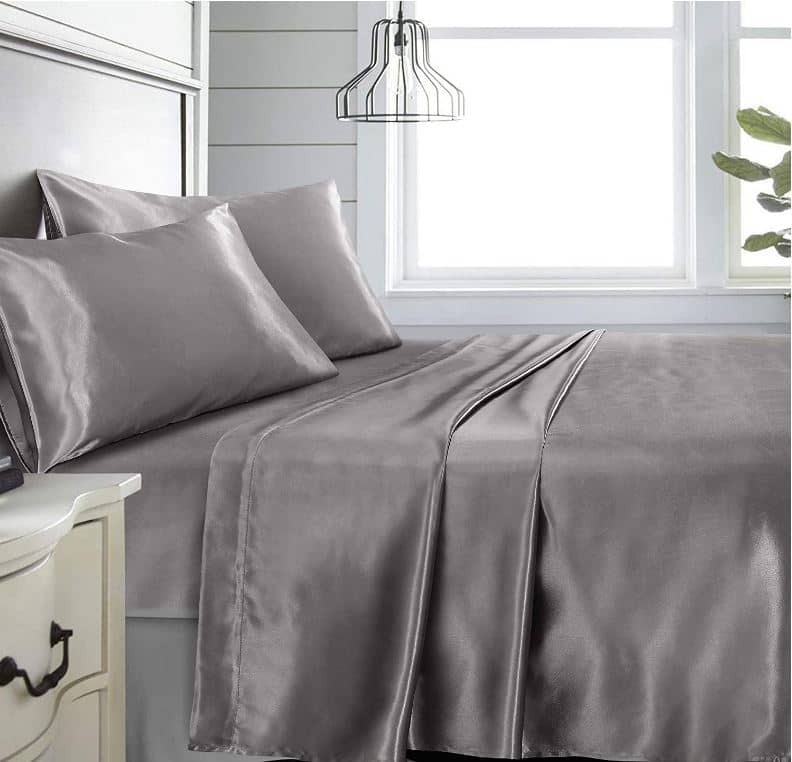 Buy On Amazon
With a silky-smooth design and an elegant solid color style, the Niagara Sleep Solution satin sheets deserve a closer look. This is an affordable set of satin sheets that provides deep pocket fitting construction and compatibility for all kinds of mattresses. They're even recommended for toppers or mattress pads. Thanks to their high thread count fabric, these sheets won't disappoint in terms of build quality.
The polyester satin boasts a silky finish that makes it feel very light and pleasant to the touch. The sheets have a fairly tight weave for durability reasons but they can be safely cleaned in the washing machine as needed. Although these sheets look fairly attractive in photos, it's safe to say that you will be more impressed when seeing them in person. They're beautifully designed with high-quality stitching and lack of wrinkling problems.
Buy On Amazon
One great set of satin sheets comes from CozyLux. Available in classic tones of black, red, gray, white, and blue, these modern sheets can rejuvenate the look of any bedroom and help you sleep in better comfort. The satin feel can envelop your body with a silky smooth sensation while the elegant gloss can bring a new dimension of style to your bed.
Similar to other inexpensive satin sheets on the market, these rely on premium microfiber construction engineered to keep you cool and fresh. The structure of each sheet has been designed with durability in mind. It features a tight weave to ensure long-lasting performance while plenty of added elasticity removes annoying fitting issues. A regular gentle cycle wash is all that required to keep these beautiful satin sheets in top shape. The set offers two pillowcases aside from flat and fitted sheets.