This post may contain references and links to products from our advertisers. We may receive commissions from certain links you click on our website. As an Amazon Associate Rhythm of the Home earns revenues from qualifying purchases.
Please consider making a donation if you like our article. Our website depends on donations from visitors like you! Share this article:
Buying a portable washing machine can be a smart solution if you're short on space or if getting a full-sized model would be too impractical. A portable machine for washing the clothes could be a lifesaver for people who are currently renting their place. Even if they aren't as powerful compared to standard washing machines, portable models can still handle smaller loads without issues.
If you're finally ready to get rid of costly trips to the laundromat, you need to understand the features of these washing machines to make the correct decision for your needs. There's a wide variety of products out there, so it's completely unsurprising that you'd be overwhelmed by their functions and capabilities. Before checking anything else, make sure your desired model has a large enough capacity to accommodate your needs. One thing to consider is that with increasing the capacity you start compromising on portability.
Having lots of cycle settings and convenient design features could make certain washing machines more attractive, but a more important aspect is the energy efficiency. If the machine doesn't allow you to save some money on laundromat trips, then it's probably not worth the investment. In this article, we'll analyze the most cost-effective portable washing machines. Only those products that offer the best value for the money made it in this selection. You might also be interested in our articles about the best electric can openers and the best range hoods.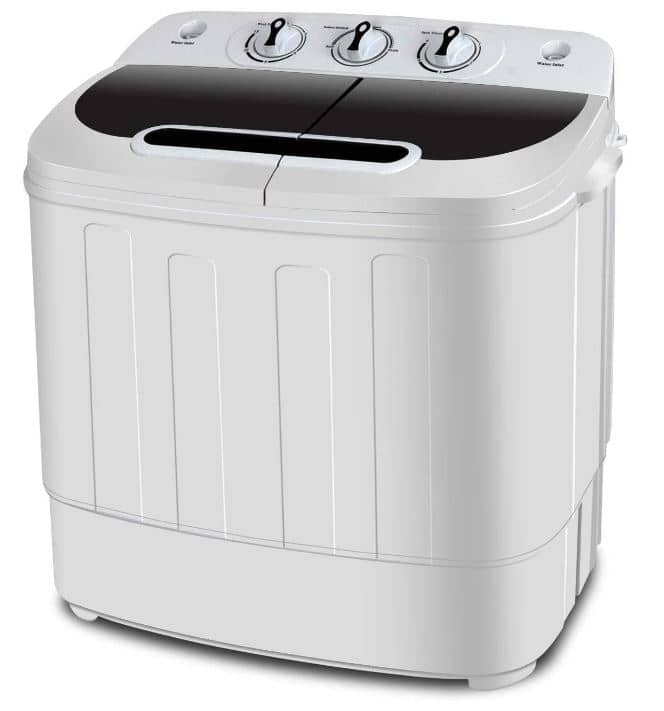 Buy On Amazon
Performant and versatile, the Super Deal SD1011 is a Twin Tub washing machine that offers enhanced portability. This compact unit has a 13lbs capacity and its 1300RPM motor ensures that clothes come out cleaner than ever. Using this model is so easy that even novices can quickly get the hang of the washing process. The plastic body gives you some peace of mind as you don't have to deal with rust.
As proof of its user-friendliness, this washing machine only requires a water connection, a quick time setting, and a simple push of the 'start' button. The motor is quite performant without affecting noise levels too much. Watching the washing operation is possible with the help of a translucent window. Compared to similar models, this one makes use of large wave pulsates that clean more efficiently with less twisting of the clothing.
If you would have to sum up this washing machine's abilities in just two words those would be 'simple' and 'effective'. The Super Deal SD1011 is a very capable twin tub washing machine built with careful attention to details, particularly when it comes to its small footprint. An ideal machine for doing small loads, this compact unit is recommended.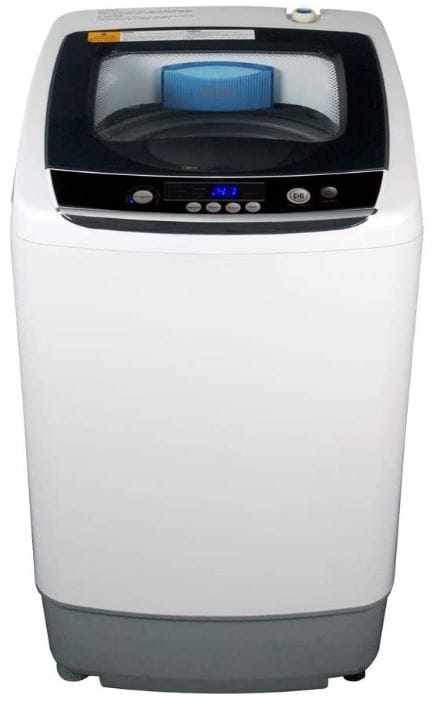 Buy On Amazon
For those who want to invest a little more, the Black + Decker BPWM09W is definitely a cost-effective solution for a portable washing machine. The unit has some more advanced features to ensure excellent cleaning results no matter what. There's a modern display for quick set-up, a transparent lid to monitor the washing progress, and overall, the compact design should have a minimal impact in a small home.
The display panel shows you the current status of the machine through intuitive cycle lights. There are five cycles to select for ensuring the optimal washing according to laundry type. You've got three water level choices and there's also a safety function. If you're opening the lid while the unit works, it turns itself off automatically. Another handy feature is the automatic unbalance detection to remedy the intense vibrations generated by unequal laundry distribution inside the washing machine.
In terms of capacity, this machine can work on small 6.6lbs loads as it sports a .9 cubic feet tub. It comes equipped with a lint-filter which needs regular cleaning. Small yet powerful, the Black + Decker BPWM09W is worth the extra investment if you want a reliable washing machine that's also portable. It won't take as much space compared to standard washers and the noise levels are also reduced.
Buy On Amazon
The Giantex EP23113 is another portable washing machine that can work well if you're short on space. As opposed to other compact models out there, this unit comes with a large load capacity of 10 pounds. With the help of a multifunctional control panel, you can adjust a large array of settings for a smooth operation. It's designed to handle powerful vibrations with the help of an automatic imbalance adjustment feature.
Moving this washing machine around is a breeze compared to standard units. There's not a lot of space required to successfully run this machine. Some of the most interesting abilities of this model are the time and water level control. You can activate a delay function and the integrated timer informs you how much time is left until the washing process finishes. Press the water level button in case you have to add more water and select from multiple levels.
One thing you will appreciate is the detailed manual of this machine which shows you exactly the quickest path to obtaining the desired washing results. Overall, the Giantex EP23113 is an efficient washing machine when it comes to cleaning. Some people might be bothered by the short hose, but this is a portable machine anyway, so that's a non-issue when you consider all its other advantages.
Buy On Amazon
Having a space-saving design is an essential aspect for any portable washing machine. A model that offers a lot for the money is the compact Panda PAN50SWR1. Some of the highlights of this unit are the two rear inlets for convenient installation, six washing programs for added flexibility, and the large transparent lid. The 11lbs capacity is quite decent for its cost.
Controlling the washing process is done via a simple panel with buttons and a LED display. There are some flexible washing options and a few useful functions such as delay start and Control Lock. This machine is definitely lightweight, but to increase the portability even further, it comes with two built-in rollers. Construction-wise, the machine isn't particularly impressive. It has a plastic body and a stainless steel tub, but it seems well built.
A connect adapter kit has been supplied in the package for simple water connection through your faucet. There's no need for complicated plumbing procedures. Just use the included hoses and you can start washing in no time. Great model to retain some valuable space in your RV or apartment, the Panda PAN50SWR1 is a cost-effective portable washing machine.
Buy On Amazon
Budget-conscious users should consider the Kuppet KP1040600H model. This is a very compact washing machine that lets you handle the laundry even when you go camping. It features a Twin Tub design to allow you the washing of a small load of clothes while at the same time to take another load through a spinning dry cycle. That could be very convenient when you need to deal with laundry more quickly and efficiently.
As opposed to other models, the maximum capacity of this unit is lower, but that's understandable considering the reduced price. This is a fairly energy-efficient machine which comes with separate timers for washing and spinning. The washing operation can go up to 15 minutes while spin time is considerably reduced to a maximum of just 5 minutes. Even though this is one of the most compact machines on this list, it still packs a solid 1300RPM motor.
The Kuppet KP1040600H is available in two color choices (blue and purple) and it easily represents one of the most versatile washing machines on this list. All things considered, this mini model is eco-friendly, lightweight, and incredibly simple to operate. At this cost, this portable washing machine can definitely go beyond your expectations.
Buy On Amazon
A highly appreciated portable machine to consider is the Think Gizmos TG23 which brings together the latest innovations for dealing with laundry in places where space comes at a premium. This unit packs quite a punch in terms of performance while keeping the weight down. Thanks to the compact size and the elimination of plumbing requirement, the machine is a breeze to operate.
To make the whole process more efficient, this machine has two tubs. The first is larger and is used for washing while the other deals with dry spinning. Wash cycles can reach a maximum of 15 minutes on usual washes while spinning cycles take up to 5 minutes. This means you can take advantage of an improved workflow. Using this model is simple after you connect the drain hose. Just add water and detergent and all the work is done.
The instructions for using the washing machine are available in different languages. All the functions of this unit can be controlled with the help of dials placed at the top. It's also worth mentioning that this machine is surprisingly silent compared to other models. Considering its cost, the Think Gizmos TG23 should be your first choice for a portable washing machine. It's performant, compact, and feels well-built.
Buy On Amazon
The Merax Mini washing machine is a small, but effective little unit which incorporates both a tub for washing and one for drying. If your space is limited you will definitely appreciate the convenient size of this model. Its washer side can fit a maximum of 8 pounds of laundry while the spin cycle can accommodate up to 5 pounds for a single load. Everything needed to get you started right away is provided in the package, including the drain hose.
Like many other twin tub models on the market, this washing machine allows for simultaneous operation saving you a great deal of time. While the machine isn't particularly noisy, you can experience weird sounds and excessive vibrations if you aren't careful when loading the unit. It's important to keep the clothes balanced inside and also make sure the machine stays on an even floor.
Performance-wise, this unit operates using a standard 1300RPM motor which has been engineered for thorough washing and rinsing. It's also very effective when it comes to spinning out excess water. Those who like multitasking will love this twin tub design of the Merax Mini washing machine. It has great potential for camping trips or dorms.
Buy On Amazon
Panda is a popular manufacturer of portable washing machines and one of their best units is the PAN56MGW2. There are many reasons why this could be considered a smart investment. Its compact size makes it a great choice for RVs, dorms, and apartments. If you intend to use it daily for small loads, this has great potential considering the multitude of water level settings and washing programs.
Looking over the construction details of this unit you will probably notice the transparent lid. This allows you to check on the laundry while the machine is running. Right underneath the lid, there's the control panel where all the settings can be adjusted. In terms of capacity, this washing machine can fit loads up to 11lbs. The water connection is done through a single water inlet and a hose designed to match most standard US faucets.
The quality of the washing is very solid and this is one of the most compact units you can find that doesn't sacrifice the performance. Taking everything about the Panda PAN56MGW2 into account, the final conclusion is that it's worth spending the money on. Strong, stable, and quiet, this washing machine can be a huge helper in a small home.