This post may contain references and links to products from our advertisers. We may receive commissions from certain links you click on our website. As an Amazon Associate Rhythm of the Home earns revenues from qualifying purchases.
Please consider making a donation if you like our article. Our website depends on donations from visitors like you! Share this article:
Paper cutters are helpful tools to have in any office or workshop. Depending on how advanced they are, paper cutters can deal with lots of cutting or trimming tasks to create cards, scrapbooks, or for handling more advanced crafting projects. Given the fact that many paper cutters on the market are also budget-friendly, there's really no point in relying on scissors as the final result can be disappointing.
Whether you plan on enhancing your business with a professional paper cutter or simply need to get a personal model for occasional use, the following article can act as a handy guide. A quality paper cutter or trimmer should be able to work accurately and efficiently. Another aspect to keep in mind is the versatility as not all models can deal with all material types. You will definitely need a more heavy-duty unit to cut through vinyl, burlap, or other heavier materials.
Making the right decision when it comes to paper cutters can be difficult, particularly if you aren't familiar with this type of products. As long as you have a certain budget in mind and a rough idea for the intended usage of the paper cutter, the only task left is to take your pick from the available products. To make this job easier for you, we've collected just those paper cutters/trimmers that are worth spending your money on. You'll find both basic and advanced cutters to suit your purposes and budget constraints.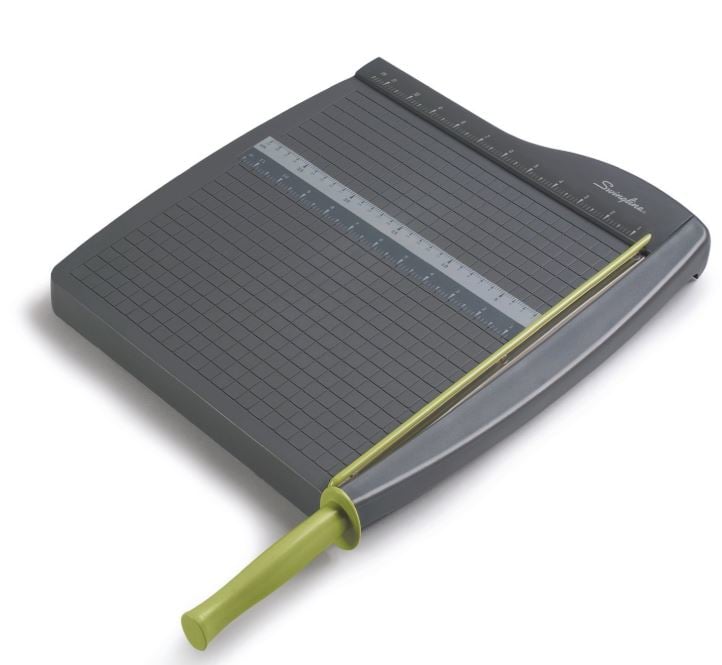 Buy On Amazon
Well-built and affordable, the Swingline ClassicCut Lite is a great way to cut paper whether you've got projects to work at home or in the office. This model has a 12-inch blade and a fairly basic sheet capacity as it accepts a maximum of 10 pieces. For most purposes, this trimmer should definitely suffice as it can chop sheets very effectively.
When the blade isn't used, it stays safely locked thanks to the addition of a latch hook which keeps it down. There's also a guardrail to offer some extra protection. In terms of materials used, this paper trimmer is made from a durable type of plastic which means the unit is quite portable with its reduced weight. Making the right cut is always easy with the help of the included alignment grid and ruler.
This conveniently-sized paper cutter doesn't take too much space in an office and can cut through a solid range of materials. Extra tough materials might need a little extra pressure depending on the thickness, but all in all, the Swingline ClassicCut Lite does a great cutting job. For its intended use, this paper trimmer is nicely built, very safe to use, and accurate enough with proper alignment.
Buy On Amazon
Fiskars is a well-known manufacturer of paper cutters and one of their most appreciated models is the 01-005452 Bypass trimmer. This unit comes equipped with a reliable self-sharpening blade and can cut through ten paper sheets with ease. There are certain details that make this product worth your time including the anti-skid rubber feet and the convenient paper clamp.
The black base of this paper trimmer is made out of recycled resin which means this is a more environmentally-friendly device. The orange blade handle creates a nice contrast with the rest of the trimmer's elements. Some of the ideal applications for this cutter are the crafting of invitations and fliers. To help you obtain accurate results, there's a printed scale and grid.
When it comes to overall weight and size, this paper trimmer can be considered very practical. It can be stored with ease and the enhanced portability is definitely a plus. As the blade is sharp, the base stable, and the cost affordable, the final conclusion is that the Fiskars 01-005452 Bypass is a valuable paper cutter. It may appear cheaply made initially, but it can surprise you with quality results.
Buy On Amazon
The Fiskars SureCut 152490-1004 makes use of advanced technologies to deliver the best cuts in its class. Ideal for handling a wide range of crafting projects, this paper cutter can work with photos, paper, and the wide base allows for convenient card cutting. The SureCut wire cut-line provides the user with a valuable hint for ensuring accurate cuts for every pass of the blade.
Thanks to its innovative TripleTrack System, this trimmer creates a reliable interlocking effect between the rail and the blade. It's not just an accurate paper cutter, it's very quick as well. The blade carriage has received certain enhancements to make it simple to grip. Another advantage of this model is the lightweight, low-profile design which helps a lot with the portability.
Safety-wise, this cutter comes with a firm lock for the blade arm and the rubber feet contribute to the overall stability of the trimmer. Simple and functional, the Fiskars SureCut 152490-1004 is an excellent all-around paper cutter. Apart from heavy-duty projects, it can handle pretty much anything you throw at it. The cost is more than reasonable considering its abilities.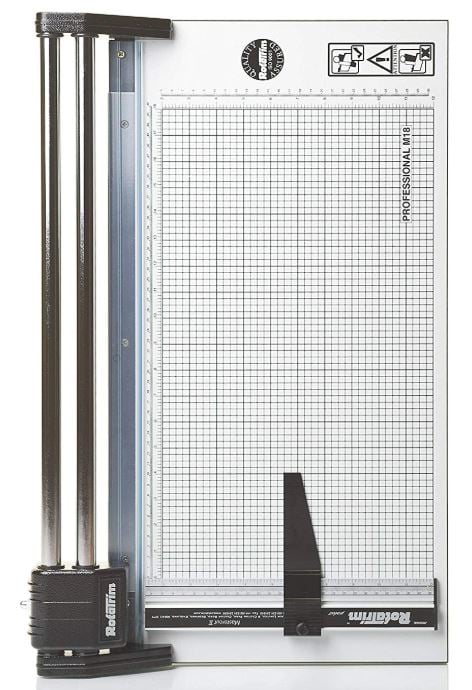 Buy On Amazon
If you're not satisfied with basic paper cutters and need a more professional unit, check out the Rotatrim Pro M Series 18-inch which comes loaded with impressive features for heavy-duty use. The main highlight of this paper cutter is the Sheffield Steel precision blades which won't require replacement thanks to their self-sharpening abilities. This unit can cut materials up to 18-inch in length and with a maximum of 3.0mm in thickness.
As you can see from the construction quality, this paper cutter was built for continuous use. The smooth action comes from the twin chrome steel guide rails and a self-clamping strip keeps your project firmly in place. For superior precision, you can count on the side rule and cursor. The placement is optimized in terms of accuracy with the help of the sleek grid design. This rotary cutter can become a dependable workhorse for any office, school, or studio.
Other, less expensive paper cutters can do a decent job most of the time, but their biggest flaw is the durability. This model from Rotatrim's Pro M Series is the kind of unit built to last in time. It's designed for those who value durability and wish to invest in a high-quality blade. The cost may not be suitable for everyone's budget, but if you can afford it, you won't ever regret the purchase.
Buy On Amazon
A very balanced tool in terms of features per cost is the Dahle 18e Vantage. This tool allows you to trim paper or other materials accurately and efficiently. The sharp blade of the cutter offers spring action to prevent accidental falling. With the help of a solid metal base, you can enjoy the benefits of a durable foundation to work with knowing that it's built to never crack or warp.
Aligned cuts are obtained with the help of angled guides and the paper won't shift as you can rely on the automatic clamp of the cutter. The clamping system keeps the right amount of pressure to ensure the best cutting results. This model can cut a maximum of 15 paper sheets at once which means it can handle some more heavy-duty crafting projects.
During the cutting process, the machine is stabilized by its non-skid feet and the handle locks in place when the blade is not in use. This is the 18-inch cutting length model, but there are 12- and 15-inch options as well in case your available space comes at a premium. Overall, the Dahle 18e Vantage deserves some more attention on the market for paper trimmers. Ideal for cardstock and photograph cutting.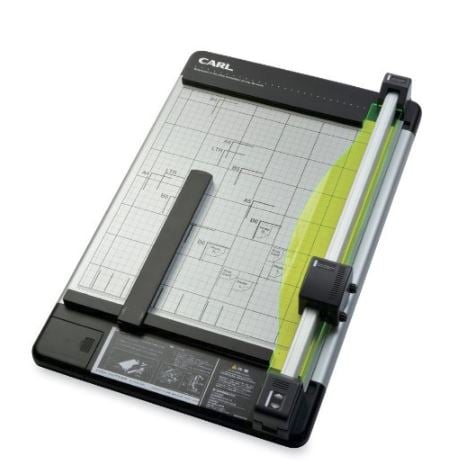 Buy On Amazon
One rotary paper trimmer that delivers professional results without really breaking the bank is the CARL 12238. This heavy-duty model features a carbide blade and many other interesting abilities to face even the most demanding trimming projects. The 18-inch paper cutter has a large 36-sheet cutting capacity and has been designed to handle repetitive cuts with the same level of precision.
An advanced locking rail mechanism and the sturdy metal baseboard are just some of the highlights of this paper cutter. The grid contains all the usual measurements and despite the robustness, there are barely any compromises on portability. This is the kind of paper trimmer that could be a huge upgrade for your cardstock projects. It can handle with ease photo paper, artist board, and many more.
Some people might have a hard time justifying the cost for a paper cutter like the CARL 12238 which isn't exactly cheap. Considering how you can buy paper cutters for 1/4 of the price of this one, that's understandable. Still, if you are really serious about your craft and wish to make a great investment, this could really improve your workflow.
Buy On Amazon
A more classic-looking paper cutter to consider is the Quartet Swingline ClassicCut Ingento. The solid maple design can fit nicely with any hardwood décor and you will also not get disappointed by its quality cuts and sturdy base. Getting a perfectly clean cut with this model might be a bit more difficult compared to similar units, but the extra durability and reliability make up for it.
With its 15-sheet cutting capacity, this guillotine-style cutter can slice through anything from basic paper and photos to heavier materials and crafts. For safety, this model makes use of a tension spring for the blade arm. The protective guard rail and latch also offer you some peace of mind when leaving the cutter unattended around children. This paper cutter's die-cast metal arm delivers smooth action which together with the alignment grid and ruler provide the required precision for professional-looking results.
One thing to keep in mind regarding this paper cutter is the size. You will need some space to work with it and for taking advantage of its great potential as it can cut even heavyweight stock. User-friendly and durable, the Quartet Swingline ClassicCut Ingento can surpass your expectations in terms of accuracy and overall quality. Highly recommended for hobbyists or small businesses.