This post may contain references and links to products from our advertisers. We may receive commissions from certain links you click on our website. As an Amazon Associate Rhythm of the Home earns revenues from qualifying purchases.
Please consider making a donation if you like our article. Our website depends on donations from visitors like you! Share this article:
Anyone who spends a lot of time on the patio knows the importance of having reliable furniture designed for a life outdoors. If you want to hang around comfortably with family members or friends, it's safe to say that a few chairs won't be enough. Large backyard patios can accommodate outdoor sofas to sit more comfortably during extended sessions of relaxation. This is a must-have piece of furniture, especially for homeowners living in warmer climate areas. Although there are many similarities between purchasing indoor and outdoor furniture, there's one key difference.
Outdoor furniture needs to be durable to withstand the weather outside. When furnishing your garden or patio area, it's essential to pay attention to the construction quality of an outdoor sofa. Some materials show off more reliable weatherproof qualities compared to others. At the same time, you also need to find a good balance in terms of aesthetics and sitting comfort. The sofa should match your décor style and the surrounding elements of the patio. An optimal level of comfort is required to enjoy using it. If you wish to spend your money wisely, check out the following selection of high-quality outdoor sofas at reasonable prices.
Best Modular Outdoor Sofa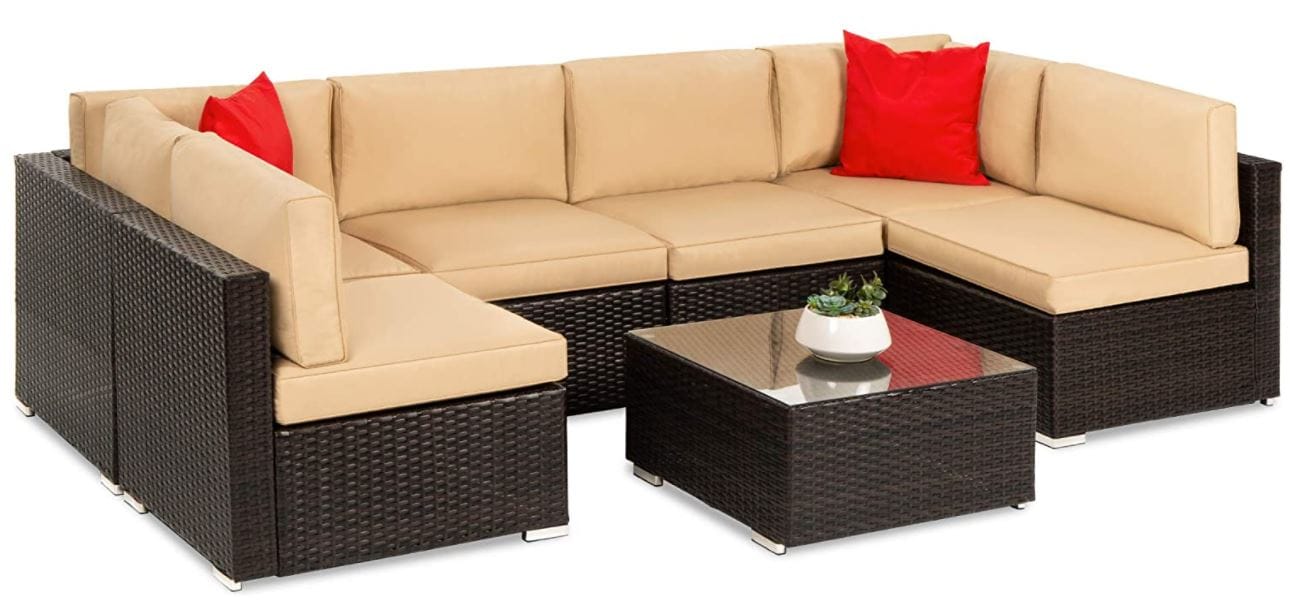 Buy On AmazonBuy On Walmart
Anyone who wants a stylish modular outdoor sofa at a reasonable cost should try this 7-piece model from Best Choice Products. As long as you have decent space on your patio, this sectional wicker furniture set can greatly enhance your comfort. When it comes to this outdoor sofa's configuration, you can take advantage of six chairs complete with cushions and pillows.
You also get a table with a stylish top so you can enjoy drinks more easily. The sofa's modular design makes this a flexible choice if you prefer a particular arrangement of seating. It's adaptable to many different kinds of areas so this is a solid model to consider if you need versatility. The sofa is equipped with some reliable durability features and ergonomic enhancements. There's a protective cover supplied and a good selection of available colors to personalize your patio decor.
Best Rattan Outdoor Sofa
Buy On AmazonBuy On Walmart
Comfortable and functional, the Polar Aurora rattan outdoor sofa represents a solid choice for the money. The set includes a total of six pieces to improve your patio lounging experience. Aside from generous seating options, you also get a tea table complete with a tempered glass top. Each set is equipped with comfy cushions without impacting the stylish look of the rattan.
The construction makes use of a steel frame that gives sturdy support for the rattan wicker. It's engineered to withstand tough weather while maintaining an elegant appearance. This outdoor sofa is recommended for any modern patio environment. It's not a huge set but it's just the right size for most patios out there. When it comes to color selections, options are fairly limited to black, beige, and blue.
Buy On AmazonBuy On Walmart
If you're looking to make your patio more inviting for your guests, consider getting the Cristopher Knight Home outdoor sofa. This is a simple yet well-designed sofa that relies on a sturdy aluminum frame. It's designed to last for a long time and face harsh weather without the risk of rusting. The outdoor sofa features a modern khaki design with a square shape. It provides a decent seating capacity of three persons.
When it comes to the quality of the cushions, this sofa doesn't disappoint. The fabric is weather-resistant and makes a great visual pairing with the anodized aluminum frame. One great feature of this furniture unit is the incorporated tray to cover all your tabletop needs when the sofa isn't fully occupied. Take out the tray when you wish to restore the maximum seating capacity.
Best Budget Outdoor Sofa
Buy On AmazonBuy On Walmart
There are lots of great outdoor sofas on the market but few can reach the value for the money of this model from Waroom. It's a three-seat sofa crafted from PE rattan on a metal frame. Seating comfort is provided with the help of thick cushions that are reasonably thick and durable. The covers are designed to withstand sunlight damage and can repel moisture.
In terms of color choices, you can only opt for peacock blue or turquoise. It's a bit more limited in terms of customization but the couch is very affordable so that's understandable. Assembling this outdoor sofa is a breeze thanks to proper labeling of all the parts and straightforward instructions. When it comes to supplied accessories, this patio furniture model arrives complete with rectangular waist pillows and a practical sofa cover.
Buy On AmazonBuy On Walmart
A great wicker rattan outdoor sofa, the Modway Aura can grab all the attention on the patio with its elegant rectangular shape and squared corners. It features a sleek profile that makes it suitable for any outdoor decor style. You can easily integrate this modern sofa in the garden or close to the poolside. Thanks to the powder-coated aluminum frame and UV-protected PE rattan, you can safely keep this piece of furniture outdoors.
One solid feature of this model is the high-quality upholstery used. It feels more comfortable compared to the average outdoor sofa out there. The extra-thick cushions also contribute to your sitting comfort. Due to being easy to remove, the covers can be conveniently cleaned to keep the sofa looking new. In terms of color choices, Modway puts a few neutral-toned options at your disposal. Pick between gray white, gray navy, or just pure gray.
Buy On AmazonBuy On Walmart
The Ashley Grasson Lane outdoor sofa is a premium seating solution for any patio. This is a fairly large model equipped with plush cushions that seem more durable than the competition. They use Nuvella fabric that's both stylish and weather-resistant. A set of two throw pillows are included in the package to increase your comfort even further.
Together with the generous size, this outdoor sofa can be considered a perfect choice for creating a great lounging area in your backyard. Similar to other outdoor sofas, this model requires a bit of assembly work but it's nothing particularly complicated. The sofa is designed with a strong resin wicker base while the aluminum frame can easily handle life outdoors. If you're looking to expand your patio furniture setup, the manufacturer offers matching pieces such as a loveseat, ottoman, and cocktail table for a complete set.
Best Wood Outdoor Sofa
Buy On AmazonBuy On Walmart
With a visually-appealing acacia wood construction, the Tangkula outdoor sofa deserves some more attention. It's a small yet practical outdoor sofa that feels stable thanks to using 100% natural wood. This material shows off natural resistance to the weather making this sofa ideal as a patio daybed. The sofa is easily convertible to a bed by adjusting the armrests. It's a reasonably versatile piece of furniture.
When it comes to seating comfort, the outdoor sofa makes use of soft cushions that are ideal for lounging. The thick pillows provide a solid level of support when using the sofa for extended periods of time. When you want some extra space just for yourself, the sofa can be transformed into a comfy chaise longue by lowering only one of the armrests. As opposed to cheaper PE rattan outdoor furniture, this model is more resistant to deformation.