This post may contain references and links to products from our advertisers. We may receive commissions from certain links you click on our website. As an Amazon Associate Rhythm of the Home earns revenues from qualifying purchases.
Share this article:
There are many reasons why people add an extra layer of material on the soil. This is called mulching and will help the soil retain moisture, prevent weeds, and improve the overall health of the soil. A high-quality mulch can make a surprising difference for the health and the look of your yard. Some of the most popular ones are shredded bark, straw, compost, cedar chips, but there are other options as well. Choosing the right type of mulch for your garden can be confusing but it's recommended to stick to organic products as these decompose and enrich the soil.
Whether you have a vegetable garden or grow a stunning flower garden, mulching will give you plenty of benefits. If you're ready to show some love for your soil, take a close look at the following mulches. We've selected them by searching for an ideal value per cost ratio. Although they're different types and have varying price ranges, these are the best products for creating a healthy garden. By applying these correctly, you will be able to increase soil productivity and have an overall more attractive yard.
Buy On AmazonBuy On WalmartBuy On Home Depot
The Scotts EZ Seed Patch and Repair mulch is an excellent product you should consider for boosting the quality of the soil. This mulch is made of a specially treated compound of mulch, seed and fertilizer designed to have a vibrant color that lasts for an extended period of time. It makes use of no harmful chemicals or other debris and is capable of preventing the growth of weeds.




A natural characteristic of this enhanced mulch is the ability to conserve soil moisture. This could be critical for certain regions where dry soil is a common issue. A 3-inch layer of this mulch is capable of keeping weeds at bay as it interferes with their growth. When it comes to color texture choices, it's available in bermudagrass, tall fescue, centipede grass and the classic sun and shade compound to create a natural look anywhere. Great all-around product, the Scotts EZ Seed Patch mulch has an excellent texture and consistent color.
Best Mulch For Grass
Buy On AmazonBuy On Walmart
If you're looking for premium processed straw mulch, check out this seeding product from EZ-Straw. While normally this kind of material lacks tackiness, a special bonding agent has been added to keep the straw together. This mulch is easy to apply and works particularly well to protect grass seed from predators and damaging weather conditions. Another benefit is the quicker germination period.
Thanks to the tackifier enhancement, it does its job more effectively and it's guaranteed to be safe for pets. You can even use it in a vegetable garden because the bonding agent is guar gum which is often used in the food industry. Those who wish to plant grass seed will probably see the most benefits when it comes to using this mulch. It offers excellent seed protection and can help with weed prevention. The EZ-Straw Seeding mulch is highly recommended for the cost, all things considered.
Best Organic Mulch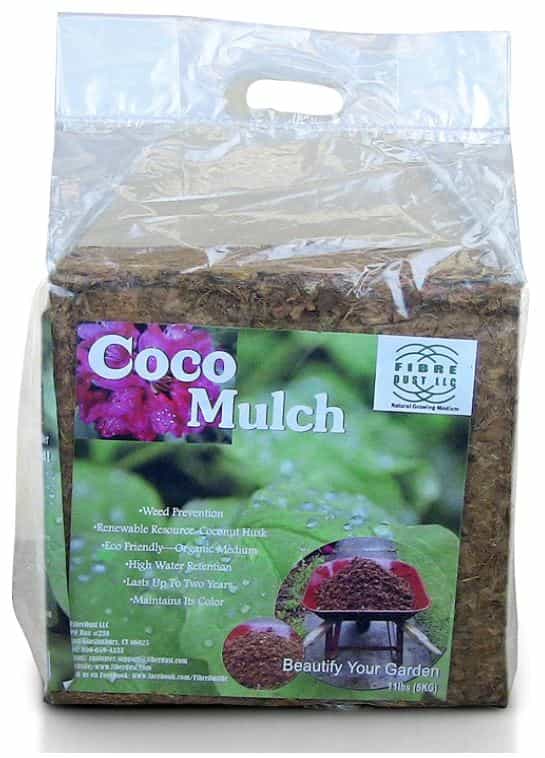 Buy On AmazonBuy On WalmartBuy On Home Depot
The FibreDust CoCo mulch is based on 100% coconut husk that's a natural and safe option for plant protection. It has solid potential in terms of beautifying your garden when considering its rust-like color that fits well in many outdoor settings. This product is intended to expand when water is added so you can count on its advanced moisture-retention features to ensure better health for your plants.




Despite its small appearance, one single block of coconut husk mulch is able to enlarge to approximately 2 cubic feet of gardening medium after hydration. There are lots of excellent benefits that you can take advantage of when using this type of mulch. The high level of water retention and weed prevention abilities represent the main highlights. However, this mulch is also recommended if you wish to maintain an eco-friendly garden. There are no additives in the coconut husk while the mulch can maintain its natural properties for up to two years.
Best Rubber Mulch
Buy On AmazonBuy On Walmart
A premium gardening option in all regards, the Rubberific shredded rubber mulch offers great value for the cost. It's crafted using only recycled rubber that shows off a brown color and realistic texture. This is among the most durable mulching options that you can buy so that can explain the higher cost. It's recommended if you're worried about fading or rotting problems that can often affect other types of mulching products.
Aside from being a helpful gardening medium to protect plants, the shredded rubber mulch is worth considering for aesthetic purposes. It keeps its original beauty for a long time and won't disappoint when it comes to safety due to its non-toxic ingredients. It's an ideal option for plants but you can also rely on the mulch for other landscaping purposes such as playground covering. Easy to spread and looking fresh for at least a couple of years, this rubber mulch is a great investment for many homeowners.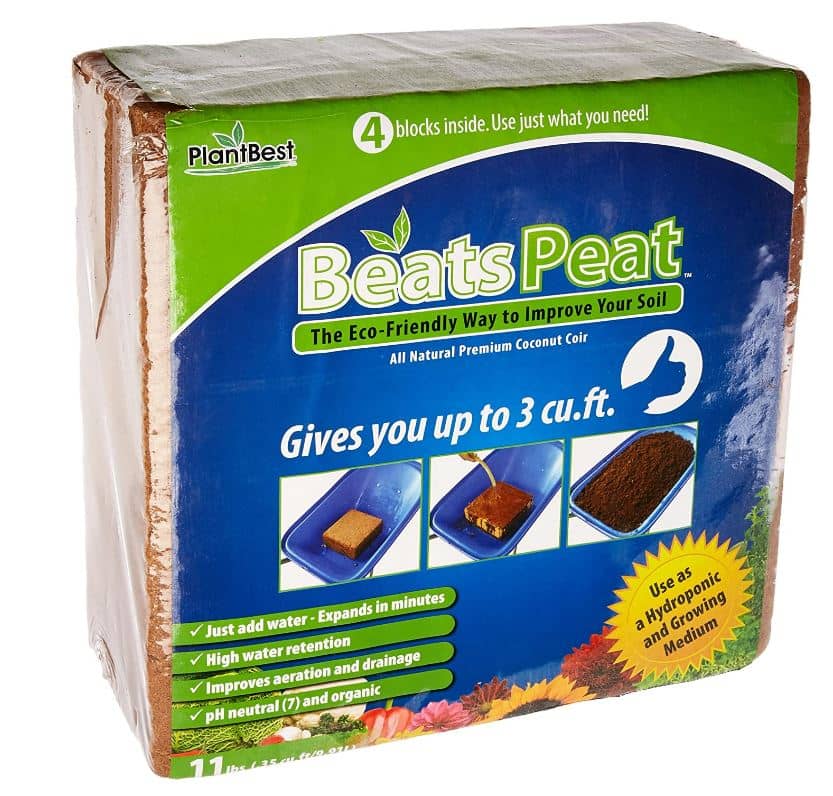 Buy On AmazonBuy On Walmart
Built of natural coconut husks that have been compacted with care, the Planters Pride RZP3041 is a solid mulch overall if you're looking to enhance both aeration and drainage of the soil. It has comparable qualities to conventional peat moss, but the mulch is superior in terms of water retention. For this reason, we recommend this product for planting flowers.
If you're planning on increasing the productivity of the soil in the vegetable or flower garden, this is a great mulch to try. Water is needed to create the right texture for this mulch and reach its full potential. Despite the reduced cost of peat moss, it's still worth investing in this more expensive product. This is simply because it does a superior job in all regards. It will also facilitate the transporting process as the block expands quickly and removes the need to carry bags of peat.
Best Mulch For Landscape Use
Buy On Amazon
If you're searching for some high-quality mulch for your plants, take a look at this pack of natural cedar chips made by Wood Smith. The product is made in the USA and can be purchased in different sizes to meet multiple needs. It features a subtle cedar scent that's very pleasant just to freshen up the air. Although the cedar chips are primarily used for mulching, they're versatile enough for other purposes as well.
This type of natural mulch can also be used as animal bedding thanks to its ability to absorb moisture and unpleasant smells. It's a fairly practical solution for many applications without making compromises in terms of looks. The cedar mulch can improve your home decor whether you plan on using it for hanging planters or other types of pots. Taking into account the cost, the Wood Smith USA natural cedar mulch is highly recommended.