This post may contain references and links to products from our advertisers. We may receive commissions from certain links you click on our website. As an Amazon Associate Rhythm of the Home earns revenues from qualifying purchases.
Share this article:
When you feel that your plants are struggling to bloom and need a little boost, it's probably a good idea to consider investing in a capable fertilizer. Plants have complex nutrient needs and there are many factors that can influence their growth rate. Sure, taking care of a plant involves aspects such as giving them access to plenty of sunshine and fulfilling their proper watering needs. It's important to be aware that basic care doesn't necessarily mean that your plants will thrive. This is where fertilizers and plant foods can come into play.
The market is populated by all kinds of different fertilizers with different formulas and more specific features depending on the type of plant you're growing. Some fertilizers work better for flowers while others are created to make lawns and shrubs thrive. Regardless of your particular need, it's not easy to make the right choice considering the number of fertilizer products out there. This article should hopefully shed some light into the world of fertilizers and plant foods to help you get the best one in terms of value for the money. Time to give your garden that little boost it needs to thrive.
Buy On AmazonBuy On WalmartBuy On Home Depot
Simple to use and highly effective, the Miracle-Gro All Purpose plant food enables your plants to flourish like never before. This is an advanced fertilizer that's safe to use for all kinds of plants as long as you use it according to the instructions. It packs many essential nutrients that can be fed to the plant using any watering can.
The best part about this fertilizer is how it works so quickly. It's capable of giving your flowers more beautiful blooms and increase the yields of vegetables. For best results, it's recommended to feed the plants once every week. You don't need to worry about burning the plants and using the plant food is a breeze. As all water-soluble fertilizers, you will have to dilute it but that's simple to do as you don't even need to bother with precise measuring.
Best Organic Fertilizer
If you're searching for a capable organic fertilizer, check out the pure earthworm castings from Unco Industries. These have no odor and you don't need to use much to give your plants a growing boost. The main reason why this is a great fertilizer is that it's completely designed by nature as earthworms process the organic material to transform it into a rich fertilizer to be quickly absorbed by plants.
It is packed with essential nutrients but it also provides long-term nourishment. Some plants respond better in that regard and will require just a few weeks to fully thrive while others can need entire months. Thanks to the solid water-soluble properties of this organic fertilizer, plants will absorb the nutrients more efficiently as worms do all the hard work. Cost-effective, odorless, and performing better than you'd expect, the Unco Industries Earthworm Castings shouldn't be missed if you search for a reliable organic fertilizer.
Best Flower Fertilizer
Great for both flower and fruit development, the General Hydroponics Flora Series represents a solid fertilizer foundation to feed your plants. The formulation contains all the essential nutrients as well as trace elements for optimal plant growth. Depending on more specific needs, you can also adjust the mixtures so you'll obtain maximum productivity and crop quality.
This fertilizer is particularly rich in phosphorous, potassium, and magnesium to stimulate flower and fruit development. All the concentrates in this pack are carefully purified to ensure superior solubility. This is definitely one of the most reliable formulations around if you're struggling to grow flowers with beautiful blooms. The General Hydroponics Flora Series fertilizer set is available in different sizes to find the ideal match for your garden. It's easy to use and can turn an unhealthy garden in a thriving one.
Buy On AmazonBuy On WalmartBuy On Home Depot
Any serious gardener out there should consider a reliable plant fertilizer like the Osmocote Plus Smart-Release. Pretty much all plant varieties out there can benefit from the 11 essential nutrients and feeds contained in this one. The Smart-Release feature refers to a special coating for the plant food granules which ensures a perfectly balanced nutritional release.
A single application of this powerful fertilizer gives your plants a long-lasting supply of nutrients. It doesn't matter if you're working with more difficult growing conditions as even houseplants can thrive using this product. The best part about using this fertilizer is that you don't have to worry about the details. Nutrients are released in an optimal manner and plants can get the most benefits precisely during their active growing periods. Only an empty shell remains after nutrients get absorbed.
Able to increase crop yields and boost the overall quality, the Humboldts Secret Golden Tree is a professional-grade fertilizer that can take plants to a new level of flourishing. This product is suitable for trees, flowers, vegetables, lawns, and more. It's also compatible with virtually any growing method out there including Hydroponics or Aeroponics. You can purchase this fertilizer in multiple sizes to fit the needs of your garden.
If you want to get the best result, it's recommended to use two or three times per week. Make sure you are careful to note how the plants are taking it. This product doesn't have magical effects, but it can rejuvenate sick plants with proper use. A special blend of amino acids, minerals, and kelp will make even inexperienced gardeners see some impressive growth in their plants. While you can use the Golden Tree fertilizer by itself, you can also combine it with other additives for an enhanced effect.
Best Fertilizer For Trees
Buy On AmazonBuy On WalmartBuy On Home Depot
Due to how it can be a bit messy to use normal fertilizer for trees and shrubs, it's recommended to go for a dedicated product like these fertilizer spikes from Jobe's. These come pre-measured with time release ability so you can conveniently provide trees and shrubs the essential nourishment directly at their roots. The spikes are easy to use and formulated to provide a reliable stream of nutrients exactly where the active roots are growing.
From Cypress to Juniper, and Magnolia trees, these fertilizer spikes can enhance the health of many trees in your yard. It's important to water well before adding and carefully apply according to the product's instructions. Depending on the size of the shrub or tree, you might have to use more than a spike. Packs come in multiple sizes and you can even get a large one with 160 spikes to fertilize a bigger garden.
Best Liquid Fertilizer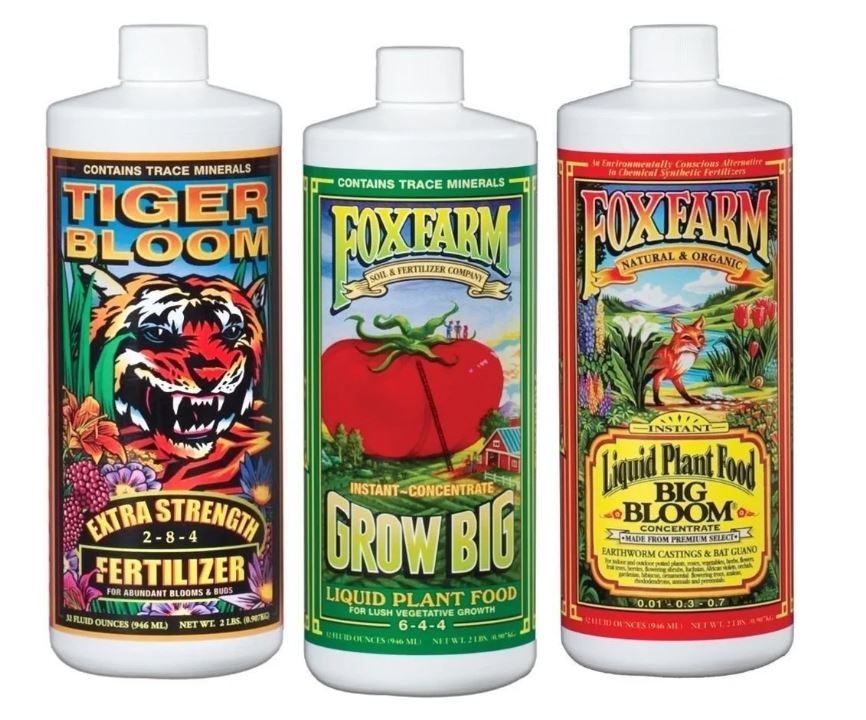 Buy On AmazonBuy On WalmartBuy On Home Depot
A big pack of liquid fertilizer like the Fox Farm FX14049 can easily cover all the needs of your garden at every growth stage. The Grow Big Hydro is the first fertilizer you need to use at the beginning of the growth process. Next, when signs of budding appear, you have to pick up the Tiger Bloom to encourage growth. Finally, it's used to let the plant flourish by enhancing nutrient cycling.
These three liquid fertilizers together have a potent combined effect for abundant plant growth. It's a good idea to start a more basic feeding schedule first to see how your plants are responding. This is to prevent nutrient burn. You can then increase the dosage as needed to achieve the desired results. Given the strength of these fertilizers, make sure you constantly monitor the PH levels of the soil.
Best Lawn Fertilizer
Buy On AmazonBuy On WalmartBuy On Home Depot
If your lawn is struggling to grow and is plagued by various problems, you need a capable fertilizer to strengthen it and help it become lush and beautiful. Check out the Scotts Turf Builder lawn food that's been optimized for fertilizing any lawn with the best nutrition available. The secret to growing thick grass isn't just to provide it with essential nourishment, but also to enhance the water and nutrients absorption rate. That's also a feature of this product.
There's no specific time when you have to use as it's designed to work well in any season. Aside from giving some much-needed nutrients to your lawn, this fertilizer is also designed to give some protection against future issues that commonly arise. The thicker the grass, the smaller the chances for new weeds to appear. This lawn food is capable of taking care of the grass when there are stressful weather periods.
Buy On AmazonBuy On WalmartBuy On Home Depot
Growing flowers with just basic care procedures can often fail to deliver the expected results. It's a good idea to choose a powerful fertilizer to promote healthy blooms. The BioAdvanced All-in-One granules have a performant nutrient formulation designed to let roses and other flowers reach their maximum potential. It also packs other handy abilities to keep pests and diseases at bay.
This product is made up of a special 3-in-1 formulation to fertilize plants as well as protect them from insects and diseases. You don't need to spray it as you just need to apply an adequate quantity at the base of the plant. The granules can feed and protect the plants for a maximum of six weeks. They're impervious to rain and can definitely make your life easier when caring for difficult roses or other flowers.
Best Fertilizer For Tomatoes
Buy On AmazonBuy On WalmartBuy On Home Depot
Instead of wasting a lot of fertilizer when trying to feed your tomato plants, why not use a more practical method of nourishment? Jobe's fertilizer spikes are ideal for ensuring proper tomato plant growth without the messy hassles. Similar to others from this manufacturer, these ones come pre-measured with a handy time release feature. To obtain a good level of thriving, the spikes give 8-week continuous feeding.
This pack contains a total of 18 spikes with a performant 6-18-6 fertilizer formulation. It doesn't matter what tomato variety you plan on growing as the fertilizer can provide excellent results for all of them. The spikes give nourishment directly to the root for maximum productivity. It's also important to use earlier in the season. All in all, if you wish to get an abundant tomato crop, the Jobe's fertilizer spikes are vital to get.
Best Air Plant Fertilizer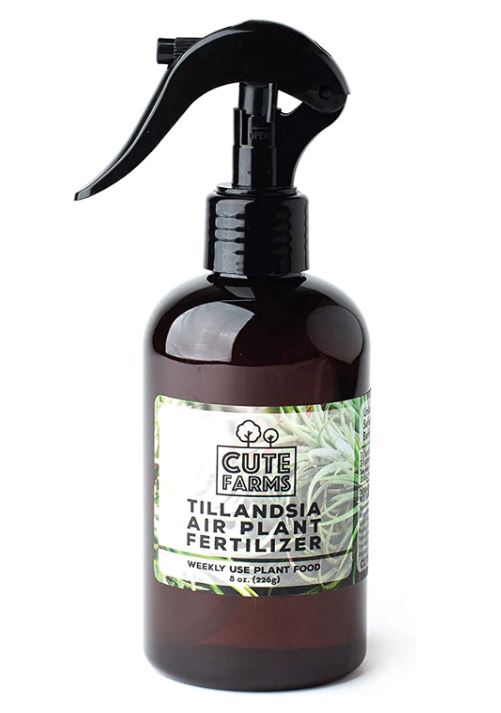 Those looking for a reliable air plant fertilizer should take a close look at what this model from Cute Farms offers for the money. This is a Tillandsia fertilizer that uses a 16-9-25 nutrient formulation which you can apply directly to the plants using a fine mist spray bottle. It's an ideal fertilizer for plants that absorb nutrients better through their leaves and we also recommend it for terrarium owners.
If you want to maximize growth results, this fertilizer will work best when you use it on a weekly basis. Keep watering plants as usual and you should be able to rejuvenate them if they have problems. Many air plants can be sensitive, but this formulation is designed to gently provide them with important nutrients that could be missing. Open terrariums might require spraying more often to ensure that your Tillandsias get adequate nourishment.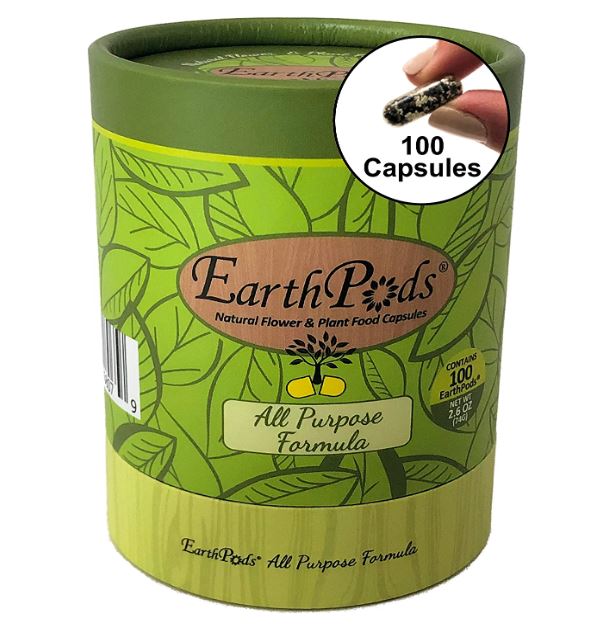 Excellent for both indoor or outdoor plants, the Earthworm Technologies EarthPods mimic the natural composition of forest earth. The fertilizer capsules are incredibly easy to use even by the elderly or physically challenged. Made in the USA, this fertilizer is incredibly practical for feeding plants without bothering with measurements, smells, or making a mess. As opposed to other fertilizers out there, this product is also packed in an eco-friendlier manner.
Depending on the size of the plant, you will have to increase the number of fertilizer capsules for proper feeding. There are many elements included to let your plants thrive. Aside from the usual organic nutrients and minerals, the fertilizer also contains a balanced mix of microbial populations which boost the growth rate significantly. In just a matter of minutes, capsules are broken down and plants start absorbing the complex blend of nutrients. Sustainable, easy-to-use, and highly performant, this formulation deserves an entry on our list of best fertilizers for the money.