This post may contain references and links to products from our advertisers. We may receive commissions from certain links you click on our website. As an Amazon Associate Rhythm of the Home earns revenues from qualifying purchases.
Share this article:
Board games have experienced a resurgence in popularity in recent times. Many people with families want to engage in fun activities at home that can allow everyone to participate. Video games and other forms of entertainment can be fun yet they still lack a certain something when it comes to establishing a better connection between family members. Sometimes the old-fashioned way works best thanks to its reliance on face-to-face interactions and teamwork. From classic titles to new ones, board games offer you the opportunity to spend some quality time with your partner, children, teenagers, and friends.
If you're thinking of updating your game cabinet with some fresh board games, you've come to the right place. This article will show you the best picks for maximum enjoyment with the whole family. From classic titles to newer ones, the following board games should be able to quickly reignite the spark of competition and give you hours of fun times. Traditional board games that are more children-friendly are great to consider as a parent. This is because you can use this opportunity to teach your kids some good behavior lessons. Without further ado, check out the best family board games out there.
Buy On AmazonBuy On Walmart
Offering tons of replaying value and giving you great opportunities to use your strategy skills, the Ticket to Ride board game is one of the best titles that has gotten extremely popular in recent times. Made by Days of Wonder, this board game can be easily played by all members of the family. Any tabletop enthusiast will appreciate the cross-country train adventure and competition for claiming railway routes.
The game is relatively easy to learn, even by children though it will take a considerable longer amount of time to master it. This is probably one of the reasons why it has so much replay value. The game time is quite fast and the build quality of the board and pieces is really solid. There's definitely a sense of premium quality for the trains, cards, and the overall packaging. Ticket to Ride has excellent potential to become a family favorite.
Best Easy To Learn Family Board Game
Buy On AmazonBuy On Walmart
Sequence is an exciting board game that involves a lot of strategy and it can be fun individually or if you wish to do some teamwork. The game is fairly easy to learn and play, and it's recommended for anyone over the age of 7. Sequence combines card game mechanics with a board and even though it may seem simple, it actually takes a while to master it.
The instructions are very easy to understand so this means you can enjoy the game with both children and elders. Many people will like Sequence for its ability to combine mechanics similar to bingo and poker games. You can safely count on this board game to provide you and your family with countless hours of entertainment. Sequence is both fun and simple to play while still allowing to make use of strategy skills.
Buy On AmazonBuy On Walmart
Any die-hard board game fan will most likely know about Catan already. This is an incredibly exciting game that allows you to trade, build, and settle in a fascinating world. The fun part is when you need to expand and compete against other players on the board. Catan is an adventure-based game named after the island where players build their settlements and should be an ideal choice for all players over the age of 8.
There's plenty of tactical skill involved in this game as you need to learn how to trade and upgrade your settlements. While the game may be a bit complicated for children to play by themselves, Catan becomes really fun when adults join in. This board game has a decent game speed of around two hours when played in four people. Overall, Catan is a very satisfying board game to play but keep in mind that this is just the base game so you will most likely need the expansions to enhance the experience.
Best Strategy Family Board Game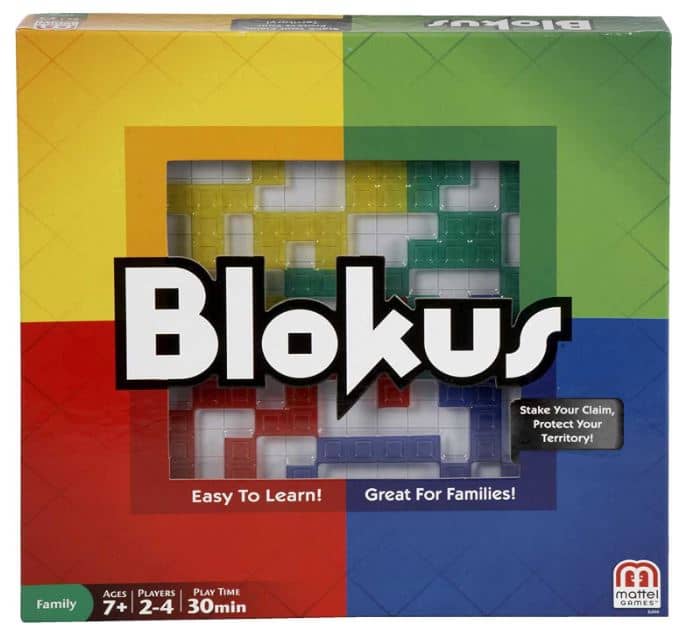 Buy On AmazonBuy On Walmart
Similar in look to Tetris, the Blokus board game is a relatively new game you can try if you like to involve plenty of strategy as well as spatial reasoning. This is a family-friendly game that promises endless hours of fun as you will try to claim territory and block other players. The game earned an aware from Mensa thanks to its ability to enhance your critical thinking skills.
You can learn to play this game in just a matter of minutes and despite the appearances, it's actually quite challenging regardless of age. Thanks to a relatively short play time of just 30 minutes, Blokus is a recommended board game if you like the idea of quick and fun activities. Anyone who's into more fast-paced board games will probably love the gameplay and the friendly competitive vibe of Blokus.
Best Team Game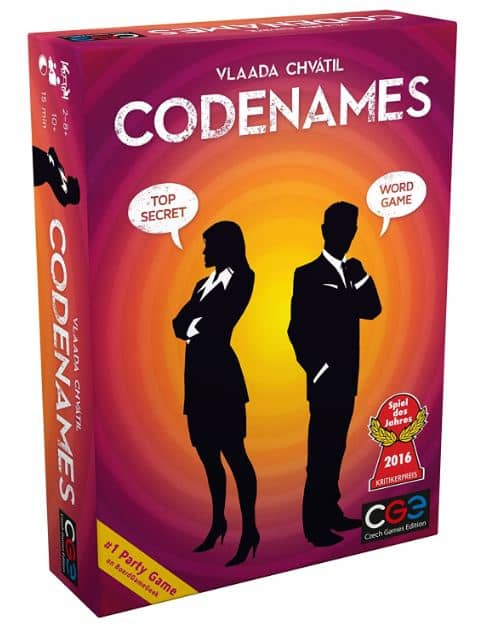 Buy On AmazonBuy On Walmart
Codenames represents an excellent choice for households with teens. This social deduction board game is very cleverly designed and has been experiencing an impressive surge of popularity recently. Players will try to figure out secret identities judging only from clues delivered by a team captain. If you're looking for a great team game, Codenames has solid potential. It's easy to play and can be very entertaining.
The spy-based theme of this board game will probably earn many fans as it feels quite exciting. Ideally, the game flows best when there are around 4 to 6 players. More than that will probably start affecting the enjoyment of everyone as there will be too many people trying to guess. The playing time of 15 minutes makes this board game quite fast-paced. While some may feel that Codenames doesn't really have a complex concept, it's safe to say that it's a blast to play.
Best Cooperative Family Board Game
Buy On AmazonBuy On Walmart
The world of strategic board games has lots of good candidates. One family-friendly game you should try is Pandemic. This is a cooperative game where players face a deadly disease that quickly spreads. Both adults and teens can find a lot of enjoyment as they take different roles in the game to deploy the best strategy and resolve the challenge. Keep in mind that young children may find Pandemic a bit too complicated.
This game lasts around 60 minutes typically though you can also play it again easily without feeling a considerable drop in entertainment. You can play Pandemic in two people though it's usually more fun with 3 or 4 players. As opposed to other board games out there, this one evokes a deep sense of suspense as it gets pretty challenging over time. It's very interesting to cooperate with others and choose the best path of action. Overall, Pandemic deserves an important mention for its great theme and gameplay.
Best Classic Family Board Game
Buy On AmazonBuy On Walmart
Sometimes the classic option is the best one. Those who favor the traditional competitive dynamics of board games should definitely consider going for Monopoly. Both new and more experienced players can have a lot of fun with this game as it becomes very exciting when people own properties, build hotels, and collect rent. This game is recommended for players ages 8 and up.
Monopoly is fun to play with more people and the maximum number of family members or friends you can include is 6. Made by Hasbro Gaming in the USA, this is a modern version of the popular game which offers a few improvements and extras compared to the older games. Each money denomination fits much better in a single row while it looks like the board itself benefits from a significant bump in construction quality. Even though the game time is usually longer compared to other board games, this shouldn't detract from the fact that Monopoly is an excellent family-friendly game.
Buy On AmazonBuy On Walmart
One of the most visually stunning board games out there, Forbidden Island is a cooperative game where players learn to use various strategies to keep the island afloat as long as possible. You need to work together and make some sacrifices at some point while the pace gets faster. An interesting aspect about Forbidden Island that makes it stand out over other board games is the quality and detail of the physical elements of the game.
This board game is known for creating a great sense of tension for all the players involved. It can really keep you on the edge of your seat once the island starts to fall. The cooperative aspect of the game is well designed making it perfect for families with a history of unhealthy competitiveness. One of the best elements of Forbidden Island is how easy it is to adjust the difficulty level to make it enjoyable for anyone, particularly kids.
Best Family Board Game For Parties
Buy On AmazonBuy On Walmart
Telestrations is a fun board game for parties and can be played with either family members or friends. You will have to use some drawing skills as well as try to do a lot of guesswork that's sure to make others laugh. As opposed to other board games out there, this scores very high in terms of the overall engagement. Made by USAopoly, this board game can be considered the visual alternative to the traditional telephone game.
This is one of the few board games out there that can be considered suitable for all ages. There are 1700 words and phrases included in total and it's safe to say that it will take a long while until you'll sketch and guess all of them. Telestrations also features some expansions to take the fun to a new level. The 12-player party pack is worth mentioning as it expands the game to be played with more people. There's also an adults-only version of the board game which is called After Dark.
Buy On AmazonBuy On Walmart
Few board games can withstand the test of time as well as the classic Scrabble. Easy to learn and involving plenty of strategy skills, this board game allows you to have a wordy showdown with all your family members or friends. The game can get quite competitive and challenging and yet it feels more relaxing compared to games like Monopoly which makes it an ideal solution for spending a quiet evening at home.
Given the age rating of 8 and up, Scrabble will provide great entertainment even for younger members of the family. In fact, it's a really good idea to play this game with your children as you challenge them to think of the right words to use. The game can provide a nice learning opportunity. In terms of construction quality, this version of the game will give you a sturdy board with nicely built tile racks and letter pieces.
Best Competitive Family Board Game
Buy On AmazonBuy On Walmart
If you're super competitive, Sorry! is the perfect board game to try. Thanks to its 6+ age rating, this board game can bring a lot of fun to the table for the whole family. The fact that you can send competitors back to the starting point represents one of the game's main elements that can create sparks between players. That's just part of the game's excitement as you need to place all your pawns in the safety zone.
Sorry! is an ideal board game for 2 to 4 players. It represents a small investment compared to other family-friendly games out there. The newer version of the game has been criticized for some not-so-great attempts at improving the gameplay but despite the slightly more cluttered feel, the game will still match your expectations without issues. All in all, Hasbro Gaming's Sorry! is a fun classic board game that's highly recommended.
Buy On AmazonBuy On Walmart
Splendor is a game that allows players to experience the riches of the European Renaissance in a fun way. This is a board game that focuses on using ingenious trading strategies to obtain prestige points. That's something like a measure of your wealth and in order to increase the points, you need to get your hands on various elements such as gem mines, trade routes, and storefronts.
The game time of Splendor reaches around 30 minutes which means it's among some of the more fast-paced titles out there. Playing this with smaller children may be a bit more challenging as the game is recommended for ages 10+. One of the best aspects of this game is the balance as there's not a single overpowered strategy that you can use to win. Considering the high replayability, casual competitive feel, and intriguing economic theme, Splendor is an underrated board game to try.
Buy On AmazonBuy On Walmart
A high-quality family board game needs to have easy instructions to follow and deliver a balanced playing experience to allow both kids and adults to enjoy themselves. Ravensburger's Labyrinth seems like a great match in that case. The board game's main objective is to discover the shortest route through a labyrinth while gaining all the treasures and targets. A maximum of 4 players can play this game and there's a lot of replay value.
The play time of 30 minutes may seem low but keep in mind that Labyrinth packs a lot of replay value. The shifting pathways will add a sense of tension and will involve plenty of strategic planning. Children aged 8 or more can take advantage of the interesting mechanics of this board game to learn essential skills to reach the winning goal. Both adults and teens can enjoy the challenges of this game too so don't miss out on Labyrinth's potential.
Buy On AmazonBuy On Walmart
If you're searching for a family board game that involves a great level of strategy, you should give 7 Wonders a try. You will become the leader of a great ancient city and need to use the available resources to build architectural wonders. There are three ages that enable players to fully develop their city. The gameplay is quick and engaging once everyone gets the hang of it.
The playing time of 30 minutes is fairly average but considering the decent level of complexity of this board game, it's safe to say that you can play it over and over again without affecting the entertainment value that much. 7 Wonders is an ideal game for more people to play together though it's not so great for children given its 13+ age rating. The instructions might seem daunting at first for some people, but if you will put in some effort and patience, you will be rewarded by satisfying gameplay.
Buy On AmazonBuy On Walmart
Forbidden Desert is a thematic sequel to Forbidden Island and can be an appealing choice for fans of cooperative board games. It's made by the creator of Pandemic though the mechanics are fairly different and it's safe to say that the game is not as complex. There are some similarities with Forbidden Island though there's a new mechanic that adds excitement – a moving storm.
Considering its 10+ age rating, you will probably have the most fun if you play this game with older members of the family. The maximum number of players that can play this board game is 5 and it's recommended not to attempt to play in more as you can disrupt the game balance. A great overall board game for those trying to start their dive into the world of cooperative games, Forbidden Desert is worth the money.