This post may contain references and links to products from our advertisers. We may receive commissions from certain links you click on our website. As an Amazon Associate Rhythm of the Home earns revenues from qualifying purchases.
Share this article:
Instead of scrubbing by hand, you can save a lot of time and effort by purchasing a brush attachment for your power drill. This is a handy accessory that can be a game changer when it comes to dealing with various household cleaning tasks. There are all kinds of different drill brushes on the market. Depending on construction details and bristle design, brushes can be more specialized to handle a particular cleaning application. It's important to consider the stiffness of the bristles to ensure that you won't be using a hard brush on delicate upholstery or a soft one for tough jobs such as cleaning grills.
Drill brushes need to be durable enough to withstand long-term use. Some more specific brush shapes can be desirable depending on the layout of the cleaning surface. The versatility of the brush attachment can play a notable role in your decision. Some people prefer getting an all-purpose model while others want to have different brushes available to clean more effectively. If you're looking to get the best bang for your buck, check out these drill brush packs that stand out on the market due to their superior durability, performance, and overall cost-effectiveness.
Best All Purpose Drill Brush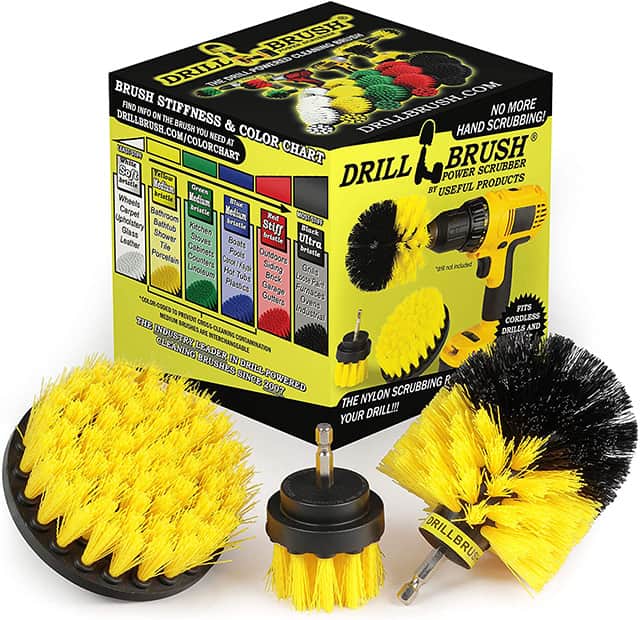 Buy On AmazonBuy On WalmartBuy On Home Depot
The Drill Brush Power Scrubber kit has all it takes to become an indispensable tool in your home. The set features three different types of brushes that can be easily attached to your power drill for a more reliable level of cleaning. Thanks to the medium stiffness design and the distinctive shapes, this is a handy drill brush cleaning set for a wide range of applications.
A large yellow-black brush has been provided to handle tight corners more efficiently. This is possible thanks to its bullet-shaped construction. Dealing with spot cleaning is easier with the small 2-inch yellow brush while the larger 4-inch yellow attachment is designed for finishing off flat surfaces. Whether we're talking about the fixtures in the bathroom or other cleaning applications, the Drill Brush Power Scrubber kit is strongly recommended.
Best Drill Brush Set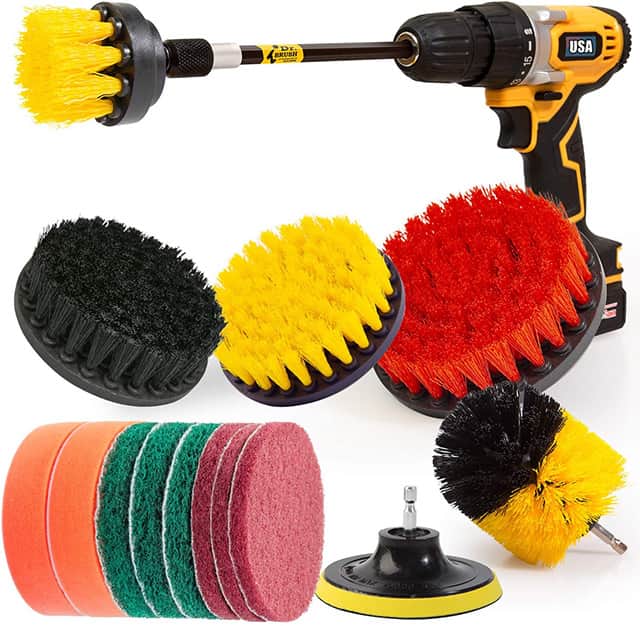 Buy On AmazonBuy On Walmart
Affordable and versatile, the Holikme drill brush set features multiple scrubbing brushes, scouring pads, and sponges that allow you to tackle many more cleaning tasks. There are different stiffnesses available so you can clean carpets, bathroom tile, furnaces, and hot tubs with the help of a correct drill brush. It may seem that you need to spend some extra effort on connecting the right brush to the drill but the attachment operation is very intuitive.
The manufacturer provides a convenient color-based guide to help you pick the best brush depending on the cleaning job. For example, the green stiff pad is recommended for mineral deposits on pans. The yellow brush works better for bathroom fixtures while the red one is optimized to clean linoleum and stainless steel. It's all about choosing the proper levels of stiffness and thickness to get the best cleaning results.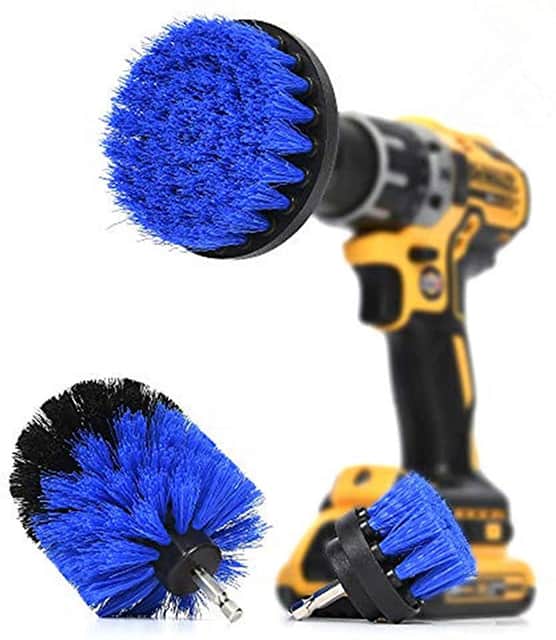 Buy On AmazonBuy On WalmartBuy On Home Depot
If you're looking for a premium kit of drill brushes, check out the original Drill Brush 360 model. It packs three attachments for scrubbing various surfaces with maximum efficiency. There's no need to waste time looking for a specific brush as the medium stiffness ensures solid performance for multiple cleaning jobs. All the brushes included here have been carefully molded and tested to guarantee cleaning reliability.
With the help of this brush set, you can power scrub dirty surfaces in the kitchen or tough areas in the bathroom. Aside from the main 5-inch brush for tackling most areas, you can take advantage of the 4-inch medium brush optimized for flat surfaces. Finally, the detailing work can be handled by a 2-inch short green brush. When it comes to durability, this drill brush set stands out due to using corrosion-resistant materials and durable polypropylene plastic.
Best Automotive Drill Brush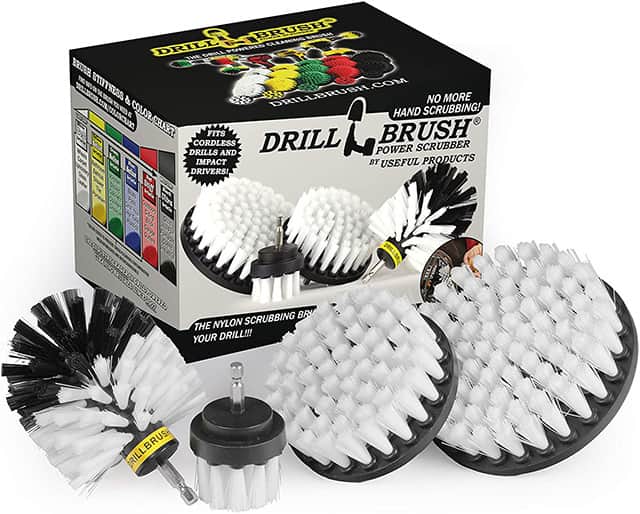 Buy On AmazonBuy On Walmart
There are many solid drill brushes on the market that can be used in an all-purpose style. Some people are looking exclusively for this kind of tool to handle automotive cleaning. Check out the Drill Brush Power Scrubber special set for car detailing. It's available in different colors while offering a total of four brushes with soft and rigid bristles for thorough cleaning and scrubbing multiple areas of your car.
Cleaning harder-to-reach areas such as the corners of car seats or the rims should be done with the large brush from the set. The flatter surfaces of the car can be polished beautifully with the help of the 4-inch scrubber. Some examples include the windshields and carpets. You also get a small 2-inch brush that's perfect for detailed cleaning jobs such as the tires. All in all, this automotive drill brush set brings a lot of value for the money.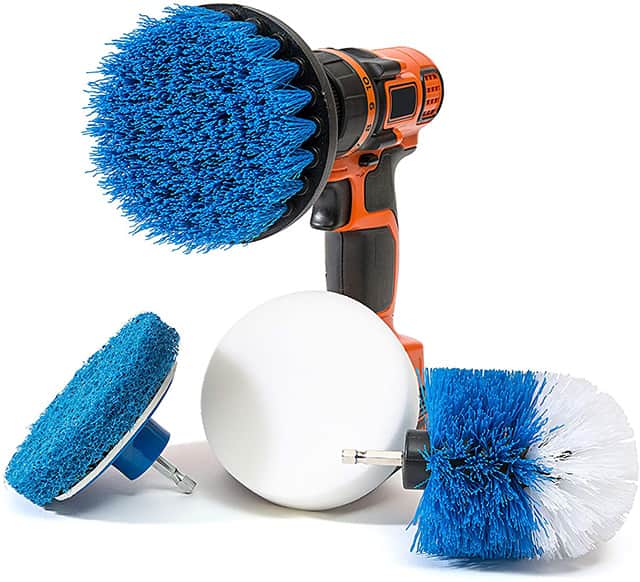 Buy On AmazonBuy On Walmart
Anyone who needs a high-performance drill brush set should take a close look at this 4-piece model from RevoClean. It's designed to meet professional needs without breaking the bank. Different types of brushes are quickly attached to your electric drill to start removing dirt from tiles, carpets, counters, and many more surfaces that need cleaning. You can also polish items without worrying about scratching if you use the correct brush in the kit.
One of the most impressive brushes in this kit is the soft sponge attachment. This isn't as reliable at scrubbing compared to other brushes but its special design allows it to work better for delicate cleaning or polishing jobs. Use the large drill brush provided here for tight corners or areas that aren't easy to reach. Then it's simply a matter of letting the power drill handle the scrubbing work.
Best Heavy-Duty Drill Brush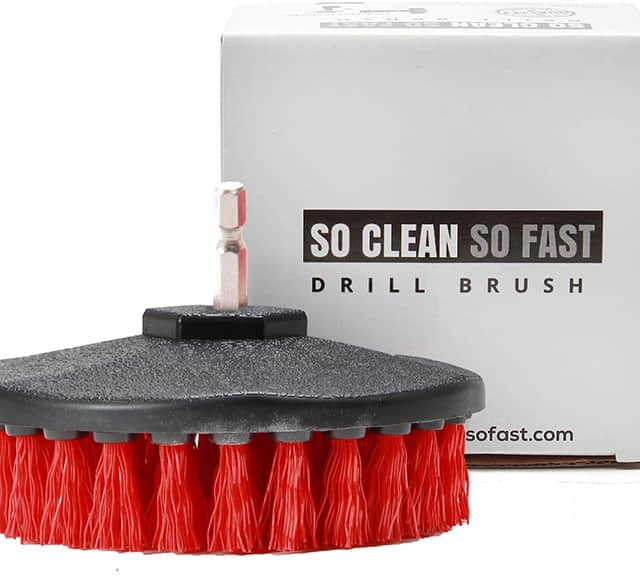 Buy On AmazonBuy On Walmart
One really heavy-duty drill brush comes from So Clean So Fast. This model is engineered to be a much more performant alternative to manual scrubbing. It doesn't come as a kit with multiple attachments, just one extra-powerful brush with an improved all-purpose design. You can get superb results regardless of surface material and without having to crank up the power of the drill to the maximum.
Thanks to enhanced stiffness, the bristles of this brush provide superior levels of stability compared to others. It's not just more performant in terms of removing dirt but also easier to use for various cleaning tasks. The steel shaft of the brush shows off a heavy-duty construction that gives it solid compatibility with most power drills out there. If you want to focus on tile and grout removal, this is an exceptionally great drill brush.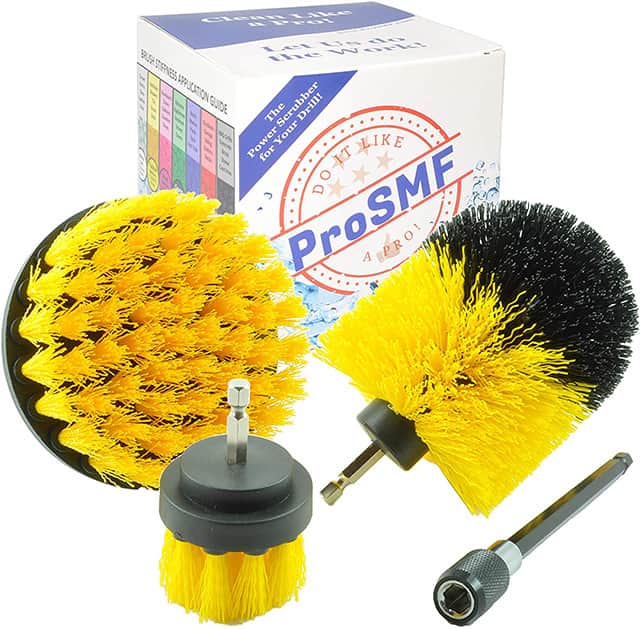 Buy On Amazon
With solid dedicated attachments, the ProSMF drill brush set is the ideal solution for cleaning the bathroom. It's specially designed to let you clean effortlessly without hand scrubbing. Remove dirt by using the right brush attachment together with your power drill. Depending on the brush type used, you can handle various surfaces and areas such as the shower, toilet, and sink. It's useful for both wet or dry applications.
The brushes included here will make you forget about wasting time scrubbing tough grime manually. Each brush features polypropylene bristles engineered for maximum durability while the crimped construction provides increased contact with the surface. There are three main brushes included in this set so you can tackle large surfaces, difficult corners, and detailed cleaning. As a bonus item, there's also a 6-inch steel extension that's included to give you some extra reach.