This post may contain references and links to products from our advertisers. We may receive commissions from certain links you click on our website. As an Amazon Associate Rhythm of the Home earns revenues from qualifying purchases.
Share this article:
No matter how careful you are about taking care of the lawn, it will still have some amount of dead grass and associated plant debris. This is called thatch and shouldn't usually be a problem. However, when too much decayed plant material accumulates, it can start to affect the health of the lawn. That's when you need to consider getting a specialized tool for the job of reducing thatch levels and restoring the vibrant green of the yard. Instead of using the services of professional landscapers all the time, a better option is to invest in a dethatcher. You can keep your yard clean and healthy with minimal effort.
Dethatchers are essential tools if you're interested in proper lawn care. Excess thatch buildup is best handled by pulling it from the grass bed. The job can be handled easily by a standalone corded dethatcher that looks similar to a lawnmower. Alternatively, you can get your hands on a tine tow dethatcher. The advantage is that you can cover a larger surface area but you need an ATV or riding mower to operate it. Regardless of your preferences, check out the best options available right now for dethatching your lawn.
Best Corded Dethatcher
Buy On AmazonBuy On Walmart
If you're looking for a reasonably priced corded dethatcher, this 14-inch model from Greenworks can be right up your alley. Thanks to its 14-inch dethatching path, you will be able to get your lawn clean and fresh in record time. The power comes from a 10-amp motor while adjustability is provided through the 3-position tine. Dethatching your lawn is a breeze with the help of this machine.
The user can operate the dethatcher without too much effort considering the comfortable handle and ingenious corded system. Although you will need to have access to a power outlet, you can deal with the lawn maintenance work very efficiently up to 150 feet. A simple push of a button is all that's required to activate this electric dethatcher. The tines are built from stainless steel for maximum reliability while the handles allow folding to save space during storage.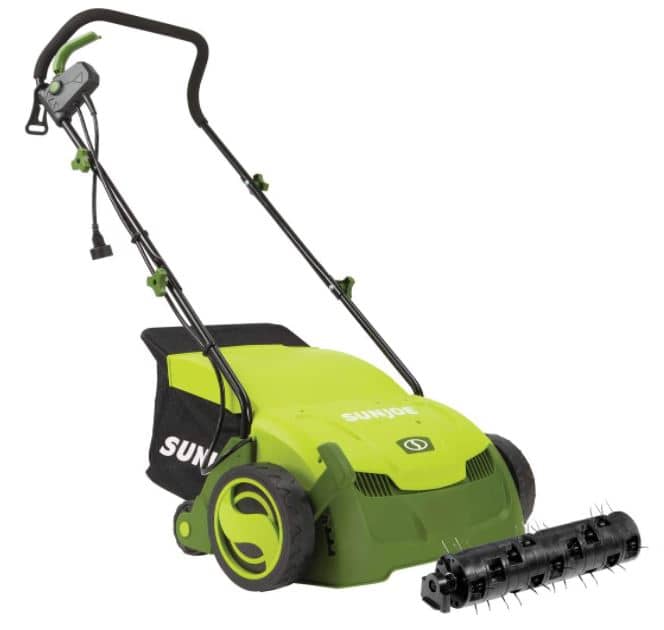 Buy On AmazonBuy On Walmart
Sun Joe is one of the best brands to consider when it comes to various gardening power tools. Check out the AJ801E electric dethatcher that features many solid features for the cost. It's equipped with a 12-amp motor and AirBoost technology to maximize thatch pickup. As opposed to a more basic dethatcher, this unit includes some extra abilities to make it worth the investment. It has a scarifier function to reduce grass roots and maintain a clean lawn.
All that accumulated thatch in your yard can be quickly collected in a dedicated 8-gallon rear bag. Thanks to the large rugged wheels of this dethatcher, you can use the machine on all kinds of terrains. The dethatching depth can be adjusted manually while the handle of the unit is collapsible for more convenient storage. This dethatcher can handle a 12.6-inch wide path in one go.
Best Tine Tow Dethatcher
Buy On AmazonBuy On Walmart
Anyone searching for a tine tow dethatcher designed for attachment to a lawnmower or ATV should try this Agri-Fab model. It's crafted from sturdy alloy steel and boasts a large width of 48 inches to help you manage big lawns effortlessly. The thatch will be loosened and lifted to prepare the soil for new growth in the spring. A total of 24 heat-treated spring tines work together to enhance productivity.
When it comes to making height adjustments, this dethatcher provides a bit of flexibility through its cantilever handle that controls the tines. Keep in mind that you will need some strong weights during the dethatching process. They need to be placed on the tray of the unit whose capacity reaches a maximum of 70 pounds. The universal hitch is compatible with pretty much any tractor on the market.
Buy On AmazonBuy On Walmart
The Earthwise corded electric dethatcher represents a great choice for cleaning up your yard. It's equipped with a 13-amp motor designed with safety and convenience in mind. Thanks to its generous working width of 16", you will be able to dethatch the lawn in no time. At the same time, this machine also works to aerate the soil at the surface to help the grass thrive.
As opposed to high-maintenance gas-powered models, this dethatcher can be operated with minimal effort. You simply need access to a power outlet. The cord is carefully kept out of the way of the dethatcher so there's no need to worry about safety. It's surprisingly practical to work with even if it doesn't reach the portability of a cordless model. You can adjust the wire springs to any working depth from -0.4″ to 0.4″ for a customized dethatching experience.
Buy On AmazonBuy On Walmart
Designed to maximize thatch removal, the Brinly tow behind dethatcher offers an impressive working width of 48″ to handle more ground in one go. A set of multiple spring steel tines go through your lawn for efficient dethatching. Similar to other tine tow units, this dethatcher will require a connection to tractors or ATVs. It features universal hook-up compatibility and there's minimal assembly involved.
In terms of construction quality, this model boasts heavy-duty steel for its frame and dethatching tines. You can benefit from more reliable leveling thanks to the ingenious positioning of the never-flat wheels. The flexibility of the metal tines ensures adequate dethatching performance while the triple coil reinforcement promises excellent long-term durability. Make sure you supply sufficient weights on the tray of this dethatcher to enjoy a revitalized yard in no time.
Buy On AmazonBuy On Walmart
A convenient tool at a reasonable cost, the WORX corded dethatcher packs a multitude of advanced features to get the desired look for your lawn. It gets rid of unsightly thatch to better manage the landscape. You can take advantage of three depth adjustments which come in handy depending on the requirements of your lawn. A collection bag is integrated into the machine to accumulate debris and avoid getting dirty yourself.
Performance-wise, this dethatcher won't disappoint gardeners. It's equipped with a 12-Amp motor featuring a 14" cutting width and 3500 RPM. There are units more performant on the market but most lawn dethatching jobs can be tackled with this model without issues. It's a breeze to use thanks to the lightweight design as well. When it comes to operating comfort, the electric dethatcher offers a padded grip and lock-off switch for added security.
Buy On AmazonBuy On Walmart
Another great dethatcher from Sun Joe, the AJ805E model could be the right solution to enhance the look of your lawn. It can easily deal with all those unsightly browning patches of dead grass in the yard that need removal. You have to dethatch the lawn to promote new healthy growth. To thicken up the grass, this dethatcher offers scarifying abilities that will make your lawn stand out.
The 15-inch cutting width should be more than enough to work on small to mid-sized lawns. Thanks to multiple depth adjustments, you can adapt the dethatching process according to the needs of your yard. The dethatcher is equipped with AirBoost technology that improves the pickup of decayed grass. Aside from superior raking performance, the machine also promises solid long-term durability with its reliable spring steel tines.