This post may contain references and links to products from our advertisers. We may receive commissions from certain links you click on our website. As an Amazon Associate Rhythm of the Home earns revenues from qualifying purchases.
Share this article:
By getting your hands on a high-quality deck stain, you will be able to prevent many common issues that affect your deck, such as heavy rain and intense sunlight. The deck stain choice can play an important role when it comes to how long you can keep the deck in top shape. Although lots of DIY enthusiasts find this type of project relaxing, it can become a chore when you have to deal with the process annually. A solid deck stain should last at least three years but it depends on the type of surface.
There are different kinds of deck stains out there. Most homeowners prefer solid or semi-transparent stains. The extra durability of a solid deck stain makes it closely resemble the qualities of normal paint. This is also where you need to consider potential drawbacks. A solid stain is just as vulnerable to peeling and cracking. For that reason, semi-transparent or clear sealers can be considered. What they lack in overall durability, they make up through visually-pleasing aesthetics. You can take advantage of the natural qualities of your wooden deck and might be able to even enhance the beauty of the grain more effectively. Take a look at the best deck stains available right now on the market.
Best Deck Stain And Sealer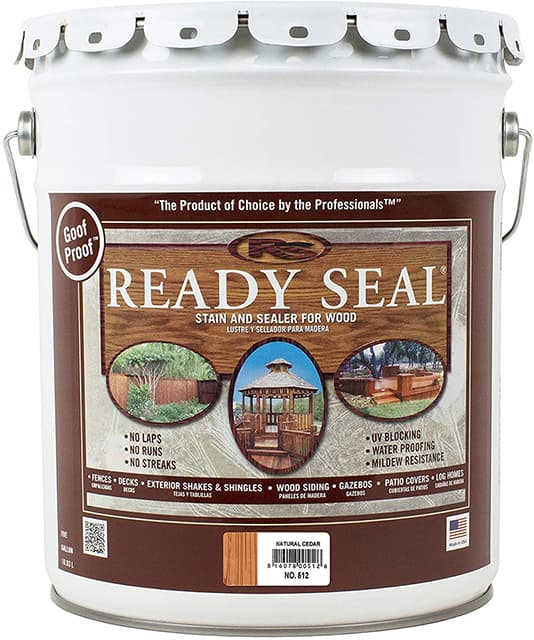 Buy On AmazonBuy On WalmartBuy On Home Depot
Anyone looking for a high-quality deck stain and sealer should take a look at the Ready Seal 512. This product offers a nice range of colors to match your preferences. Examples include natural cedar, burnt hickory, light oak, and mahogany. The reason why this is an excellent wood stain is due to its easy application. It takes minimal effort to use considering no primer, diluting, or back brushing requirements.




This is a complete product for giving your wooden deck a new life. It's not just a basic stain but also offers reliable sealing abilities against damaging moisture. When it comes to applying the product, homeowners have lots of choices available. Good results can be obtained whether you prefer a brush, sprayer, or roller. The deck stain is designed without linseed oil and takes into account environmental friendliness considering its biodegradable properties.
Best Oil Deck Stain
Buy On AmazonBuy On Walmart
If you're searching for a premium deck stain to maintain a natural look, check out the Cabot Australian Timber Oil. It makes use of an advanced formulation to deal with all kinds of household wood-staining projects. As opposed to other deck stains on the market, this model is manufactured in the USA using a high-quality blend of ingredients. Keeping a natural appearance of your wood deck is all a matter of combining dense oils that can truly penetrate deep into the surface.
This deck stain features linseed oil and special alkyds to maximize durability in the long run. You can depend on it to cover around 500 square feet per gallon, which is an average spread rate. Various details of the deck's surface can influence that result. In terms of anti-UV treatment, the deck stain won't disappoint. It's crafted with complex translucent iron oxide pigments that won't affect the natural properties of the wood. The product is highly recommended for more exotic wood surfaces.
Best Semi-Transparent Deck Stain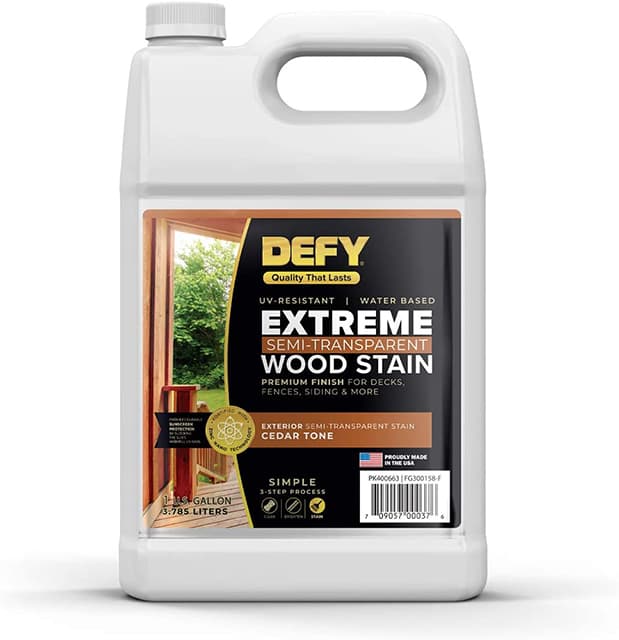 Buy On AmazonBuy On Walmart
The DEFY Extreme semi-transparent deck stain has a lot to offer for the money. Available in lots of stylish colors such as cedar tone, natural pine, and redwood, this water-based product allows the beautiful wood grain to shine like new. It's engineered to act like sunscreen for the patio deck. There's no longer the need to worry about harmful UV radiation destroying the natural beauty of the wood.




One of the elements that make this deck stain stand out on the market is the impressive zinc nano-particle technology. The formulation promises superior long-term reliability to minimize the risk of premature fading. A strong blend of resins ensures that you can keep the deck stained for longer. Adding a maintenance coat is also intuitive to do because the deck stain is designed to work without another sanding. Consider adding a wood brightener to simplify the process.
Buy On AmazonBuy On Walmart
Built specifically for decks and fences, the #1 wood stain from SaverSystems could be the right solution to offer a sturdy layer of protection. Whether you own a cedar or a pressure-treated pine deck, this premium stain offers great compatibility for many different materials. It's available in a few color options while the semi-transparent finish means that you don't need to sacrifice the natural look of the wood grain.
Aside from being a good stain, this is also a deck sealant for extra convenience. Homeowners can depend on this product when it comes to treating damp wood but make sure it gets visibly dry before application. The waterproofing protection can last for a long time. The deck stain is also recommended to make the wood more resistant to color fading and peeling. Thanks to its water-based formulation, this wood stain has low VOCs so it's a breeze to work with.
Best Clear Deck Stain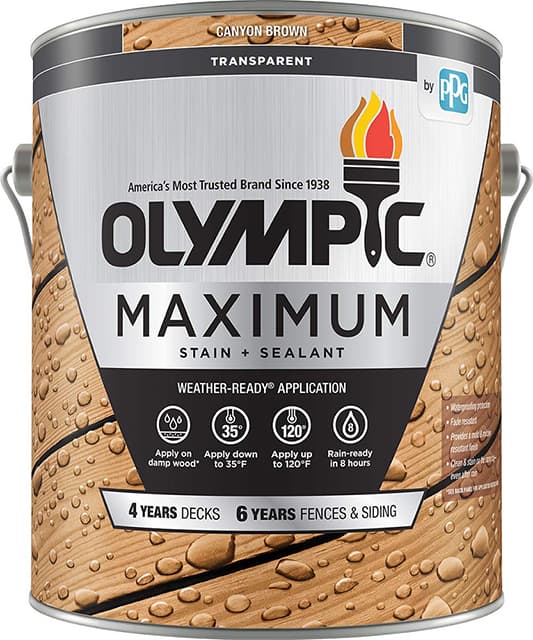 Buy On AmazonBuy On Home Depot
One performant all-in-one deck stain and sealant solution comes from Olympic Stain. This is a fully transparent deck stain that can be safely applied in more situations with the help of its Weather-Ready technology. As long as you treat the deck properly with this wood stain, it's safe to say that you can enjoy around four years of reliable protection against the elements.




This clear stain-and-sealant product will make your deck feel as if it's brand new. Aside from great water resistance, the deck stain features advanced sunblock performance to prevent unsightly fading. The clean finish is also engineered for delivering a mildew-resistant coating to your deck. In terms of available colors, we can count some extra options aside from a fully transparent variant. There are also different deck stain versions such as canyon brown, cedar natural, and redwood.
Best Marine Deck Stain
Buy On AmazonBuy On WalmartBuy On Home Depot
There are many deck stains on the market that can be considered reliable enough to use in areas affected by fresh or salt water. If you want the best durability results, however, it's recommended to stick to a specialized product like the Seal-Once marine deck stain. This is a premium wood sealer that fights against water, mold, and decay problems that can affect wooden decks. It's designed with a transparent finish and flexible yet penetrating formulation.
Although it provides similar performance as an oil-based sealer, the deck stain makes use of a water-based formulation that's free of harmful chemicals. It's a safe product for both humans and marine life. Thanks to its advanced nanotechnology, this model will effectively seal the wood at the cellular level against the dangers of high-moisture areas. The Seal-Once marine deck stain is highly recommended for wood decks, piers, and retaining walls as well.
Best Solid Deck Stain
Buy On AmazonBuy On Walmart
With a solid finish engineered for maximum waterproofing performance, the Thompson's WaterSeal deck stain deserves an entry into our list. This product has been optimized specifically to address concerns of water damage to the delicate wood surface of the deck. The stain is compatible with many types of dry wood. It's suitable for damp surfaces as well but only if they're properly cleaned.
As this is a solid deck stain, you can make use of it to waterproof the deck while changing its look at the same time. Pick your favorite color from a multitude of options such as sequoia red, woodland cedar, maple brown, and coastal gray. A staining treatment with this product ensures excellent resistance to UV damage and mildew. The only downside to choosing this kind of solid deck stain is the more limited wood grain appearance. It's primarily recommended for those who value durability over aesthetics.