This post may contain references and links to products from our advertisers. We may receive commissions from certain links you click on our website. As an Amazon Associate Rhythm of the Home earns revenues from qualifying purchases.
Share this article:
With a unique design that blends a regular bed with a sofa, the daybed can be a solid sleeping solution for many rooms in your house. It's a practical piece of furniture to add to an office for example. The daybed's versatility can come in handy similar to a futon but it's actually better in some ways considering its superior visual appeal and comfort. This seating option works nicely with different interior designs without sacrificing too much available space.
A daybed is great for sleeping but it's also recommended for comfortable lounging just like a couch. Apartment dwellers, in particular, can find daybeds highly beneficial to add to their homes. If you're looking to purchase this kind of double-duty furniture piece, the overwhelming number of options on the market can make it confusing to choose the right daybed. This article will show you a curated selection of the best daybeds in terms of style, construction quality, and overall value for the money. Check them out to create an inviting place for either sleeping or lounging.
Best Metal Daybed
Buy On AmazonBuy On WalmartBuy On Home Depot
Ideal for small living spaces, the DHP Manila is a high-quality daybed to consider. It features metal construction to ensure it has a sturdy frame. When it comes to aesthetics, this is a fairly elegant daybed despite the affordable price tag. It shows off Victorian detailing to add some visual interest. The daybed provides a selection of sizes to choose from as well as different finish colors such as white, gold, or pink.
One great feature of this daybed is the addition of strong slats to increase long-term durability. The trundle is equipped with caster wheels of which two can be conveniently locked as needed. Whether for guests or kids, this metal daybed frame is versatile enough to create various sleeping arrangements in great comfort. The assembly process is not very complicated so the DHP Manila daybed is highly recommended for the money.
Best Compact Daybed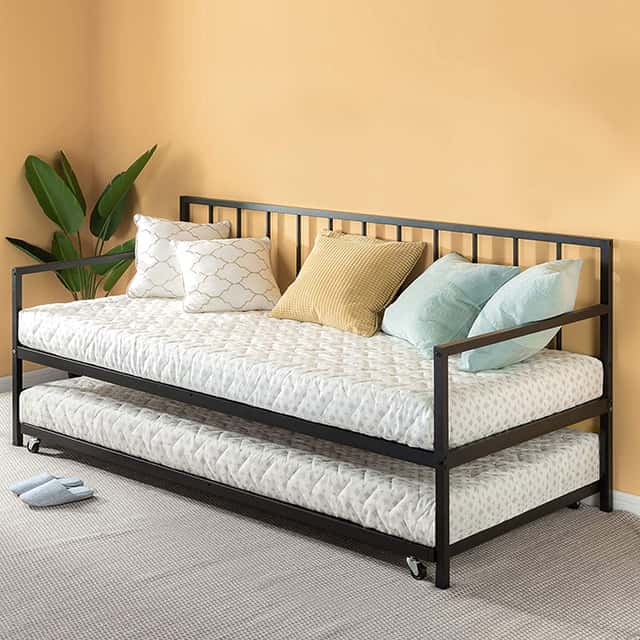 Buy On AmazonBuy On WalmartBuy On Home Depot
With premium slat support and a modern look, the Zinus Eden could be the right solution for a daybed. This model has a robust metal frame and allows users to benefit from extra seating or more sleeping space. Similar to other daybeds out there, this is a complete set that includes a trundle. Take it out only when needed for expanding the available space for sleeping while it can stay tucked under the bed during the day.
While this isn't a particularly large daybed, it's actually intended to be as compact as possible. Its space-saving design could be highly appreciated by many homeowners. The trundle is completely independent of the bed and can be moved around effortlessly with the help of its built-in caster wheels. Assembling this daybed frame is a breeze considering the simple and intuitive design of its parts.
Best Mid-Century Daybed
Buy On AmazonBuy On WalmartBuy On Home Depot
The Novogratz Her Majesty is a well-designed daybed that can suit more refined tastes. It shows off a premium upholstered appearance in elegant shades of pink, green, blue, and gray. This daybed relies on Mid-Century aesthetics considering stylish details such as the diamond-tufted backrest and tapered legs. The frame makes use of top-quality wood that contributes to the elegant appearance of the bed.
When you need extra space to sleep, the daybed provides a pull-out trundle that can accommodate various mattresses with a maximum height of 6". There are casters supplied to set up the extra bed with minimal effort. Although it's fairly comfortable, the main daybed is still the best option for sleeping. It boasts a bentwood slat system that's very supportive without the need for a foundation. All in all, the Her Majesty collection from Novogratz can provide a luxurious treatment for anyone who needs a daybed/trundle set.
Best Twin Daybed
Buy On Amazon
If you're looking for a simple yet durable twin daybed, check out this Giantex model. It's fully built using heavy-duty metal in an attractive modern design. Aside from working nicely as a sofa, this piece of furniture is also very functional to increase sleeping accommodations in the house. There's a pull-out trundle bed for allowing guests to sleep. During the day, it can remain under the main bed to save space.
While some wood-based daybeds out there can appear more elegant, they may also be less durable than their metal counterparts. This model's structure performs well in terms of supportive ability. The strong steel structure keeps the daybed stable and should meet even more heavy-duty load-bearing needs. When paired with the right mattress, this twin daybed has great potential to let you sleep comfortably and safely.
Buy On AmazonBuy On WalmartBuy On Home Depot
Another stylish Novogratz daybed, the Tallulah collection has all it takes to become a favorite among those with more generous budgets. This daybed stands out compared to others thanks to its retro silhouette with elegant curves as well as the luxurious velvet upholstery. Take your pick between stunning shades of blue, pink, or gray. Button-tufted details contribute to the overall impressive design.
Although this daybed has been clearly built with a focus on aesthetics, that doesn't mean lots of compromises have been made in terms of durability. Similar to other daybeds on the market, this model is equipped with a bentwood slat system and a robust wood frame. The slats are engineered to be stable for comfortable use. When it comes to compatibility, the daybed works with any two twin mattresses. Keep in mind the maximum accepted height for the trundle bed to ensure that your preferred mattress fits correctly.
Buy On Amazon
There are lots of daybeds on the market but few can match the value for the money of DHP's Dale model. This spacious bed can accommodate a full-size mattress and also work nicely as an elegant sofa for various interior decor styles. Thanks to its metal construction, you don't need to worry about durability. It's recommended as both extra seating or additional space for sleeping.
The cost of this daybed is quite reasonable when taking into account the close attention to design details. It looks like the bed draws inspiration from classic 18th-century aesthetics due to the use of linen upholstery and nail head trimming. Despite its sophisticated visual appeal, the Dale daybed won't stand out too much or appear out of place. It also feels casual and homely to provide enjoyable comfort for many years to come whether it's placed in a guest room or the bedroom.
Buy On Amazon
A daybed made of metal may not sound as appealing for many but this Jurmerry model can change that impression considering its innovative blend of durability and elegant aesthetics. Available in either black or white colors, this daybed is built to withstand the test of time as evidenced by its reinforced side rails, support legs, and easy-lock iron slats. The overall frame of the bed gives off a reliable vibe.
In terms of looks, the metal daybed is also more interesting to look at compared to other basic models on the market. It uses curved lines and sleek detailing to create a traditional design that's simple to integrate into different living environments. Another great feature of this daybed is the lack of tools needed for the assembly. You can put it together in record time without additional purchases such as a box spring.