This post may contain references and links to products from our advertisers. We may receive commissions from certain links you click on our website. As an Amazon Associate Rhythm of the Home earns revenues from qualifying purchases.
Share this article:
If you want to keep your couch looking fresh with minimal effort, the best solution is to purchase a protective cover. With the help of a washable slipcover, you can take better care of the sofa without worrying about dealing with a reupholstering process. It doesn't matter if your sofa is old or new. As long as the couch is structurally sound, covers can bring a notable aesthetic upgrade for older pieces.
New sofas can also benefit from the extra layer of protection offered by a slipcover. There are two main styles when it comes to couch covers. You can opt for a temporary cover design featuring thick material pads that are intended to be placed over the sofa and secured with some straps. A more permanent design style refers to flexible fabrics that fully envelop the couch, base and cushions included. Regardless of your preference, check out the best couch covers for the money currently available on the market.
Best Reversible Couch Cover
Buy On AmazonBuy On WalmartBuy On Target
Anyone who needs a stylish reversible couch cover needs to take a close look at the Easy-Going slipcover. It's made from high-quality microfiber and offers a staggering selection of colors to match any sofa style. There are three size options available so you can find a compatible cover for your particular couch. Just make sure you measure correctly to enjoy a perfect fit.
Thanks to the quilted texture and thick material, the slipcover feels like a durable accessory to add to any couch. It features a reversible design so you can switch to another color if you need a style change. The material promises excellent resistance to moisture while the design of the cover includes foam rods for each side of the sofa to increase stability. The couch cover stays more securely attached due to the elastic straps as well.
Buy On AmazonBuy On Walmart
With a patent-pending strap design, the Sofa Shield couch cover is an excellent option to consider. It offers a wide range of sizes from small to XX-large so you can find the best slipcover to match your sofa. Although it's not built for leather couches, the cover works very well as a protector for furniture pieces with fabric upholstery.
It ensures that your pets won't make a mess and can be properly cleaned in the washing machine. That's a great advantage of this couch cover. Thanks to the added adjustable straps with thick construction, the cover stays securely in place. The high thread count of the microfiber fabric protects the couch from damage and spills but also improves overall comfort. Keep in mind that this isn't a waterproof couch cover.
Buy On AmazonBuy On WalmartBuy On Target
If you want a couch cover that delivers complete protection for your sofa, this model from PureFit represents a smart investment. Its super-stretch design makes it compatible with pretty much any three-seater couch on the market. The slipcover works well even if you have an oversized sofa with a width of 100". It remains stable thanks to the anti-slip bottom and special anchors.
Putting on this cover on the sofa is a breeze. A seamless look is achieved when you install the anchors between the cushions. When it comes to durability and overall damage protection, it's safe to say that you won't be disappointed by this stretchy slipcover. It's able to keep the furniture safe from wear and moisture. You can count on it to ensure protection against pet scratches. There are multiple color versions to make an aesthetic change for the couch if you prefer.
Best Velvet Couch Cover
Buy On AmazonBuy On WalmartBuy On Target
One brilliant couch cover comes from H. Versailtex. As opposed to cheaper models on the market, this is a premium velvet slipcover that transforms any sofa with a luxurious texture. The plush fabric can increase your comfort while the multitude of color options can help you select a new look for the couch. The cover also boasts decent protection against everyday wear and tear to increase the lifespan of the furniture.
Similar to other types of covers for sofas on the market, this model comes with a super-stretchy type of fabric so it can be properly fitted without coming off easily. There are elastic straps that need to be correctly installed to keep the slipcover secure at all times. When it comes to cleaning the cover, the manufacturer designed this accessory to be machine washable for added convenience.
Best Water Repellent Couch Cover
Buy On AmazonBuy On WalmartBuy On Target
The Granbest water repellent couch cover brings a lot of benefits for homeowners concerned about moisture damage. Although it's not completely waterproof, the slipcover forms a reliable shield against accidental stains and spills. It's particularly recommended if you have pets and you're worried about protecting your furniture investment. Another great use is to rejuvenate the look of an old couch considering how the accessory offers complete coverage.
It's designed with a mix of mostly soft microfiber fabric and a small amount of Spandex material to ensure greater stretchiness. This helps to make it compatible with different couch sizes as well as increase long-term durability. In terms of aesthetics, this premium sofa cover is available in lots of elegant shades of blue, brown, cream, and gray. The jacquard fabric with its plaid patterns can also contribute to a more stylish couch appearance.
Keeping your new couch in top shape or breathing some life into your old one can be done easily with the Gorilla Grip original oversized sofa cover. This well-designed slipcover protector is crafted from extra-soft suede that promises a luxurious feel to the touch. It's not just a great solution for durability reasons but also to improve the level of comfort for some couches.
The thick material is equipped with slip-resistant backing to minimize stability issues. At the same time, the slipcover can be easily removed and used temporarily only when protection is needed. Make all the necessary adjustments to the patent-pending strap for an ideal fit. You can count on this cover to reduce the risk of staining the couch or accumulating dirt and debris. The cleaning process is simple thanks to the slipcover being machine washable.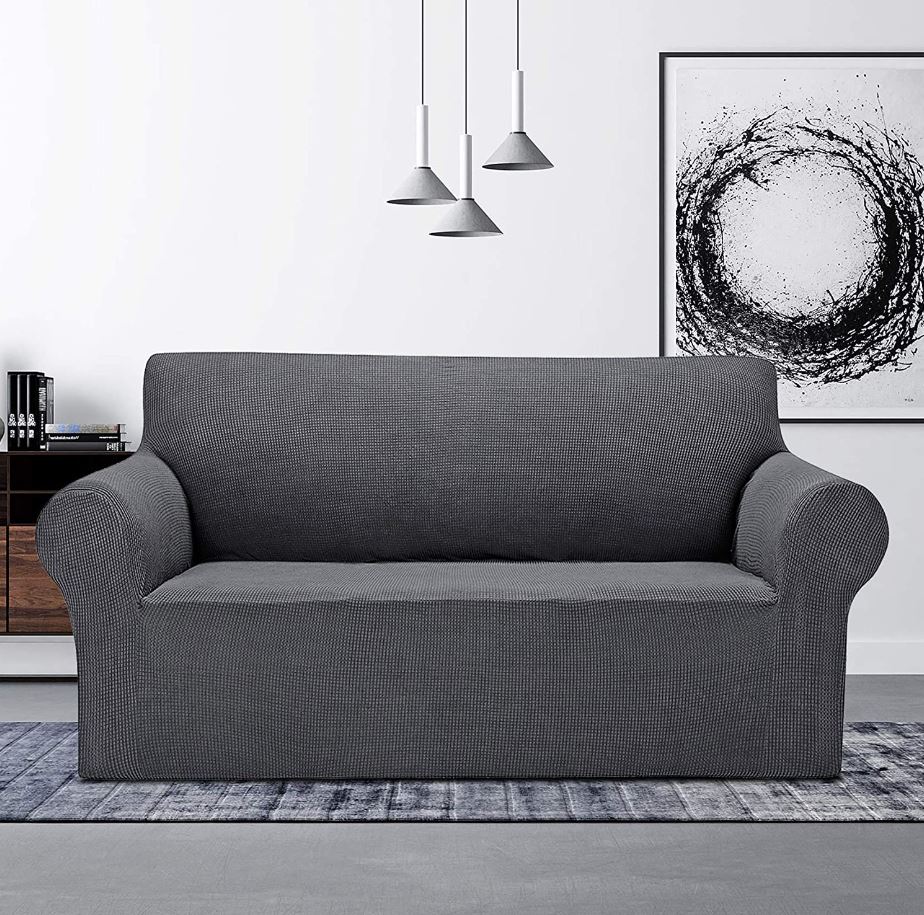 Buy On AmazonBuy On WalmartBuy On Target
Another excellent stretch style slipcover, the AlGaiety couch protector is crafted from a blend of polyester and elastic Spandex in a fun checker pattern. There are three sizes available to cover the majority of sofas out there while the large color selection guarantees a suitable match for the living room décor. To install this cover, all you need to do is to slip it on and insert the foam rods for proper anchoring.
Whether you're worried about typical wear and tear or more specific types of damage such as pet scratches, this slipcover has advanced protection features. It's especially recommended for old couches that are no longer in top shape. They can transform their look and add an essential protective barrier for dirt and spills. Highly recommended for the price.