This post may contain references and links to products from our advertisers. We may receive commissions from certain links you click on our website. As an Amazon Associate Rhythm of the Home earns revenues from qualifying purchases.
Share this article:
By using specialized lining material, you can take advantage of some great benefits for your cabinets or shelves. Thanks to its non-slip grip performance, a cabinet liner ensures that your stored or decorative items sit firmly in their place. That means you can more easily organize various objects when storing them in cabinets or drawers without worrying about becoming a messy place. High-quality cabinet or shelf liners are also very useful if you simply want to decorate with them and make an aesthetic upgrade for the inside area of the cabinets, drawers, or shelves.
Finding the best shelf liner for the money can prove to be quite challenging. This is because there are lots of products out there offering a wide range of construction materials, design styles, and prices. Whether you're primarily focusing on durability or appearance, the following list of products should allow you to make a smarter choice. We've selected the most reliable and cost-effective cabinet liners while keeping enough variation to cover many different needs and budgets. Check out the best liners for organizing or decorating your cabinets, drawers, and shelves.
Buy On AmazonBuy On Walmart
If you're searching for a very reliable cabinet liner that's incredibly easy to install, the original Gorilla Grip is an excellent choice. It's designed for heavy-duty needs when it comes to durability but without compromising on aesthetics. The shelf liner features non-adhesive construction engineered for preventing bunching or slipping. While this functional liner comes in multiple neutral colors, there are also bolder styles available.
You can purchase this cabinet liner in fun shades of pink, blue, green, or red. There are also decorative versions with eye-catching swirl, dots, quatrefoil, chevron, and diamond patterns to suit various tastes. The drawer liner arrives in multiple size options for maximum flexibility. Don't worry about getting a larger size than needed because any excess material can be quickly trimmed off. Thanks to the open-weave construction, this shelf liner provides an ideal blend of durability and style.

Buy On AmazonBuy On Walmart
The EasyLiner collection of high-performance shelf liners from Duck represents a great pick for any homeowner. Try the Select Grip model if you favor extra gripping strength. It makes it a breeze to keep cabinets or drawers organized through its sturdy non-adhesive design. There aren't lots of color options provided here but you can take advantage of different sizes and packs with multiple rolls for superior cost-effectiveness. This product is primarily focused on functionality and shows off amazing versatility.
Due to its dual-sided grip power, you can make sure that objects placed in a drawer will no longer become disorganized when you're opening it. The open weave material looks stylish while the selection of neutral tones helps to match the look of any cabinet or shelf. Another advantage of this lining material is that you can also rely on it for opening jars. If the shelf liner gets dirty, it's good to know that it's machine washable.
Buy On AmazonBuy On Walmart
Inexpensive and stylish, the Smart Design cabinet/shelf liner is a premium material for anyone who prefers a classic model. It features a simple yet highly effective design available in a multitude of colors ranging from plain white and taupe to graphite gray and black. Whether you have light- or dark-colored shelves, there's a liner to match it. You can also create extra contrast through colorful options such as coral orange, mint, and chili pepper red.
Aside from freshening up the look of your cabinets and drawers, this liner has a protective effect and makes it more practical to store items. The non-slip design makes it ideal for various applications. Its versatility is boosted further by the ability to resize it to your optimal dimensions. Take your pick from two separate options, a 12inchX10feet or a 18inchX5feet, and then simply make quick adjustments using a scissor according to specific uses. You can make it compatible with any drawer or cabinet out there.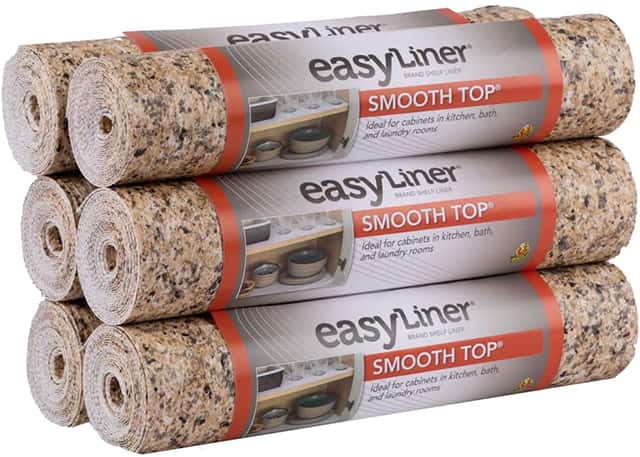 Buy On Amazon
Another interesting choice if you're looking for a cabinet liner, the Duck Smooth Top EasyLiner has been optimized to be used in the kitchen or the bathroom. As opposed to other models out there, the top surface of this shelf liner is smooth. Only the bottom one features non-slip properties so you can slide objects across it with minimal effort. This is a more decorative option considering the multiple stylish patterns that can elevate the look of any cabinet.
The Smooth Top liner is available in patterns that simulate the look of materials such as granite or marble. You can also opt for classic patterns to add a touch of style. Examples include dots, quatrefoil, and flowers. Similar to double-sided non-slip liners, this model allows for convenient cleaning using the washer. When it comes to sizes available, this cabinet liner can be purchased in different widths – 12 or 20 inches.
Buy On Amazon
A very well-designed Gorilla Grip shelf liner, this model has been specifically designed to protect the area under the sink. That means it has been equipped with waterproof abilities so it resembles a mat. Decent water resistance is provided by the top layer which is crafted using felt fabric but the true waterproof rating comes from the bottom layer that acts as a solid barrier against moisture. Thanks to a thick backing, the cabinet liner should remain firmly in place.
Moving the liner from one place to another is a breeze because there's no adhesive used. It's not required to install it permanently somewhere so this makes it a practical choice for various cabinets or shelves. In terms of color options, this model won't disappoint. There are lots of simple neutral tones available to match the area under the sink. However, you can also try bolder styles through elegant chevron, floral, spiral, or damask patterns.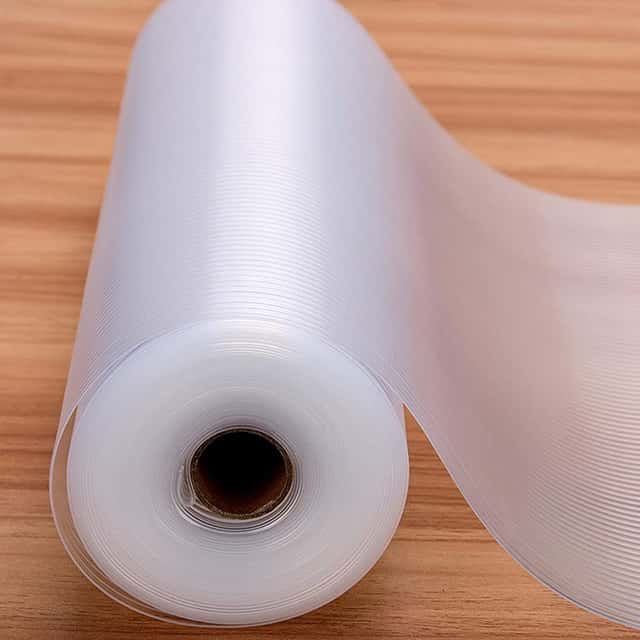 Buy On AmazonBuy On Walmart
Anyone who needs a strong clear liner for cabinets or shelves needs to consider this model made by Anoak. Thanks to special texturing and reliable ethylene vinyl acetate material, the shelf liner will finally solve any slipping issues. It's highly recommended for protecting more fragile items inside cabinets or drawers. The sturdy grip level can come in handy for many applications including simple long-term durability protection for refrigerator shelves.
Installing this cabinet/shelf liner doesn't take a lot of effort. There are different widths available – 12 inches or 17.5 inches. The excess material can be removed with the help of a pair of scissors. When it comes to caring requirements, it's quite easy to keep this cabinet liner clean. It's machine washable while the tough construction allows for convenient reuse in different situations. Despite the extra strength, this shelf liner is designed to prevent curling up that often happens with more heavy-duty models.
Buy On AmazonBuy On Walmart
With a special texturized design and quality construction, the Warp Brothers cabinet liner deserves an important mention on this list. Thanks to a ribbed enhancement, the material promises superior grip and some extra cushioning protection for delicate objects. The non-slip bottom side is highly effective when it comes to avoiding accidental slipping. Thanks to the use of high-quality non-adhesive plastic, this shelf liner can be a dependable choice.
As opposed to other similar products, this cabinet liner lacks BPA and doesn't feature any weird smells. One disadvantage of this model is that it's a little more difficult to clean. It doesn't allow cleaning using the washer so it can be said that some elbow grease will be required. However, the good news is that you're looking at a very sturdy material that won't get dirty or damaged very easily. All in all, the Plast-O-Mat represents a solid product for the cost.