This post may contain references and links to products from our advertisers. We may receive commissions from certain links you click on our website. As an Amazon Associate Rhythm of the Home earns revenues from qualifying purchases.
Share this article:
Updating the look of your furniture pieces such as cabinets doesn't necessarily involve major modifications. Simply swapping old hardware such as knobs and handles with newer ones can have a significant visual impact with minimal monetary investment. Most homeowners don't pay a lot of attention to details like the look of the cabinet's hardware but it's time to change that. You spend a considerable amount of time using cabinets throughout the home so it makes sense to spruce up their look.
How do you choose cabinet pulls and knobs that are both reliable and stylish? There are some interesting models on the market but not all of them are durable or easy to install. This article aims to help you make a smarter choice when shopping for new cabinet hardware. We've narrowed down the overwhelming number of options on the market so you can opt for the best cabinet hardware for the cost.
Best Cabinet Pulls
Buy On AmazonBuy On Home Depot
If you're searching for a very cost-effective set of cabinet pulls, take a look at this modern set from Ravinte. It's available in multiple finish styles such as matte black, satin nickel, and brushed brass to cover all kinds of color preferences. There are sets with various item counts to let you easily update the look of all the cabinets. Each cabinet pull handle is made from high-quality stainless steel.
Aside from their elegant looks with a cylindrical shape, the cabinet pulls feature a fairly functional design as well. They're easy to grip and feel durable to the touch. Some people might prefer more ornate styles but these handles are ideal for those who would rather opt for an understated appearance. This is simple and minimalistic cabinet hardware that can blend well together with many distinctive interior design styles. Highly recommended for the cost.
Best Cabinet Knobs
Buy On AmazonBuy On Home Depot
With lots of stunning finish styles such as satin nickel, polished chrome, or antique silver, the Amerock Allison knob pack for cabinets represents a top choice for the money. It's a recommended set for kitchens and bathrooms but cabinets in any room can benefit from the aesthetic improvement of this piece of hardware. Although some people find pull handles to be easier to use, there's a certain kind of charm to using knobs.
These cabinet knobs behave pretty much how you'd expect. They're less practical than pulls but you can enjoy a traditional appearance that goes well with any cabinets. By themselves, the cabinet knobs aren't capable of truly transforming the look of your kitchen furniture but it's safe to say they can dress up the cabinets quite nicely. It's a considerable upgrade compared to standard handles installed by default on most cabinets.
Best Budget Cabinet Hardware
Buy On AmazonBuy On Home Depot
Affordable and well-designed, the Homdiy pack of cabinet pulls could be the right solution for many fans of modern styles. This cabinet hardware set relies on a brushed nickel finish while the stainless steel construction ensures great durability results. Thanks to a multitude of different hole center styles, you should be able to find the right pull handles that match your furniture's specifications for maximum compatibility.
The use of high-precision steel makes this an attractive cabinet hardware choice. The nickel finish isn't just to improve the appearance but also for durability reasons. You don't need to worry about too many collected fingerprints while rust issues are also kept at bay through the robust metal construction. Each pull handle included here arrives with its own little set of screws for an easy installation. Two sizes are provided for extra flexibility.
Best Heavy-Duty Cabinet Hardware
Buy On AmazonBuy On Home Depot
Anyone who prefers a set of cabinet or drawer knobs instead of pulls should consider the Franklin Brass Parow model. It offers a classy brass construction with a distinctive satin nickel finish that makes the knobs compatible with different decor styles. The square shape with slight curves can also bring some visual interest and improve the looks of your cabinets, especially wood-stained pieces. They feel heavy-duty while the lengthy design enhances the grip.
Similar to other cabinet hardware packs on the market, this practical set comes together with all the necessary installation accessories. The knobs are individually packaged to protect the finish better during transport. Whether we're talking about traditional or casual cabinetry, these cabinet knobs are highly recommended. Their architectural profile and overall visual appeal make it a valuable set for the money.
Best Modern Cabinet Hardware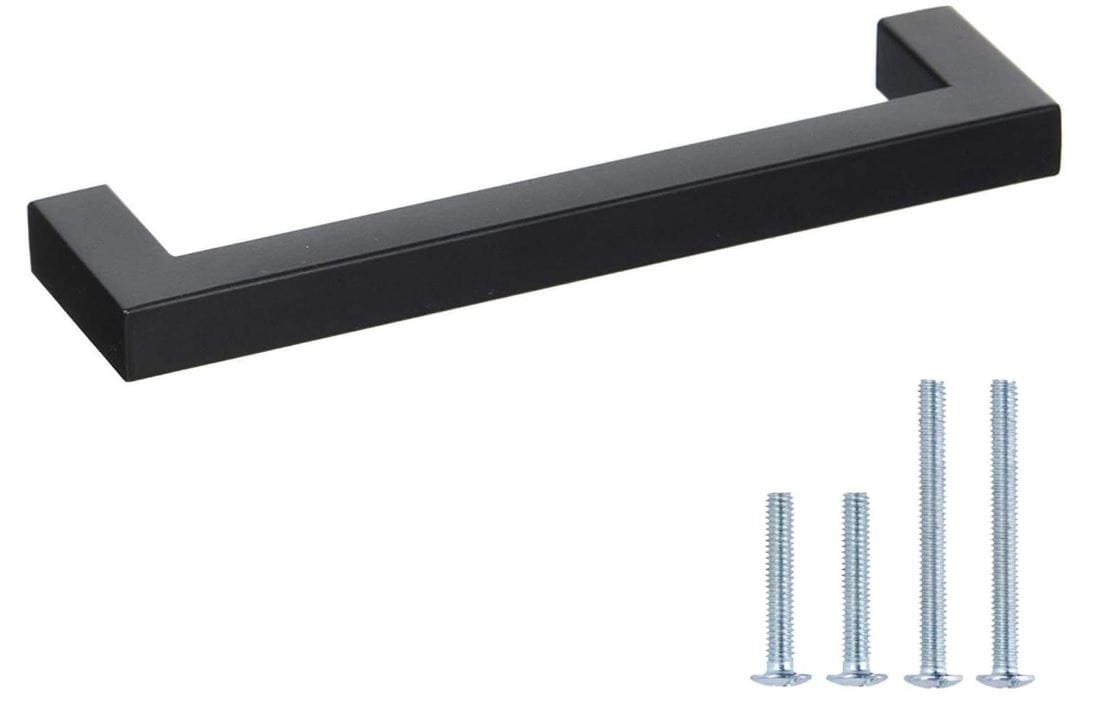 Buy On AmazonBuy On Home Depot
One modern and elegant pack of cabinet hardware comes from Goldenwarm. This set contains square pull handles with a sturdy black finish. Whether you wish to outfit your kitchen cupboards or bathroom cabinets with some new pulls, this pack can provide optimal results. The hardware relies on premium stainless steel while the smooth finish prevents scratching damage.
Matching your cabinets with the right handles can be a difficult task. Goldenwarm offers a multitude of options for the hole centers to maximize compatibility in any situation. There are many construction details that set this pack apart from similar ones on the market. A great example is the use of a deep hole thread design. This ensures proper screw engagement and prevents long-term wear for superior overall reliability during heavy use. The black finish style is fitting for both traditional and modern interior aesthetics.
Best Traditional Cabinet Hardware
Buy On Amazon
The Franklin Brass heirloom cabinet pulls are worth checking out for their easy installation and stylish construction. This 10-pack of cabinet hardware offers a slight industrial vibe through its die-cast zinc metal construction and thoughtful design details. At the same time, the overall clean finish of this model won't make the pull handles stand out too much on the cabinet to integrate them seamlessly with the furniture.
While other cabinet hardware pieces out there are focused on modern styles, these pulls are more recommended for fans of vintage industrial themes. Casual cabinetry designs are the ideal match. All the necessary installation accessories are provided in the package. This fashionable cabinet pull is also reasonably durable. However, the main highlight remains its attractive silver finish that can complement slate-colored appliances and light-toned cabinets.
Buy On Amazon
Another excellent set of cabinet hardware from Goldenwarm, this one contains modern knobs with a choice of finish types in either brushed brass or black. The cabinet knobs are crafted using sturdy zinc alloy metal and feature balanced dimensions for an effortless grip. At the same time, the elegant finish can beautify any cabinets or drawers you own.
Each knob arrives with a matching set of screws that ensure great compatibility. You get one 1" screw and a longer one that reaches 1.57" to cover different cabinet styles. The smooth finish of the hardware provides a comfortable feel whenever you use your favorite cabinetry. The brushed brass version is recommended for a pop of color if you're a fan of gold accents in your design style. Otherwise, the black finish works in a more flexible style to add modern elegance to all kinds of cabinets.