This post may contain references and links to products from our advertisers. We may receive commissions from certain links you click on our website. As an Amazon Associate Rhythm of the Home earns revenues from qualifying purchases.
Share this article:
If you enjoy birdwatching, you don't necessarily have to go on a forest adventure. By setting up a bird feeder in your own backyard, you will be able to attract all kinds of birds and bring some new life into the area. Bird baths are also recommended if you want to attract some birds into your garden. It's a good idea to invest in a high-quality bird feeder if you don't want to have unexpected issues with other animals, such as squirrels, coming to feed instead. Depending on the design of the bird feeder and food used, you might be able to attract more specific types of birds.
At a simple glance on the market for bird feeders, you can quickly get overwhelmed by so many options. We've analyzed them all for your convenience and made sure to include the best ones on the following list. With the help of a reliable bird feeder, you should be able to appeal to the right birds and turn your backyard into a more lively place. The following bird feeders scored the highest in all aspects, including durability, ease of use, and overall value for the cost.
Best Squirrel Proof Bird Feeder
Buy On AmazonBuy On Walmart
The Brome Squirrel Buster Plus prides itself on being a completely squirrel proof bird feeder. This product is designed to automatically close access to seeds once the weight of a squirrel is detected. Other great features that make this one of the best bird feeders are the use of chew-proof materials, the addition of a performant seed ventilation system, and convenient no-tool assembly.
Aside from keeping squirrels away, this bird feeder is also designed to prevent large birds from emptying the seed container. It offers a great perching environment for smaller birds and has a sophisticated closing mechanism. The total capacity is also larger compared to more basic models from Brome as it can handle a maximum of 3 quarts. Assembling and disassembling the bird feeder can be done by hand for quick and efficient maintenance.
Best Decorative Bird Feeder
Buy On AmazonBuy On Walmart
With an attractive antique copper finish and many solid features for the money, the Perky-Pet Panorama 312C deserves some attention on the market for bird feeders. It's equipped with a Sure-Lock cap to prevent squirrels from accessing the seeds and a special feeding port with a circular perch which enables birds to feed comfortably from multiple angles. The maximum seed capacity of this bird feeder is 2 lbs.
While there are many great functions of this bird feeder, one of its most impressive features is probably the stylish design. The antique copper finish draws the attention in any garden so it can also act as a decorative accent. Birds can keep eating from the seed reservoir without worries as the tray will constantly get replenished. Thanks to the built-in hanging cable, the bird feeder can be mounted in a wide range of places for birds of all kinds to find it.
Buy On AmazonBuy On Walmart
While not as advanced as the Squirrel Buster Plus, the Standard bird feeder from Brome still has lots of solid abilities for a more reasonable cost. It can keep squirrels away which is always a great plus for this kind of product. The feeder is designed to deliver a comfortable clearance on all sides. The reduced footprint makes it an ideal model if you wish to primarily attract smaller birds.
Pesky squirrels can gain access to some bird feeders, but this feeder is protected thanks to the automatic seed port closing triggered by the larger weight of a squirrel. While this should be good enough to detract squirrels from trying to gain entrance, there's an additional layer of security. The construction of the bird feeder makes use of chew proof materials so that even persistent squirrels won't be able to ruin it. Components are also waterproof and UV resistant to handle outdoor placement.
Best Hummingbird Feeder
Buy On AmazonBuy On Walmart
Are you looking for a way to bring some colorful hummingbirds into your garden? The HummZinger HighView is a great feeder from Aspects that you should try. It's designed with a bright red color for making it an appealing choice for curious hummingbirds that will notice it more easily from a distance. The bird feeder is made in the USA and can be easily dismantled for quick and thorough cleaning.
The perching spot of this feeder has been carefully designed to be inviting for hummingbirds. A total of four feeding ports allows them to feed while giving you a great opportunity to watch them more closely. In terms of durability, this hanging feeder should last for a long time thanks to its robust polycarbonate design. A built-in ant moat will ensure that crawling insects won't invade the bird feeder.
Buy On AmazonBuy On Walmart
One attractive and affordable hummingbird feeder comes from First Nature. Their 16 ounces model has a wide mouth jar that's a breeze to fill. The base has two parts for convenient cleaning. In terms of feeding capacity, this model will allow multiple birds to feed at once thanks to the use of multiple ports. It's practical to use this feeder for mixing the ideal proportions for the hummingbird nectar you plan to add.
Thanks to the vibrant red color, hummingbirds will find the feeder in the garden more easily. Bees can be attracted to this kind of device very easily but the manufacturer countered this issue by installing two narrow slots for every feeding port. This will make it so bees will find it harder to steal the nectar intended for the hummingbirds. Overall, the First Nature 16 oz. hummingbird feeder offers excellent value for the cost.
Buy On AmazonBuy On Walmart
If you're looking for a hummingbird feeder with a little more style, you will probably prefer the Perky-Pet 8108-2 that features an antique bottle design. Aside from the vintage aesthetic, this feeder is also highly functional. It can hold a maximum of 10 ounces of nectar and has an ideal size to accommodate multiple hummingbirds coming to feed.
There are many decorative details included in this feeder which contribute to a more remarkable design. The flower feeding ports add a sense of style that's not often found for hummingbird feeders. With this kind of look, the feeder will surely stand out in your yard. Cleaning this model requires only to unscrew the bottle from the base. There are no unsightly plastic parts so the Perky-Pet antique bottle hummingbird feeder is recommended if you value an elegant design above all else.
Buy On Amazon
Brome's Squirrel Buster Classic has a decent 2.4-pound seed capacity and is well-built to withstand squirrel chewing. Assembling and disassembling this bird feeder takes very little time. It's a bit more complex compared to others, but it's safe to say that you won't have to refill the seed supply very often. A total of four feeding ports are provided. Keep in mind that this model isn't adjustable.
Woodpeckers, goldfinches, and chickadees are just some of the birds that are known to visit this kind of feeder. The unit has a solid ventilation system which ensures that no excessive humidity will accumulate to cause seed molding. Your bird feeder needs to have fresh food to properly attract any winged creatures. Thanks to the RoxResin material, squirrels can't chew their way through the feeder to reach the seeds inside.
Best Window Bird Feeder
Buy On Amazon
In case you want to try a more interesting-looking bird feeder, this Nature Gear window unit takes a more innovative approach by the use of a house design where birds can safely feed. The feeder is built from premium transparent acrylic and is kept attached to the window firmly with the help of industrial-grade suction cups. Other great abilities worth mentioning are the weatherproof roof and sidewalls as well as the practical sliding feed tray.
Despite the minimalist design, this bird feeder is very well adapted to outdoor conditions. Both the roof and sidewalls ensure that seeds inside stay safe from the elements. The sliding feed tray makes refilling this model a breeze. You don't have to go through the hassle of taking out the entire unit just for this purpose. The ventilation system is fairly decent to help dissipate moisture as effectively as possible. This is a high-quality and cost-effective feeder to see birds up close, all things considered.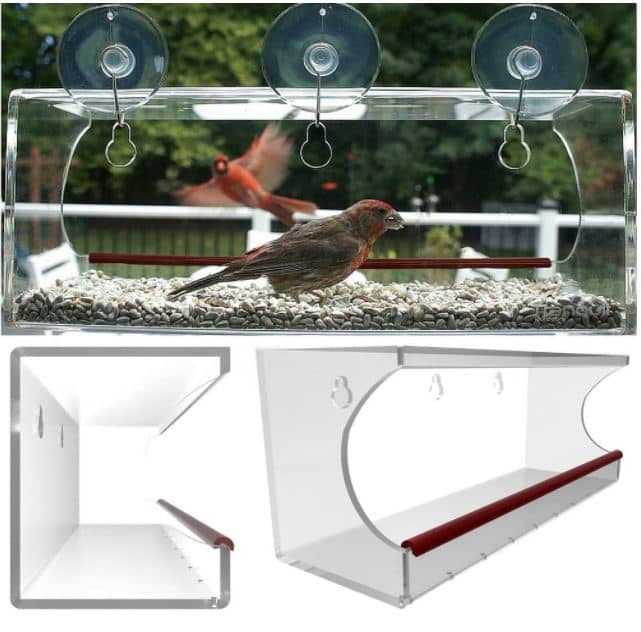 Buy On AmazonBuy On Walmart
Window bird feeders are recommended for people who like the most convenient style of birdwatching. This model from Tranquil Outdoors is easy to attach and gives you a relaxing prime view of birds feeding. The bird feeder has a transparent design to simplify birdwatching and offers a large enough space where even larger birds can feed comfortably.
Installing this bird feeder simply requires the supplied suction cups with hangers. There's no need to invest in additional accessories or assembly kits which allows you to use the bird feeder right away. Doing a proper cleaning is much easier thanks to this hangers system as you can quickly take out the feeder station entirely. Whether you plan on attracting smaller or bigger birds, the Tranquil Outdoors bird feeder can cover your needs successfully at a reasonable cost.
Buy On AmazonBuy On Walmart
Featuring a high capacity and an efficient method of seed dispersal, the Droll Yankees Yankee Flipper checks all the boxes for a cost-effective and high-quality bird feeder. This model has a battery-powered motor which spins away any squirrels landing on it. The problem is that you might also lose a few seeds along the way, but at least squirrels won't mess with this bird feeder.
Thanks to its large 5 lbs. capacity, this bird feeder removes the need for constant refills. Birds can perch comfortably and access multiple feeding ports to get their share of seeds. Construction-wise, this bird feeder shows off some capable durability features. The UV-stabilized polycarbonate is designed to last for a long time outdoors and the powder coating prevents chipping and color fading. While the price of this model is higher compared to others, the USA-made quality level makes this a worthy investment.
Buy On AmazonBuy On Walmart
Perky-Pet has some of the most attractive hummingbird feeders on the market. The 8109-2 model relies on an antique bottle for the nectar container while the feeding ports are embellished with a decorative flower design on a stylish brushed copper base. Thanks to the vibrant red color of the bottle, hummingbirds will spot it quickly and happily come to feed.
Cleaning this unit is a fairly simple operation. You only need to take out the bottle from the base. The metallic accents turn this shabby-chic glass feeder into a focal point in your yard. The 16-ounce capacity means there's no need to replenish the nectar very often. One disadvantage to take into account is the use of painted transparent glass so you might stumble upon peeling issues as the feeder isn't built using real red glass to save costs.
Buy On Amazon
Many inexpensive window bird feeders are not very reliable but it looks like this model from Nature Anywhere is an exception. It's packed with great functional features like the sliding seed tray and powerful vacuum pads. There are two separate compartments provided for this bird feeder house allowing you to add different seed types to attract more specific birds.
The danger of squirrels reaching the seeds inside isn't as high with this type of bird feeders as opposed to more traditional hanging units. This is simply because squirrels have a hard time climbing on glass windows. Make sure you choose a good spot when you mount the feeder to keep it away from branches or ledges nearby. Mold is another issue that this bird feeder solved thanks to its ingenious ventilation system. The premium acrylic construction comes with a giant viewing window to get an ideal look to any feathered friends coming to feed.
Buy On Amazon
Built with durability in mind, the Woodlink Absolute II 7536 is the kind of bird feeder that you can count on. Any bird enthusiast will appreciate its attractive metal body equipped with spring-activated perches to prevent squirrels from stealing the bird food. The feeder has a fairly large capacity as it can hold a maximum of 12 lbs. of mixed seeds.
Squirrels will have lots of difficulties when it comes to chewing through a metal feeder like this one. The bird perches are adjustable for the local population in your area. Birds will be able to feed on both sides of the unit and there's virtually no seed waste thanks to a special system which disallows seed spills. Cleaning and refilling processes are more conveniently handled with the help of a locking top feature.