This post may contain references and links to products from our advertisers. We may receive commissions from certain links you click on our website. As an Amazon Associate Rhythm of the Home earns revenues from qualifying purchases.
Share this article:
If you're looking for an inexpensive and comfortable seating solution, you should take bean bag chairs into consideration. Their casual look fits perfectly for many applications, including game rooms or kids' rooms. A high-quality bean bag chair can be versatile and even more comfortable than other typical furniture options that are more expensive. This plush lounger offers great overall body support and has been steadily earning more fans since the 1960s.
Anyone who wants to experience the comfy seat of a bean bag chair will have a difficult time choosing the best model. That's because the market is full of options so it's not easy picking the ideal one for your needs and budget. This article will show you a curated selection of trendy bean bag chairs that are perfect to add to your home. They offer the best value for the money when it comes to style, versatility, and functionality. Check them out down below.
Best Budget Bean Bag Chair
Buy On AmazonBuy On Walmart
One inexpensive and well-designed bean bag chair comes from Big Joe. This is a classic model featuring a durable fabric and fluffy filling to deliver excellent comfort for all kinds of seating applications. It's an ideal solution for playrooms or bedrooms. When it comes to the shape of the chair, this model looks like a traditional bean bag that you probably remember from your childhood.
There are lots of available colors for a touch of personalization. Choose from sapphire blue, spicy lime, orchid pink, red, or limo black. The bean bag chair is refillable to ensure it maintains a great shape over time. Big Joe bean bags are designed and filled in the USA. The cover can be conveniently cleaned using a damp cloth but you don't have to worry too much about spills or stains as it's been treated to repel moisture.
Best Memory Foam Bean Bag Chair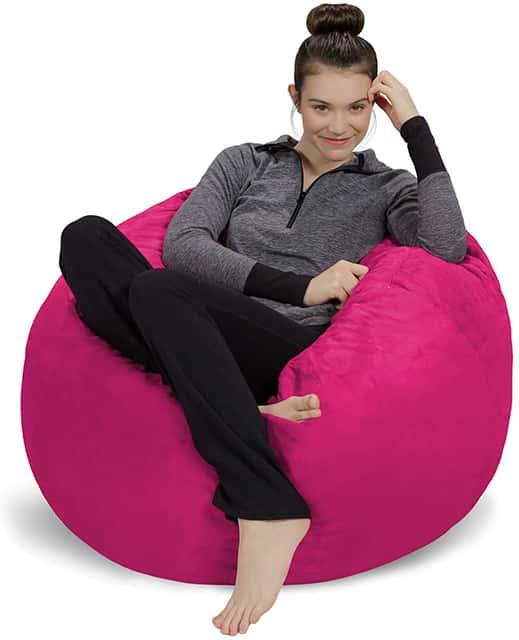 Buy On AmazonBuy On Walmart
The Sofa Sack bean bag chair is made with a premium memory foam material to deliver an extra level of comfort. The 3-foot bean bag is available in a wide range of colors for its microsuede cover. Whether you prefer darker colors such as charcoal, navy, and olive or prefer lighter shades such as tangerine, aqua, and camel, there's plenty of variety to fit everyone's tastes.
While bean bags are traditionally filled with bean-like materials, this one is different because it relies on memory foam that takes the comfiness to a new level. It gets into a better shape to support your body while the softness of the cover feels like a treat when you're sitting on the chair. In terms of durability, this bean bag offers double stitching and reliable workmanship to maximize user satisfaction.
Buy On AmazonBuy On Walmart
Available in a staggering number of colors and styles, the Chill Sack bean bag chair is a solid option for anyone who prefers a faux fur cover. It makes all those cheap fabric covers seem rough and uncomfortable by comparison. This 5-feet model is also filled with memory foam so that explains the higher price tag and more premium comfort experience.
The size makes the bean bag compatible with both children and teens. Thanks to its versatile style, the chair is practical for dorms, basement game rooms, and many more areas. The soft faux fur cover is removable but you need to be careful about using only the recommended cleaning methods to ensure a long lifespan. Chill Sack makes these bean bag chairs in the USA and offers other options aside from faux fur for their covers. Some examples include microsuede and faux linen.
Best Bean Bag Chair For Adults
Buy On AmazonBuy On Walmart
Big Joe is one of the most appreciated brands in the bean bag industry. Check out this extra-large chair that's recommended for adults and children alike. The Fuf bean bag chair is designed with a patented shredded foam filling that stays firm and supportive for longer. Don't worry about a slightly flat initial impression because it takes a few days for the chair to expand to its full potential.
Durability is taken very seriously by this bean bag. It's equipped with heavy-duty handles and zippers while the fabric is built to withstand wear and tear. It's thick and soft to make a great pairing with the plush foam filling. While the color choices aren't that varied, you can still take your pick from a nice selection of neutral tones such as black, cobalt blue, and cocoa brown.
Best Convertible Bean Bag Chair
Buy On AmazonBuy On Walmart
If you're searching for more than just a simple bean bag, check out this convertible chair from CordaRoy's. It can work similarly to a futon as the bean bag chair can be easily transformed into a comfy bed for guests. Or you can just modify the style for a more relaxing seating position. This flexible bean bag features an extra-soft microfiber cover that's fully machine washable.
Thanks to the addition of a long zipper, it's a breeze to take off the cover and flip the cushion into a bed. The conversion process is intuitive enough that even children should get the hang of it in no time. With the help of its foam filling, this convertible bean bag won't disappoint when it comes to comfort. It feels great either as a chair or as a bed. There are different sizes available for this model, including King, Queen, and Full.
Best Bean Bag For Kids
Buy On AmazonBuy On Walmart
Kids can have a lot of fun sitting on bean bag chairs. Take a look at this Posh Creations model that features multiple bean bag versions in distinctive colors and patterns to enhance the fun of children. From blue bubbles to pink chevron patterns and unicorn designs, there are lots of interesting options to try. This affordable bean bag chair relies on a polyester blend for its filling.
The level of comfort is quite solid for the money. Another great detail is the removable cover that's easy to clean. Any kid's playroom can benefit from the addition of this kind of stylish bean bag chair. While this particular model is mostly geared towards children and teens, there's also a large size option to match the needs of adults. The whole family can have a relaxing experience with the help of these colorful bean bag chairs.
Buy On AmazonBuy On Walmart
Another great bean bag chair comes from Cozy Sack. This is an excellent model to consider if you're searching for a specific size. You can take your pick from small 3-foot or 4-foot options and larger 6-foot or 7-foot versions. The chair features a simple yet durable microsuede cover in various stylish shades of red, pink, blue, green, and brown.
A comfortable level of support is provided by the CertiPUR-US certified foam that lacks any toxic chemicals, including heavy metals. Similar to other bean bags on the market, the fabric cover is fully removable for convenient cleaning. There's a nice protective liner integrated to assist with the cover removal process. If you're looking to change the look of the bean bag, that's also possible. Compared to other bean bag chairs out there, this one boasts long smooth strands of foam to avoid irregular shapes that promote a sense of discomfort.
Buy On AmazonBuy On Walmart
With a great value for the money, the Amazon Basics memory foam bean bag chair represents a very attractive option. This is a lounger model with an extra-wide design to let adults relax in total comfort. A selection of stylish colors such as navy, pink, black, and red, is available. Whether you're in the mood to watch a movie or play a video game, this bean bag chair is a reliable floor seating solution.
The comfort is provided by the soft shredded memory foam filling that creates an excellent combination together with the microfiber cover optimized for durability. It's recommended to opt for the larger lounger size if you wish to sit comfortably together with other people. You can curl with a significant other in the velvety softness of the bean bag. All in all, this is a strongly recommended chair if you're a fan of bean bag designs.
Buy On AmazonBuy On Walmart
Small and practical for children, the Ultimate Sack bean bag chair deserves an important mention on our list. This 3-foot chair features durable double stitching and a simple-to-clean cover. There are suede and fur styles to choose from depending on your preference for the texture of the cover. You can also pick from a considerable range of fun colors including bright pink, lime, and orange or dark shades of blue, brown, and gray.
Thanks to using only USA-made high-quality foam, you can count on this bean bag to provide a comfy seating experience. The chair is engineered to follow the contour of your body when sitting on it while retaining its shape for as long as possible. Other notable highlights include the double-stitched seams and sturdy zipper included. All bean bags from Ultimate Sack are pre-filled and ready to use.
Buy On AmazonBuy On Walmart
Those who want a huge bean bag where the whole family can sit comfortably should consider this 7-foot lounger chair made by Lumaland. It's like a big bean bag sofa that can be nicely incorporated in the living room or children's room. This model is available in multiple colors and offers a stylish microsuede outer cover that's a breeze to clean.
When it comes to the choice of filling, this bean bag relies on high-quality foam without additional plastic parts. It takes around three days for the lounger to reach its optimal size because of the shipping constraints. Although this is an ideal size for relaxing with multiple people, you can also opt for smaller versions, including small 3-foot or 4-foot bean bag chairs. Each model shows off strong workmanship using reinforced stitching for maximum durability.
Best Bean Bag Chair For Dorms
Buy On AmazonBuy On Walmart
Anyone searching for a practical and comfy bean bag chair to use in a dorm shouldn't miss this Big Joe model. It's designed with careful attention to detail to ensure your utmost satisfaction. Compared to more traditional styles, this bean bag resembles the look of a typical chair more closely. It's more ergonomically built to help you relax when studying, gaming, or watching TV.
The bean bag arrives pre-filled with a special blend of fluffy beans and offers a spill-resistant cover in multiple two-tone colors. Make sure you check the dimensions carefully to ensure it fits your needs. This model is intended for teenagers and students primarily so some adults can find it a little too small. While it may look like the bean bag has an insufficient amount of filling, this is actually by design to create an optimal level of comfort.
Buy On AmazonBuy On Walmart
Bean bags have come a long way from the classic bean fillings. Nowadays you can purchase chairs with a much more comfortable foam filling such as this Fugu model. This oval-shaped bean bag is available in different sizes ranging from 2-foot to 6-foot with decent variation in terms of colors. The microfiber cover offers solid comfort balanced with durability.
The main problem with a Styrofoam bean filling is the flattening shape that happens in the long run. That shouldn't be an issue encountered with foam-based bags such as this model. The filling material is CertiPUR-US approved while the oversized design guarantees a superior level of comfort. You might actually be surprised about the size because this bean bag requires some serious square footage. That's a small price to pay considering the blissful feeling provided by this comfy foam seat.
Buy On AmazonBuy On Walmart
If you're not satisfied with the typical, small bean bag chairs on the market, perhaps investing a little more in an extra-large one will be more up your alley. Check out this 6-foot lounger made by Jaxx that can be best described as a comfy cocoon that envelops you in pure foam softness. Despite its comfortable design, the foam filling is also great for users who need reliable support.
When it comes to the cover construction, this bean bag chair has some fun options to try. You can either opt for lush microsuede or go for more luxurious fur. In any case, you will have a relaxing experience. The bean bag is an ideal seating solution for game rooms or home theaters. Thanks to being made in the USA, the Jaxx bean bag lounger represents a smart investment for anyone who prefers this type of furniture style.
Buy On AmazonBuy On Walmart
It's no secret that kids love bean bags. Instead of opting for chairs with plain covers, why not try a fun animal design? Take a look at these cute and comfy bean bags from Posh Creations. They have their own character depending on the design style you prefer. Choose between a blue narwhal, grey sloth, purple bunny, pink llama, green dinosaur, and many more kid-friendly covers.
The main focus of this bean bag chair is on appearance but that doesn't mean you're getting a cheap product. The filling uses classic polystyrene beans that ensure a decent level of comfort. The plush cover material contributes to the overall coziness. When it comes to safety, this bag is optimized with inner locking zippers so that children won't take out the inside filling. The only notable drawback is the more delicate material of the cover that can't be cleaned in the washing machine.
Buy On AmazonBuy On Walmart
With a more supportive dewdrop design, the FDP SoftScape bean bag chair could be a solid purchase. This is the largest option but you can also try smaller versions for teens, children, and toddlers. Compared to most bean bags featuring plain colors, this chair offers a multi-colored cover style for a fun seating solution. There are lots of color combinations and variations to suit any taste.
One of the main advantages of this bean bag chair is that it will hold your back more effectively as opposed to traditional designs. The special shape doesn't allow you to slouch uncomfortably because it acts more similarly to an actual chair. Durability-wise, this is an excellent bean bag chair to consider. It boasts double stitching, safety zippers, and a quality cover that's not difficult to clean.