This post may contain references and links to products from our advertisers. We may receive commissions from certain links you click on our website. As an Amazon Associate Rhythm of the Home earns revenues from qualifying purchases.
Share this article:
Do you watch too much HBO? Yeah, me too. Well apparently thanks to the rich snobs on Succession we now all have to hop on the trend and redesign our homes into a brand new style so we can pretend we're rich and fancy. But maybe since now you're a Sarah Snook convert all you want to do is live in the most neutral looking luxurious home that matches her penthouse and hopefully not her family dynamics?




In all seriousness though, I'll try to tell you and exemplify with pictures as well as I can using my understanding and expertise of what quiet luxury means, and whether it's actually worth implementing some of the quirks of this style in your home.
A Living Room That Looks Rather Empty at First Glance
I've been seeing implementations of quiet luxury slowly showing up in homes with a slight whimsical touch that subtly showcases the difference in quality between the luxurious interior and a regular design while also not throwing it in your face to underwhelm the moment of discovery of each individual piece. The implementations of this style are actually very concentrated on curated art and decor when it comes to homes. Instead of overwhelming walls with numerous art pieces or decorations, quiet luxury has a more thoughtful and curated approach. Making use of a few meaningful or visually striking items that harmonize with the overall design to create a subtle and sophisticated personalized space.




For example, at first glance, this green marble living room looks rather empty and lacking many new fancy utilities for the uninitiated eye. That's until you realize that solid block of green marble which creates an accent wall could easily cost over $100K. And that's if you want to completely ignore the slippery black marble floor you're walking on. That is a great example of how quiet luxury doesn't show off right away but it does it as long as you're paying attention to its subtle flex.
A Bedroom That Doesn't Scream "I'm Rich" But Quietly Whispers it in Your Ear





For example, as seen in every previous photo and also in this bedroom, a rare tree sitting by the window is a great first start to implement this style because it can be slowly discovered as you approach it, while also being very pleasant at first sight from a distance. The structural layers and quality of materials of each furniture and decor piece are evidentiated thanks to the large windows that let natural light in. As crazy as it sounds, in heavily urbanized areas, plenty of quality natural light is a luxury that shows just how rich you are. Having this much natural light (and privacy) in Manhattan is quite the brag.
A Living Room With Extra Tall Ceilings in a Large Metropolitan Area
How is it possible to have ceilings this tall in a downtown area apartment? While tall ceilings are just one part of the quiet luxury aspect in this living room setting, it's definitely possible if you know the right realtor. Downtown Chicago, the Soho in London or maybe even in Zurich, Switzerland which has some of the most expensive real estate prices in the world? You name it, they'll make it happen. And you can make your quiet luxury design happen as well, or have it already there waiting for you? Either way, it's fun to dream a little.




An Outdoor Tub for Only One Person? Sure, Why Not
You don't want to be sharing your outdoor tub moments if you want to live the quiet luxury lifestyle. Installing an outdoor tub just for yourself shows that you cherish quiet moments away from friends and business and that you can afford it. Because large shared outdoor tubs are seen as a lower income activity for this trend, having a solitary outdoor tub demonstrates that the relaxing moments for you are the ones away from life's distractions.




Living Room For Business Meetings With a Massive Footprint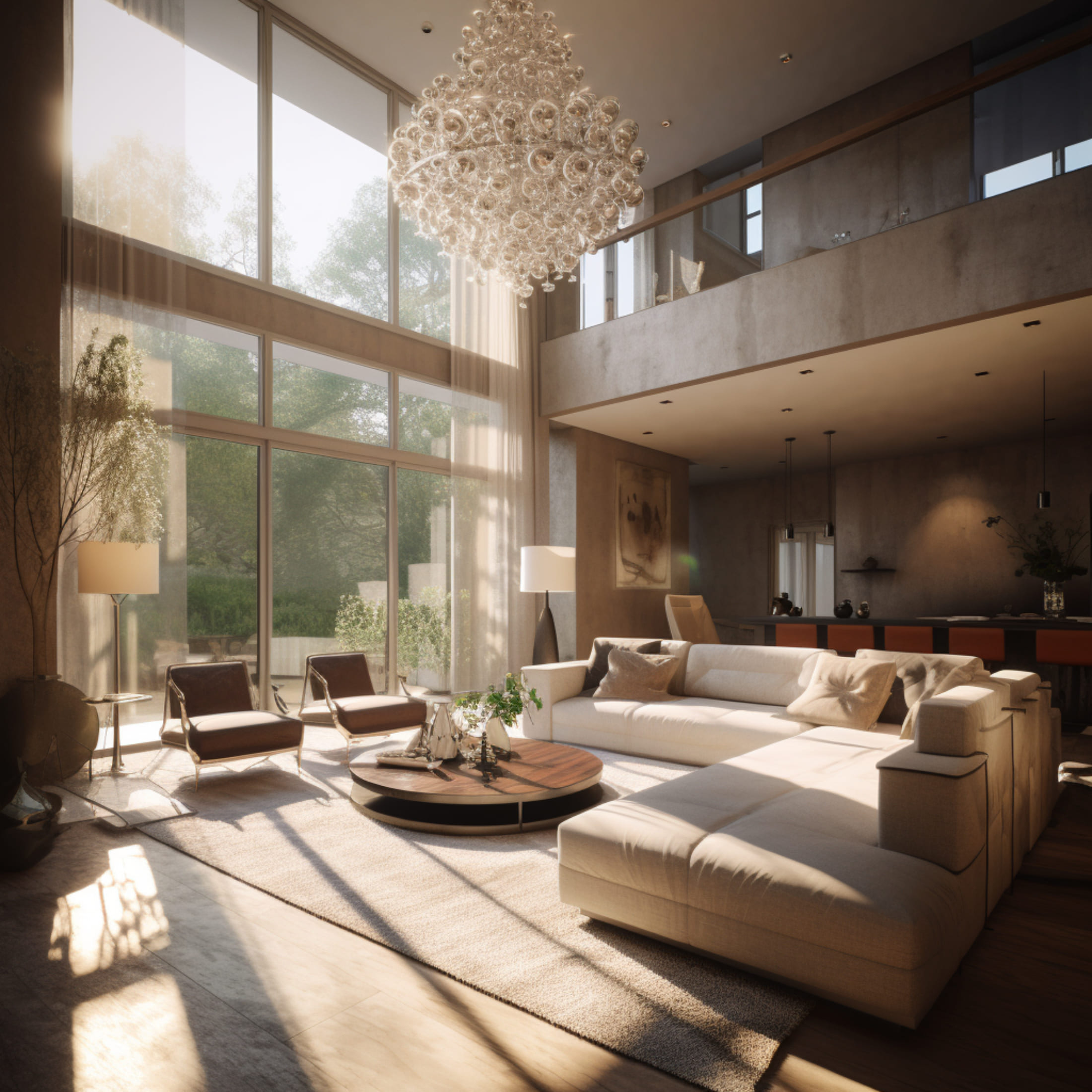 The way things evolve with this style don't seem to go towards vibrant color schemes so if you want to implement this trend in your own home you're better off keeping a neutral shade approach. Use soft, neutral colors such as warm whites, grays, and beiges. These hues create a sense of calm and tranquility while still feeling sophisticated. For a comprehensive approach, repainting your walls in a muted, neutral tone and selecting furniture and accessories that complement this palette is the way to go.
In the case of this particularly massive living room you can see how well the concrete walls are blended in together with soft rugs and couches.