This post may contain references and links to products from our advertisers. We may receive commissions from certain links you click on our website. As an Amazon Associate Rhythm of the Home earns revenues from qualifying purchases.
Share this article:
Instead of store-bought maple syrup that's often full of additives, you can make your own real maple syrup if you have access to maple trees. It's actually not that hard as creating maple syrup involves a process called sugaring. While doing it on a larger scale can become expensive and complicated, there's not a lot of effort required for small-scale operations. Sugaring refers to obtaining maple sap and boiling it.
Although it sounds quite straightforward, it's important to figure out the right time to start sugaring. There's no exact date that you can use to begin collecting the maple sap. It's generally agreed that the sap starts running when the weather outside becomes warmer. This usually translates to daytime temperatures above freezing. It's safe to say that you need to take into account some details like the area where you live. Let's take a look at all the steps needed to craft natural maple syrup that's sweet and delicious.
1.

Find the Right Trees
There are multiple types of maple trees out there but not all of them can be considered ideal for making maple syrup. Sugar maples are the best choice if you plan on making tasty maple syrup in an efficient manner. Together with black maples, they have high sugar content so it goes without saying that their sap works best for producing maple syrup. Other types can be used if you don't find enough sugar maples but you can expect the end result to be cloudy. Also, make sure you're focused on trees with at least 12 inches in diameter to ensure they're suitable for tapping.




2.

Prepare Your Equipment
Assuming you're only planning on home or hobby production of maple syrup, there's not a lot of equipment needed. You will need a spile which is a tool that gets inserted into the tree for collecting the sap. Here's a good set from Amazon to consider. It's recommended to make use of multiple spiles to collect the sap from more maple trees. You will also need a drill (to create a hole for the spile), a small hammer, and a bucket.
3.

Collect the Sap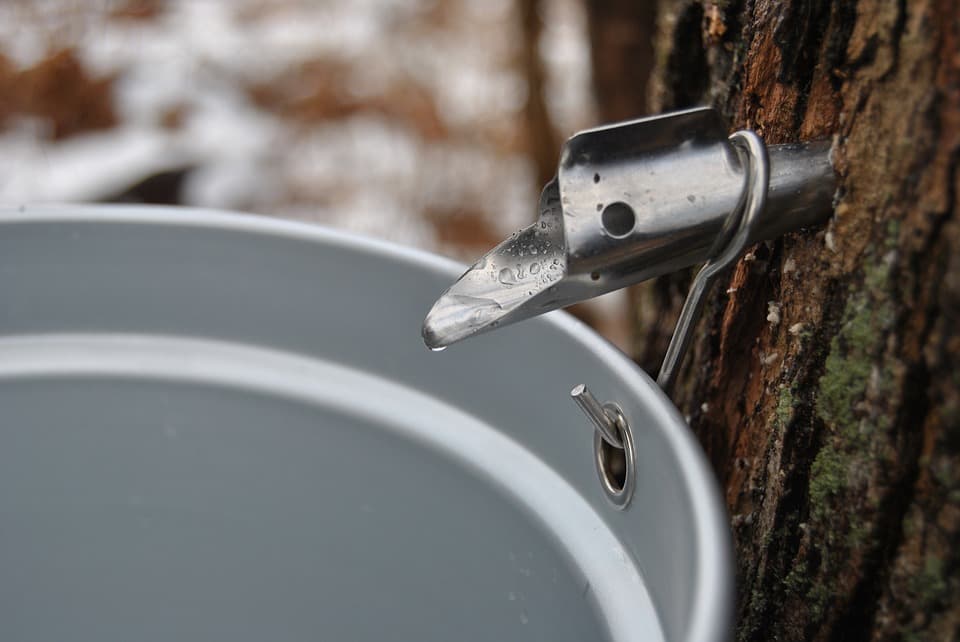 Tapping the trees has to be done to be able to collect the tree's sap. This is where the drill comes into play as you need to place the spile in a hole measuring 5/16″. It's recommended to drill a bit upward to simplify the sap dripping process. Go for an area around three feet of the ground and make sure you choose healthy wood. Sometimes there are discolored bark spots that should be avoided.




Once the spile is inserted with the help of the small hammer, hang your bucket to start collecting the sap. This process needs to be repeated for all the trees that you plan to tap. It's possible to insert multiple spiles into the same tree but try to space them evenly around it. Large scale operations will often require hoses and vacuum lines together with larger storage containers, but you don't have to bother with those when collecting the sap from just a few trees.
4.

Boil the Tree Sap
After you get some gallons of tree sap, you can start processing it to obtain maple syrup. It's recommended to begin the boiling work as quickly as possible once the sap is collected. If it takes a while to collect enough sap, it can be stored in the fridge for later use. After 40 gallons of collected sap, you will end up with just one gallon of syrup. For a successful boil, it's recommended to use a pan that has a large surface area. There will be a lot of steam created in the process, so this is why many hobbyists prefer using a boiling pot outside.




You can boil the maple sap on your indoor stove but the evaporating water can make the interior area sticky. If you lack the large pot required to boil all the collected tree sap, it's good to know that you can keep adding it as it finishes boiling. Make sure there's always enough liquid left to prevent burning the maple sap. The sugar in the sap will start to caramelize so you can expect the liquid to turn brown. When it comes to boiling time, it's important to let the syrup thicken. If you want to be more precise, we recommend using a thermometer and stop boiling when the temperature reaches 219 degrees Fahrenheit.
5.

Filter the Syrup
Depending on the source of the sap, sometimes you will discover a bit of residues leftover in the resulting syrup. That's why it's recommended to filter the syrup. You can rely on a food-grade filter to get rid of the accumulated sediment. Something like a basic coffee filter can handle this job after the syrup gets properly cool. It's possible to need extra filters if you have a large amount of maple syrup. Alternatively, the syrup can be filtered with the help of the refrigerator. Just let it sit overnight there to allow the residues to separate at the bottom.
6.

Store the Syrup
For small amounts of syrup, you can just pour it into a bottle and store it in the refrigerator. It should last well for approximately two months. If you plan on keeping larger quantities over longer periods of time, it's recommended to rely on sterilized jars and a bath canner. Make sure the syrup gets into the container while still hot at around 180F degrees. After putting on the cap to the bottle, place the container upside down to sanitize the cover. The maple syrup can also be frozen to extend its lifespan.