This post may contain references and links to products from our advertisers. We may receive commissions from certain links you click on our website. As an Amazon Associate Rhythm of the Home earns revenues from qualifying purchases.
Share this article:
1.

How to be the Best Host
Making your guests feel comfortable and welcome is vital when they're coming over for a weekend. If you wish to learn the necessary skills and methods to be the best host possible, this article will take a look at some of the most effective ways to achieve that. Not all guests can be perfectly pleased, but using these methods you should be able to better anticipate the needs and resolve issues with greater efficiency.
Becoming the perfect weekend host allows you to feel more independent and confident on your own set of skills. The hosting game isn't easy and it's safe to say that we could all use some help and advice. Take a look at these powerful ways that enable you to successfully navigate the weekend with your guests as a proud and capable host.




2.

Plan the Meals
One important aspect of being a great host is to be prepared when it comes to giving your guests meals and snacks. If you're skilled in the kitchen, you can come up with a decent menu and plan the meals beforehand. Alternatively, you can order food in advance to make sure you don't end up in an awkward situation where guests will have to ask for food.
Chances are that your guests would rather stay hungry as it feels rude to ask for a meal when you're at somebody's home. You can create a much more pleasant atmosphere when you come prepared with food and direct all the guests to it. Don't forget to stock the pantry with some easy-to-grab snacks and to always have some drinks ready at hand.




Letting the guests know when meal time comes represents a recommended solution to reduce your stress and take some of their worries away as well. Keep food items simple as you don't need to impress your guests with caviar and other fancy meals. That being said, try to maintain a good balance and don't offer them junk food. People aren't coming over for the food, they do it to stay with you.
3.

Privacy matters
One sure way to make your guests feel good in your home is by giving them enough privacy. Even if you don't have a lot of space, it's important to try to offer your guests a dedicated place where they will feel comfortable. If they need to share a room with other people, perhaps you could add a handy room divider to provide some much-needed privacy.
In case you have multiple bathrooms, you could designate a specific one just for the guests. When they notice how you pay attention to these details, the guests will feel much more welcomed in your home and less like intruders. Another aspect that you need to consider is to give your guests some down time. It's totally understandable that you wish to catch up with them, but you have to take into account their needs as well. Having a rest from time to time makes it easier for everyone to relax a bit.
4.

Prepare the Guest Room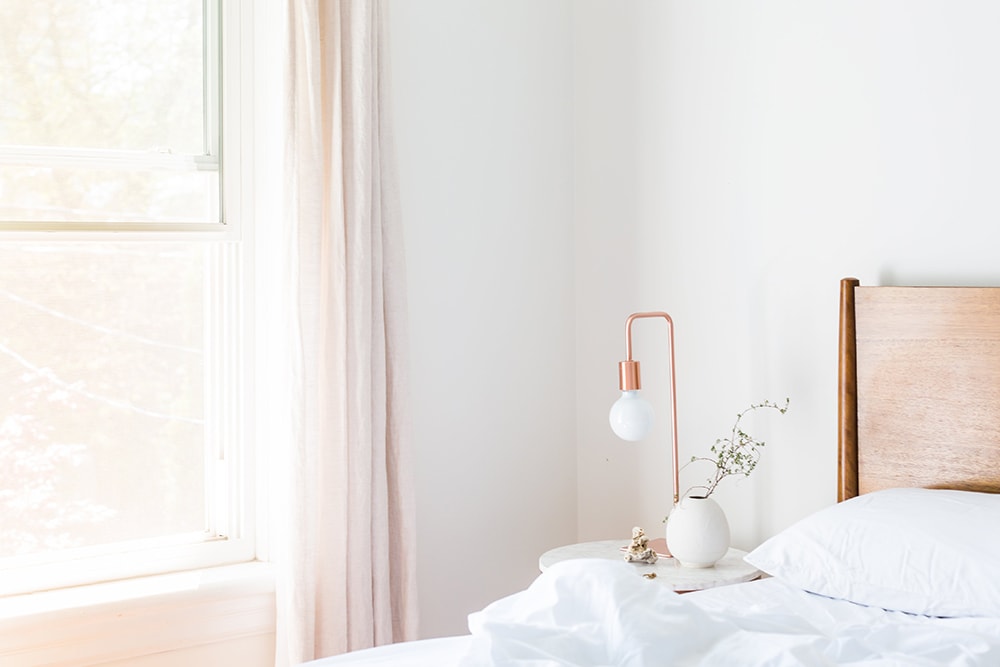 If your guests have to ask for some basic essentials then you've clearly done something wrong when it comes to the guest room. You need to prepare this place well so it's well stocked with all the necessary items such as water, fresh towels, and a bedside lamp. Add a guest room basket that contains a few helpful items such as snacks or toiletries. The idea is to create a comfortable retreat for your guests while still leaving a lot of space for them to store their own things.




A good tip to remember if you are repurposing a space as a guest room is to remove personal items. It can make them feel awkward as if they've usurped your master bedroom, so try to keep the room as neutral as possible. It shouldn't be a problem to just stash your personal stuff in a closet somewhere. In case you're repurposing a kids room, then you will need to take some extra care to prepare the space for your guests. Don't leave toys laying around and change the bedding for something more mature-looking.
5.

Focus on Cleaning
If you're thinking of doing some last-minute renovations to impress your guests, that's not always a good idea. Guests will notice that you've transformed your place just for their sake and when you don't feel completely at ease in your own landscape. Instead of trying to replace the drywall and dealing with some refinishing tasks, it's better to just focus on maintaining the home clean and functional.
The bathroom may need a retiling, but if the place is spotless, then it becomes a non-issue. Ensure that your light bulbs are fully functional and you don't lack some essential items such as toilet paper. The kitchen is one place that needs to get thoroughly clean and don't forget about dirty floors. As long as you focus on keeping every major aspect in your home spotless, the impression of your guests will be highly positive.
6.

Be Tech-Friendly
Guests will like it if you provide the WiFi password in a convenient way like putting it in the guest room basket. Another way to make it easier for them to stay connected is to provide some extra chargers close at hand which can be helpful if they forgot theirs. Maybe add some battery packs as well. It's nice to spend some time together with your guests, but it's also important to allow them to stay in touch with all their tech.




7.

Schedule Some Interesting Activities
While you shouldn't put your guests through a strict schedule, it's always good to let them know of your plans for the day and see if you can match some with them. Various activities such as family dinners or movie nights can be shared with guests while still giving them plenty of time and flexibility for their own schedule. Regardless if they're busy or plan on taking things easy, your guests will feel good knowing there's no forced togetherness.
When it comes to meals, it's probably not a good idea to eat at home all the time. Guests will most likely use an opportunity to take you out for a meal. Make some reservations for a nice local place to keep things more interesting and enjoy each other's company in some fresh settings as well.




If the weather isn't favorable and you've already been through some activities already, perhaps it would be nice to try out more creative solutions to pass the time. A good host needs to be prepared with some board games which can be fun to play for adults too, not just kids. If you know that your guests enjoy them, it would make for a great night to take out your board game collection and challenge them to a game of Scrabble or Catan.
8.

Sharing Easy Tasks
Sometimes guests offer to help you with your chores and you might feel like you should always refuse them. If it's about a simple task such as helping with the dishes then it's a good idea to accept it. It's fine to share some easy tasks, but that doesn't mean you should go out of your way to ask guests to do the chores for you. That much is obvious.
In case you have more complicated jobs in the house, you can most likely postpone them for after your guests leave. Unless you really know that person well, it's strange to ask for help when dealing with some bathroom issue or to declutter the basement. In most cases, it's a better idea to save all these difficult chores for later and just enjoy the company of the guests for now.
9.

Reading Material
Having a small book collection for your guests to browse at their leisure can make you a very appreciated host. If you're not an avid reader you can still own a few good books that can be placed in the guest room and fulfill an entertainment purpose. Alternatively, you can stock up on local publications such as newspapers and magazines.




Guests that aren't familiar with your city will enjoy the ability to be more informed and that can be easily done with a current issue of a local newspaper. Maybe they'll even get some inspiration for things to do in the city and you can do an activity together that you haven't thought of.
10.

Play the Bartender Role
One easy way to entertain your guests is by playing the role of the bartender and offering cocktails and other interesting drinks. If you're the kind of host that enjoys throwing parties quite often, you should probably invest in a home bar and keep it stocked with a wide assortment of beverages. Alcoholic drinks such as vodka, bourbon, and gin are just some of the essentials to include.
Don't forget about handy mixer drinks such as tonic and club soda. Other elements that shouldn't miss from a home bar are cocktail preparation accessories and plenty of ice. Prepare some fresh juices in advance that can be very versatile to incorporate in your cocktails. Your collection of drinks should feel accessible and abundant. It works best if you keep the bar in a way to look inviting for the guests so they can pick and choose what they like.
11.

Establish House Rules
Guests that come with children may pose some problems if their kids are behaving inappropriately. Responsible parents will usually step in if these kinds of issues arise. When it seems that children continue to misbehave, you need to talk with their parents. Be gentle but firm enough to make the parents understand that activities such as jumping on the couch or running around the house aren't permitted.
If there are other house rules that you have like not wearing shoes in your home for example, then stating them to your guests shouldn't be a problem. It's perfectly reasonable to be able to set some boundaries given how this is your home. The essential part is to make your guests aware of the house rules.