This post may contain references and links to products from our advertisers. We may receive commissions from certain links you click on our website. As an Amazon Associate Rhythm of the Home earns revenues from qualifying purchases.
Share this article:
If you're an audiophile, you're probably aware of the existence of tube amplifiers. They're highly recommended pieces of equipment when building a hi-fi audio system. That's because this type of amplifier makes use of vacuum tubes or valves to work. It's considered an older technology by current audio standards of today. Similar to the vinyl audio resurgence, it seems there is now increased demand for old-school tube amps due to their unique sound characteristics compared to solid-state technologies.
There's also the aesthetic factor that plays an important role in the decisions of some audiophiles. Tube amplifiers can bring a nice retro touch to any hi-fi audio system. The bad news when it comes to this type of amplifier is the cost. True audiophile-grade tube amps can cost quite a fortune but you shouldn't completely remove them from your options. This is because the market also provides more affordable tube amps that incorporate this eye-catching technology. We've created a list of the best tube amplifiers for regular speakers and headphones that boast superior value for the money.
Best Vacuum Tube Amplifier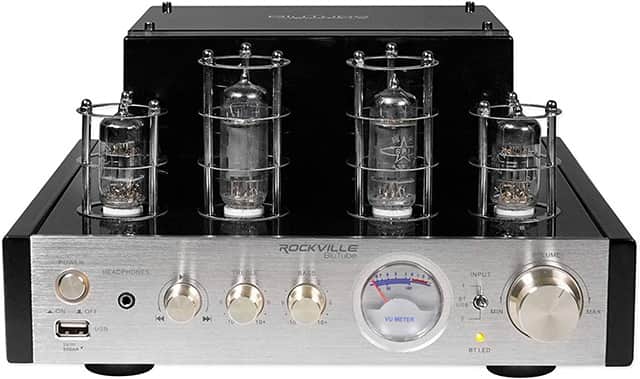 Buy On AmazonBuy On Walmart
If you want to invest in a solid all-around vacuum tube amplifier, check out the Rockville BluTube. Despite the affordable price tag, this model is able to provide audiophile-grade audio performance. Both the frequency response and total harmonic distortion levels should be satisfying for most users. The amplifier is equipped with built-in Bluetooth to let you benefit from wireless connections. There's also an integrated preamplifier and a convenient VU meter on the front panel.




The panel is also home to various knobs for adjusting the audio quality. You can customize the level of bass and treble as well as modify the volume with the help of an extra-large knob. Thanks to the 70W rating of this stereo receiver, it's safe to say that it can meet lots of home entertainment needs. Another great feature of this tube amplifier is the USB input that can be used for playing music or to charge smartphones.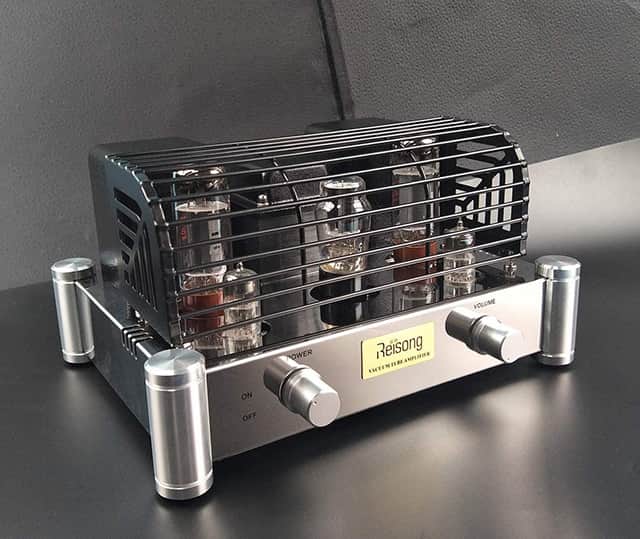 Buy On Amazon
One of the best tube amplifiers for the money comes from Reisong. The A10 EL34 model is a recommended solution if you want to experience high-end tube sound that's deep and rich. It's also important to pair it with a high-quality set of bookshelf speakers. For best results, this tube amplifier works as expected only if the speakers have a minimum sensitivity of 89dB.




Considering the manual welding construction, the output transformer of this amplifier should deliver superior sound quality. The vacuum tubes are protected by a special cover that gives the entire device an industrial vibe. It's safe to say that this is a very attractive amplifier that can match most audio enthusiasts' requirements. Keep in mind that you can expect distortion if you're trying to pair the amplifier with high power speakers so check the specs carefully.
Best Hybrid Tube Amplifier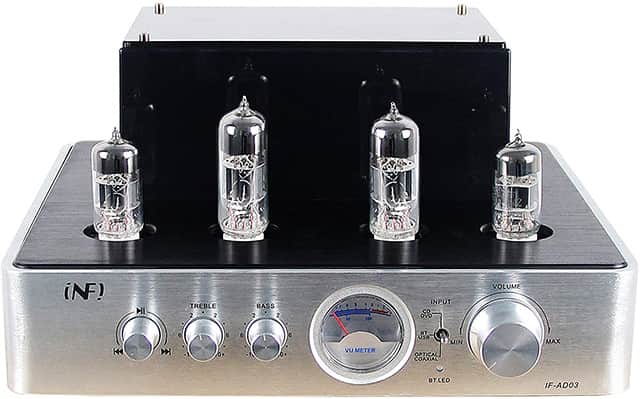 Buy On Amazon
There are lots of great tube amplifiers on the market but few can strike such a solid balance between features and cost as the 80W model from INFI Audio. This is a very elegant amp that makes use of polished aluminum finishes for improved aesthetics and durability. The vacuum tubes can be protected from damage with the help of included covers. You can use a wide range of sources with the amplifier thanks to the unit's versatile connections.




This is actually a hybrid tube amplifier that can deliver great performance even when combined with more demanding speakers. Aside from allowing connections to many wired audio sources, the amp is also equipped with Bluetooth for wireless music listening sessions. The front panel of the receiver shows the usual knobs for audio adjustments while including a VU meter as well to measure output.
Best Premium Tube Amplifier
Buy On Amazon
A premium tube amplifier that you shouldn't miss, the Muzishare X7 KT88 is recommended for those with larger budgets. This model relies on high-end components built for maximizing sound quality. It doubles as a power amplifier and features a direct link for Phono players. The unit makes use of hand welding technologies to make it worth the investment. It boasts an advanced Z11 toroidal power transformer.




Thanks to incorporating reliable 12AX7 and 12AU7 tubes, this is the kind of amp that can let you experience true audiophile-grade sound. There are different Triode and Ultralinear selections so you can adjust the sound quality depending on the type of music you're listening to. The vacuum tube amplifier comes with some handy accessories to complete the hi-fi audio experience. You can protect the tubes with a special cover and operate the amp more easily with the help of an infrared remote control.
Best Headphone Tube Amplifier
Buy On Amazon
With lots of decent features for the money, the AIMPIRE Little Dot I+ 6JI X2 could be a hit among budget audiophiles looking for a solid vacuum tube headphone amp. This model keeps a small footprint while allowing the user to benefit from an enhanced audio quality. Keep in mind that it's a hybrid tube amplifier. It features only two little tubes that need to be complemented by solid-state transistors for reaching high amplification.




One of the most impressive aspects of this vacuum tube amplifier is the compact design. It's a portable device to grab anywhere you need great headphone amplification. The two small tubes generate at least 150mW but the full output can reach up to 800mW. Using this amp is a breeze as it doesn't put you through complicated setups like more advanced units. All in all, it's a highly recommended vacuum tube amplifier at a fair price.
Buy On Amazon
Another well-designed headphone tube, the LOXJIE P20 is equipped with a strong drive circuit and military-grade electronic tubes. The device boasts an aluminum CNC design that gives it a sleek appearance. It has a very competitive price while maintaining a decent audio balance for a headphone tube amp. Operating this model is a breeze as it features only essential inputs and a volume control knob.
The strong circuits inside make this headphone amp capable of generating a maximum of 600mW. Thanks to the addition of Japanese NJW1195 volume control, the sound can be finely adjusted. While this vacuum tube amplifier won't disappoint in terms of performance, it can feel a bit lacking when it comes to aesthetics. The sleek design is great but the tubes may look too minimalistic for some users who favor a more industrial vibe.
Best Bluetooth Tube Amplifier
Buy On Amazon
Anyone who wants a Bluetooth-enabled tube amplifier should consider the Fosi Audio T20. This model boasts 50W RMS X2 power output. It's particularly great when used as a headphone amp due to the unit's compact and portable design. The tube amplifier is optimized for convenient wireless playback so it's no surprise to see that it features the CSR aptX Low Latency Bluetooth technology.
Although it's a very compact tube amplifier, the front panel of the device is full of user-friendly controls. You can make adjustments to bass and treble frequencies aside from simply being able to modify the volume level. A convenient headphone output is provided next to the power switch. The rear of the amplifier shows various connectors to add speakers and the Bluetooth antenna. Taking into account the versatility, portability, and overall value for the cost, the Fosi Audio T20 is a great vacuum tube headphone amp.