This post may contain references and links to products from our advertisers. We may receive commissions from certain links you click on our website. As an Amazon Associate Rhythm of the Home earns revenues from qualifying purchases.
Share this article:
Growing plants indoors is a popular solution for those who live in an apartment or just don't have enough garden space. As plants need light to grow correctly, you will have to invest in a special tool which relies on a set of powerful LEDs designed specifically for indoor plant growth. Mimicking the natural rays of the sun is no easy task, but it seems that LED grow lights are very potent for indoor growing. It's worth mentioning that the LED technology is superior to other artificial methods in terms of energy efficiency and generated heat.
To choose the best LED grow light for your needs you simply need to figure out your needs. Some models deliver a higher power output compared to others so it's important to choose according to the number of plants you plan on growing. Of course, different types of plants can have distinctive requirements. Another aspect to consider is whether the LED device offers a full spectrum of light. Models that do are usually more effective while also come with higher price tags.
Other details to keep in mind are the lifespan of the grow lights and the total coverage of the LED kit. Let's take a look at a cost-effective selection of LED grow lights to help you make the best decision. Whether you have a more limited budget or want to expand your little garden with a more powerful model, there's definitely a product here to meet your needs. You might also be interested in our articles about the best space heater and the best whole house humidifier.
Buy On Amazon
Viparspectra is one of the most appreciated manufacturers of LED panels geared towards indoor plant growing. A great model to consider from them is the V300 which comes from the Reflector Series of LED grow lights. They're crafted with great attention to detail for optimal coverage delivering full LED light spectrum without making disrupting noise.
There's a lot of advanced technology crammed in this compact LED panel. It may seem surprising initially, but any plant can grow successfully just by relying on the artificial light it creates. Flowers can grow with respectable density and vegetables and fruit can also benefit. Strong aluminum heatsinks together with a silent fan system keep the temperatures of this 300W LED panel within reasonable limits.
Aside from the LED grow lights, you will also find a hanging kit in the package. Comprehensive user instructions are provided as well to start indoor growing as fast as possible. Considering the solid potential it has for growing all kinds of plants, the Viparspectra Reflector Series V300 is a high-quality LED panel that you shouldn't miss. It works just as expected without heating issues and its full spectrum layout is a huge help for nurturing your favorite plants.
Buy On Amazon
With its solid power rating of 1000W, the KingLED King Plus with full spectrum light has great potential on the market for LED grow lights. Even though it's so powerful, the device has been engineered to manage its energy supply in a smart manner for optimal performance. There are 10W double chips used for the LEDs and that can make a difference in growing productivity compared to 3W or 5W units.
In terms of light coverage, this LED panel should be able to maintain any garden as long as it stays within a 3.4×3.8 feet area. As it makes use of a full spectrum light, the device ensures that plants turn out nice and healthy regardless of growth stage. It can work well for a wide variety of plants, including flowers. The power consumption of 185W is quite decent for a panel of this size.
Thanks to a powerful cooling system there's no need to worry about overheating problems. The LED panel features a durable design with thick board holes for better heat dissipation. Overall, KingLED did a solid job with this LED grow light. The King Plus 1000W model matches the needs of more demanding indoor plant growers for a very competitive price.
Buy On Amazon
Another reasonably-priced LED grow light to keep in mind is the Roleadro HY-MD-D169-S which boasts a powerful little artificial light for your indoor plants. With its 45W of power, this unit is suitable for a smaller light coverage. Even if there aren't that many LEDs packed in this panel, they come with an optimal light spectrum ratio to ensure normal plant growth.
Thanks to its 2.25:1 ratio of Red LEDs to Blue ones, this LED grow light makes it a breeze to grow a wide variety of plants. There are 169 LED pieces in total of which 117 are the red ones and 52 are the blue ones. These are the ideal wavelengths for carbohydrate synthesis and chloroplast activity. One aspect that makes this model stand out is the durability. The thick aluminum alloy plate helps a lot with the cooling process and the panel's lifespan is guaranteed for 50,000 hours.
There are multiple applications like small indoor gardens and potted plants for which the Roleadro HY-MD-D169-S seems like a great choice. To maximize the growth effect make sure the panel stays at the correct height between 18 and 48 inches. All in all, this is a solid LED grow light considering the performance and durability. It may not be ideal for larger applications, but it's worth the cost for smaller ones.
Buy On Amazon
The Phlizon 600W model is a capable LED grow light with a focus on safety. It doesn't rely on fancy-looking reflector spotlights because of their poor heat resistance. In the case of short circuits, this model won't pose a fire risk. Double cooling fans are also integrated to extend the life of the LED panel as much as possible.
This model comes with a full spectrum LED light to deliver the essential energy for plant growth. There are two buttons with different functions for encouraging growth more efficiently according to the current stage. The first switch uses blue and white LEDs and works best for seedlings while the Bloom button uses a combination of red and white LEDs better suited for flowering. You can obviously use them both operation modes together if you want to ensure maximum plant growth.
Great for promoting growth for all kinds of plants including fruits and flowers, the Phlizon 600W comes at an attractive price for what it can do for your indoor garden. The downside of its extra safe design is the loudness created by the fans which could be potentially disrupting in quiet environments. Still, the LED lights are bright and the panel has sufficient coverage to help you grow plants in an energy-efficient style.
Buy On Amazon
Those who have less demanding needs should consider a more budget-friendly LED grow light like this 75W model from Osunby. Thanks to its reliable combination of UV and IR light with red and blue wavelengths, this little panel represents a satisfying choice for any indoor plant grower. The low power rating also translates to a minimal power consumption.
What makes this LED panel fairly durable in time is the high luminous efficiency which means you can enjoy a long grow light lifespan. These LED grow lights feature an intense brightness so it's recommended not to look directly at them. Cooling the LED system is done through some heatsinks without the need for a noisy fan as this level of power is too low.
While the UV and IR LEDs look like they're not working, there's nothing to worry about them. This level of increased dimness is absolutely normal. All things considered, this 75W unit is a solid LED grow lights panel which incorporates basic but effective features. It doesn't run very hot and its 15×15 LED layout should help any plant grow to maturity.
Buy On Amazon
Indoor plant growing has become a popular hobby nowadays and that's in part thanks to economical and practical LED light solutions like this grow panel from MarsHydro. It's available in multiple power options, but we'll focus on the 300W model which seems to be capable of delivering a great ratio of grow light performance per energy consumption.
Once you receive this panel, there's no complicated setup process that you have to go through apart from hanging it above your little garden. Then you just need to turn it on and let the full spectrum light take care of the growing process for your plants. The ideal area that this model can handle is a 2' X 2' surface. It's good to know that this LED panel has been built in a clever way so as in case of damage to one component, it shouldn't affect the entire set.
An excellent LED panel to grow a wide range of plants and successful for either soil-based types or hydroponics, the MarsHydro LED grow light deserves a top spot on our list. The 5W LED chips used in this model make use of a full spectrum of light to efficiently start up and maintain the critical growth processes of plants.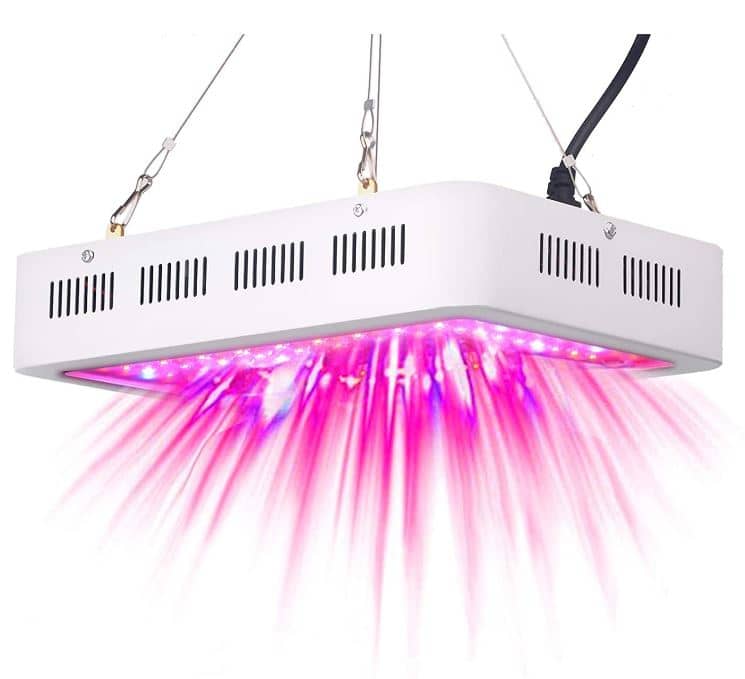 Buy On Amazon
One of the most advanced LED grow lights currently found on the market is the Dual-1000 from Recordcent. With the help of double 5W LED chips and a professional light spectrum you can be sure that your plants will grow well even indoors. As this is a 1000W model it packs a lot of growing power to help those who want to cover a fairly big area with their favorite plants.
When it comes to cooling, this model provides a reliable thermal design thanks to the way the LEDs are arranged directly onto aluminum boards for better heat dissipation. Two fans are incorporated to eliminate excess heat which can hurt the plants. The main advantage of the dual diodes used for this LED panel is the way a fuller light spectrum is created from combining different wavelengths.
From seedling to flowering, the RECORDCENT Dual-1000 can take your plants through all the important growth stages to reach a healthy maturity. This panel represents a highly economical method for producing healthy plants indoors. It also comes with a UV sterilization function and solid overheat protection. Before checking out other models, take a look at this extremely cost-effective LED grow light.
Buy On Amazon
One inexpensive option for a reliable LED grow light is this 50W model from Shengsite. It's performant for its cost as it makes use of 250 quality LED beads. A good red/blue ratio is used for encouraging plants to grow in the most productive manner. Indoor growers can expect leaves to appear after approximately 12 days.
While the area this LED panel can cover isn't very large (18 square feet at best), it can definitely work nicely for small applications. If you pay attention to the correct hanging height (8 to 58 inches) and the current growth cycle of the plant, the results can be very satisfying. Excess heat concerns are addressed by the strong heatsinks and the lack of fans means the panel isn't too noisy.
One great benefit of getting a small LED grow light like this one is the low power consumption. This model also features a lightweight design and the purple-pink ambiance creates a pleasant overall effect. Simple to set up and use, the Shengsite 50W LED panel could be a solid addition in the toolkit of any indoor plant grower.