This post may contain references and links to products from our advertisers. We may receive commissions from certain links you click on our website. As an Amazon Associate Rhythm of the Home earns revenues from qualifying purchases.
Share this article:
Preparing the baby's room in the earliest months can take some considerable effort if you want to create a cozy sanctuary. There are lots of design options to consider if you're planning for a baby girl bedroom. The nursery needs to be a calm environment for a baby so flashy colors are not recommended. Even if you create the right tonal combination for a relaxing color scheme, other details matter as well. Bedrooms designed for baby girls should contain a nice range of textures to feel like a welcoming place.
Considering how parents spend a lot of time in the nursery room, it's a good idea to create a stylish design properly balanced in terms of functionality. Incorporate colors and patterns that you find appealing but that also provide the right mood for your baby girl. As we'll see in the following inspirational ideas, decorating a nursery isn't such a huge challenge once you figure out the best elements that match your personal style. Check out these beautiful baby girl bedrooms that will help you in your remodeling projects.
1.

Neutral Style Baby Girl Bedroom
Most parents focus on creating a pink bedroom for their baby girl. If you prefer a more neutral style, consider using a gray color scheme. A light tone doesn't feel very cold and can become quite welcoming with the help of pink accents that provide a warm effect. Enhance the sense of coziness for your gray nursery by opting for multiple textural elements. The great thing about gray is that it can also be incorporated nicely into a baby boy's room.




2.

Gallery Wall Baby Girl Bedroom
A gallery wall could be the right solution to add a decorative touch to the empty walls in your baby girl's bedroom. Gallery walls are not often used in this room, but this is an interesting decor approach, especially if you use small frames. Pick a selection of cute kid-friendly artworks such as stills from storybooks or anything else that you consider suitable for a nursery. Make sure you find the right place to set up the gallery wall. It's a good idea to create a stylish arrangement right above the baby's crib.




3.

Baby Girl Bedroom With a Pop of Color
If you decide to use a neutral-toned color scheme for the baby girl's room, it's recommended to add some pops of color to prevent the space from feeling too monotonous. This is the place where your beloved child sleeps cozily after all. A few splashes of bright yellow can energize this white baby girl's bedroom. Don't go overboard with strong color shades. Just one or two colorful accents can easily enhance the style of this neutral space.




4.

Baby Girl Bedroom With Elegant Chandelier
When it comes to decorative pieces to include in your baby girl's bedroom, it's safe to say that chandeliers don't typically come to mind first. You'd be surprised to find out that an elegant lighting fixture can work amazingly well for certain nursery designs. This room features a stylish combination of gray and pink elements while the large windows bring plenty of natural sunlight inside. The graceful chandelier represents the final touch that ties everything together.




5.

Baby Girl Bedroom With Glamorous Vibes
Parents who prefer a luxurious vibe for the bedroom of their baby girl should try going all out on glamorous elements. The standout feature of this nursery is the stylish floral wallpaper that covers the entire wall. It packs quite a visual punch but it doesn't feel that overwhelming to the eye thanks to the use of pastel color tones. Glamorous details such as the mid-century modern lighting fixture and gold cot frame finish off the sense of luxuriousness exuded by this baby girl's room.




6.

Mix of Patterns
Baby girl bedrooms should be designed with a focus on cozy playfulness. That often involves the use of dazzling patterns which contribute to a fun atmosphere. Consider making some interesting combinations by using one pattern for the wall and a different one on the rug. Maybe throw an extra patterned bedding accessory or another decoration to get a truly bold look. Keep the color scheme more neutral if you're afraid of unbalancing the overall vibe of the room.




7.

Modern Pink Baby Girl Bedroom
If you prefer a traditional pink color scheme for the bedroom of your baby girl, it's a good idea to choose a trendier shade instead of the classic options. Warmer tones are quite popular nowadays, especially pink styles with a rusty tint. The best part of opting for a more mature-looking pink makeover is that you don't need to bother with complex transformations of the room once the child grows up. It's safe to say that warmer pinks can withstand the test of time more effectively compared to sugary pink styles.




8.

Bohemian Design
Some people try to design the nursery as a reflection of the decor style used for the other rooms of the house. This could be a solid approach for maintaining visual consistency. For example, if you're a fan of bohemian design, it would be worth replicating the aesthetic for the bedroom of your baby girl. Consider using palm leaf wallpapers and cozy rugs. Macrame decor pieces are also recommended. Focus on textural details such as the tassel chandelier in this room.




9.

Sophisticated Beauty
Baby girl bedrooms tend to be decorated with cute animals and fun pastel colors. If you like the idea of breaking the usual conventions, it's worth considering a more distinctive design approach. Bring an air of sophistication to the nursery by opting for a color palette centered on earthy hues. You can make the room feel more mature by choosing classy furniture elements and traditional accents such as a shaded floor lamp. This baby girl room features an elegant reading nook for enjoyable storybook moments.




10.

Baby Girl Bedroom with Scandinavian Flair
Minimalist styles work great for nurseries because of their airy atmosphere and overall charming visual appeal. Incorporating some Scandinavian-design elements into your baby girl's bedroom could be a smart idea to create a beautiful makeover. You can create a statement wall in a warm shade of pink that lets simple white furnishings contrast more effectively. The cozy rug offers some extra textural depth in this minimalist space. When it comes to decorations, aim for small accents such as the fairy lights placed on the vintage armoire.




11.

Sensory Zone Baby Girl Bedroom
Small babies don't use the bedroom just for sleeping. They can also enjoy this relaxing space to explore the world. Provide some opportunities for sensory exploration through appropriate decor pieces focused on different colors and textures. A multitude of stylish throw pillows or other textiles can successfully accomplish this purpose. This is a great example that encourages the stimulation of the senses while also improving the overall visual appeal of the baby girl's bedroom.




12.

Carnival Atmosphere
Here's a truly unique idea that will make any baby girl's bedroom stand out from the rest. It involves the use of carnivalcore aesthetics to add a fun circus-inspired vibe to the nursery. This is a recommended style if you want to try a bolder design for the room of your baby, though it's likely not ideal for everyone. Striped patterns and vibrant accents create a dazzling appearance that's easily reminiscent of a circus camping tent. The contrast between hot pink and turquoise is also a welcomed combination to match this aesthetic.




13.

Baby Girl Bedroom With Forest Theme
Are you looking for a different vibe compared to the classic girly baby room dressed up in pink? A forest theme could be the answer. It's focused on a neutral design suitable for either boys or girls. Check out this stylish nursery that evokes a feeling of deep tranquility through its nature-inspired decals and cozy color palette. Thanks to letting white tones dominate the room, the space feels very breezy. Spread various animal patterns and plush textures to complete this kind of nursery look.




14.

Rustic Aesthetic
Although it appears more fitting for a baby boy at a first impression, this rustic-style nursery can work really well for the bedroom of a baby girl too. It shows off distinctive decor elements that feel inspired by a cabin getaway. Lots of items draw the attention but the birch wallpaper and plush toys seem to stand out most effectively. The woodland theme of the nursery is completed through the use of wooden furniture and warm decorations.




15.

Pale Pastels
When it comes to the color scheme of a baby girl's bedroom, it's recommended to focus on pale pastel tones. This is a stylish design approach for creating a cute and sweet look that seems effortless. Aside from the aesthetic aspect, using a pale pastel color palette is also worth it to improve the atmosphere with a calming vibe. Babies can sleep better when surrounded by soothing colors. Don't forget to include a nice variety of stuffed animals and other plush toys to take the adorableness to a new level.




16.

Canopy Fun
If there's one thing that can instantly enhance the style of a baby girl's bedroom is the addition of a beautiful canopy. It can bring a sense of serenity when incorporated into a warm pink color scheme. The texture of the canopy pairs wonderfully with other soft elements of the space such as the rug or the stuffed toys. The result is a cozy atmosphere that any nursery can benefit from. A vertical canopy tent could be handy to add if you're short on space and integrate the bedroom and playroom in a single place.




17.

Monogrammed Accessories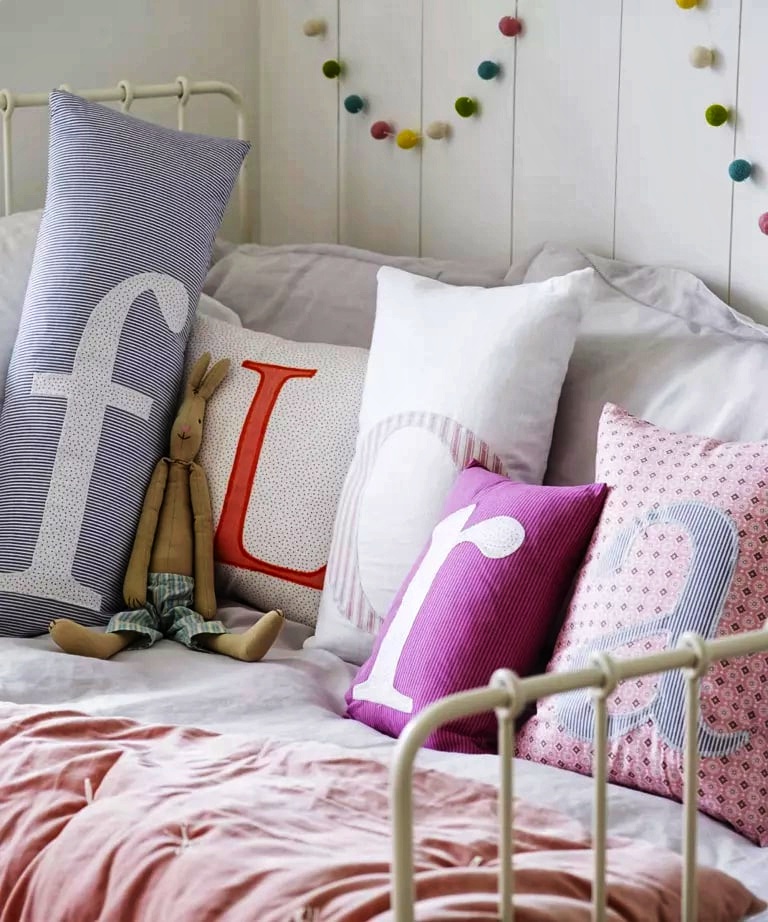 Decorating a baby girl's bedroom can be challenging if you wish to add a unique character to the area. A simple method to set your nursery apart from others involves the integration of monogrammed accessories. They can form the name of the baby girl and bring an air of distinctiveness to the room. Throw pillows are some of the easiest accessories to apply this decor idea. However, wall decals are also very practical if you're thinking about customizing the appearance of the walls.




18.

Moroccan Design
A Moroccan-inspired makeover represents the best choice if you want your baby girl to feel like an exotic princess in her bedroom. This theme will often incorporate boldly-colored elements, but you don't necessarily have to go overboard with the style. Just a few well-chosen accents can infuse the space with Moroccan vibes. A gorgeously patterned area rug can provide a lot of visual interest. The warm pink of the curtains forms a great pairing with the starry decals on the walls. The presence of a burnt orange pouf represents another elegant detail.




19.

Pure White
Still undecided about the best color to use for your baby girl's bedroom? Consider using a crisp white palette. It's safe to say that you can't go wrong with this kind of timeless look. The clean vibe allows textures and patterns to shine while the breezy atmosphere will provide a soothing sensation to the child. A simple white color scheme allows you to play around with various colorful accents and decor pieces if you're looking to update the style of the nursery more often.




20.

Pink Ceiling
Pink still remains at the top of the preferences for decorating a baby girl's nursery. If you're looking for an inventive way to incorporate this color into your own decor projects, check out this bold ceiling. It makes this basic white nursery feel invigorating as the bold color punch provides some welcomed energy to the space. Include small pink accents throughout the baby girl's bedroom to maintain visual cohesiveness. This kind of aesthetic can only be pulled off if you properly integrate the ceiling with other elements of the room.