This post may contain references and links to products from our advertisers. We may receive commissions from certain links you click on our website. As an Amazon Associate Rhythm of the Home earns revenues from qualifying purchases.
Share this article:
Whether you are planning your dream home or you simply want to find out more about this topic, you are in the right place. There is a plethora of different home designs and architectural styles. Fortunately, we've done all the research on your behalf, and we curated a list of architectural styles that you can check out in the following sections.
1.

Contemporary Style
One of the most recent styles is known as contemporary design. Typically, you will find large houses with prominent glass windows. It is not uncommon to notice frequent geometrical shapes, such as rectangles. This style combines a preference for natural light with rough stones. It is quite plain in terms of details, favoring open, large indoor spaces.




2.

Ranch Style
One of the most common home styles in the US is perhaps the Ranch style home. You can easily recognize it due to the elongated shape and low roofs. This home style was created in the 1920s, but it has become popular in the second half of the century. It has a friendly look, usually surrounded by a beautiful garden with plenty of colorful flowers.
3.

Greek Revival
As the name suggests, the style is reminiscent of the golden Greek age. In other words, it is a house with symmetrical features, boasting simplicity and well-defined proportions. Columns are a staple when it comes to Greek architecture, while white paint is a must for most buildings as it mimics the ancient Greek marble.




4.

Craftsman
The craftsman architectural style was born in the US in the 1800s. As it's a by-product of the Industrial Revolution, this style focuses on the beauty of hand-made or natural materials. Nowadays, the style still aims to preserve natural beauty. Wood is a common choice, without many embellishments. This home style is beautifully accentuated by rich nature and greenery.
5.

Arts and Crafts Architecture
Arts and Crafts is a more complex movement, but it is quite similar to the craftsman style. Sometimes, it was even used interchangeably, although the two terms are not synonymous. Similar to the previous home design, it emphasizes the importance of hand-crafted details and natural materials. You can have an arts and crafts home made of bricks, stones, or even hammered copper.




6.

Adobe Home Style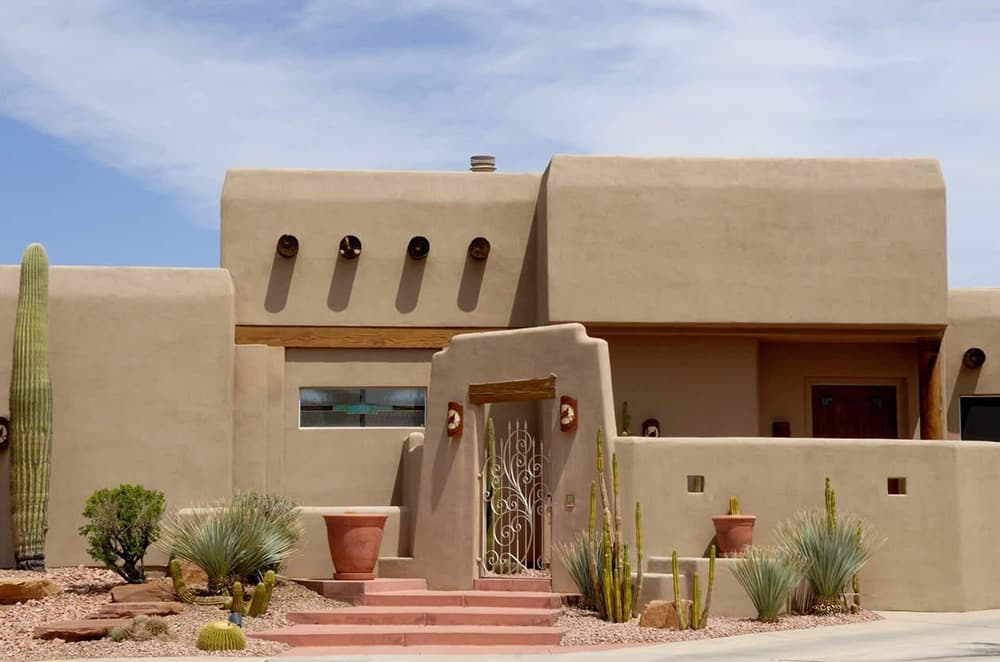 Adobe style refers to mud-brick – as the term suggests, the materials are made of organic compounds, including mud. It is one of the first materials in the world used to build homes. As a result, most adobe style homes look like "earth buildings". Adobe bricks can be the size of the regular brick we use nowadays or reach up to two yards.
7.

French Country Style
French homes come with timeless beauty and elegance that we simply cannot overlook. Usually, these homes have only one story with numerous small windows. In most cases, the French house is accompanied by a large driveway, a beautiful landscape in front of the main door, and other exquisite components with an extra touch of elegance.




8.

Beach Style Houses
We all know and love beach style houses. They look fresh and usually come with multiple stories, so you can enjoy the view and the ocean or sea. If you have a highland field, this type of house is a great choice. The wide porch, the predominance of wood, and a large living area are the staples of this home design. A related style is known as the tidewater home style.
9.

Cape Cod Architecture
Cape Cod refers to a common home style you can find in the US – so common that probably any kid would draw this shape when they think of a house. As you can see in the picture above, Cape Cod is simple and neat. It saves time and has a few specific features, such as a rectangular shape and a small footprint.




10.

Tudor Architecture
Commonly found in England, the Tudor style comes from the period with the same name in the 15th century. With a specific charm, this home style makes you think of fairytales, old books, and everything English. The style was revived in the US in the first half of the 20th century. You can recognize the Tudor architecture by red bricks, fine details, and often an exterior in two tones.
11.

Georgian
The Georgian style is an opulent 18th century home design. Also common in England, the symmetrical façade and two-story plan can hardly be mistaken for another style. However, these homes can vary significantly, but it is always standing out through elegance and sophistication.




12.

Queen Anne Architecture
If you love exuberance, Queen Anne is exactly what you need in your life. It is a home style with asymmetrical shapes, a gabled roof, and a covered front porch with columns. This style served as the evolutionary step from the boxy shape of the previous homes. You may also notice a heavy amount of details and ornaments related to the roof, windows, and many other intricacies.
13.

Mediterranean Style
While "we're still in Europe", the Mediterranean style is another staple that travelled all the way to the US in the beginning of the 20th century. The tiled roof has no peaks, unlike other models, and the house itself may have an adobe construction, as discussed in the previous section. Usually, these homes have a large garden in front of the house, and it is not rare to find an opulent fountain and plenty of freshness.




14.

Richardsonian Romanesque
Reminiscent of old-day castles and suitable for deep pockets, Romanesque houses are the definition of opulence. Look for a corner tower, a hidden entrance, and a breath-taking overall design. This home style was created by the most popular architect in the post-Civil War area, in Boston, known as Henry H. Richardson. He draw his inspiration from the Romanesque Epoque.
15.

Victorian Style
Victorian style is one of the most popular architecture types around the world. It is a staple of the Victorian era, but the modern styles may contain different elements as the it was revived numerous times. This style is nowadays associated with old, "haunted" homes we find in scary movies – they can be a mix of different colors, materials, and they have accentuated verticality. Most Victorian homes built nowadays have common elements with Queen Anne style.




16.

English Cottage
If you love old-fashioned homes, you should perhaps look into a cozy English cottage. The humble design comes with only one level – the ground floor, a low roof, and is often associated with the rural areas in England. There are numerous variations nowadays that include more modern elements, such as the picture above.
17.

Bauhaus Architecture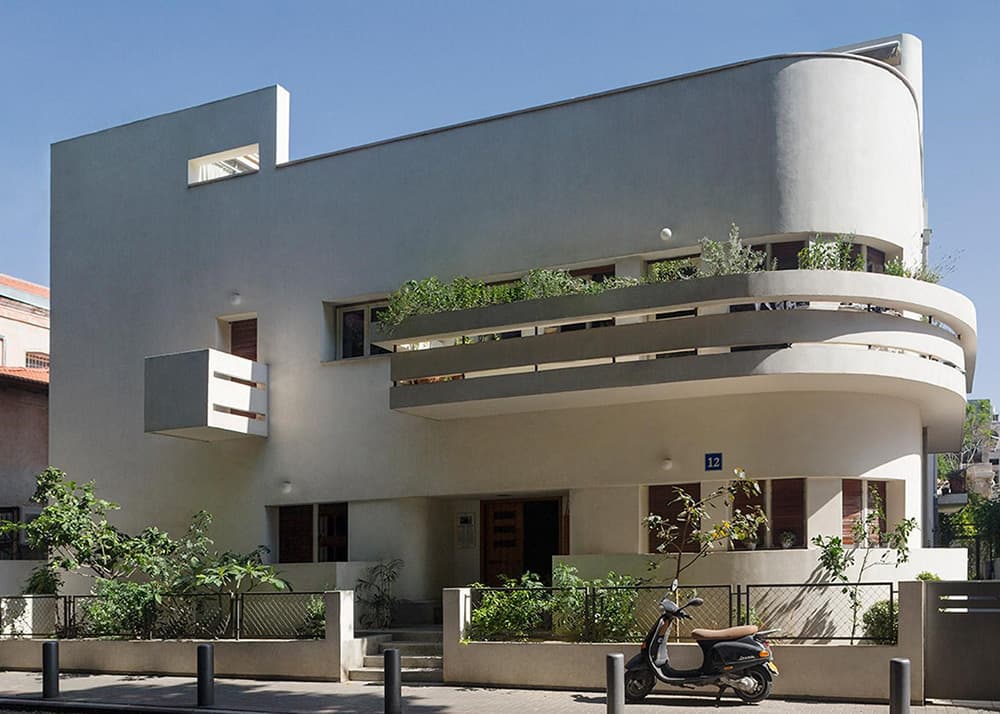 Bauhaus is a German style that was invented with the purpose of rebuilding the world after the World War I. As a result, it focuses on a simple and practical design that makes the best of the space available, without numerous embellishments. This type of house is all about purpose and rationality, so it is not uncommon to find straight, plain designs, similar to the picture above.




18.

Dutch Colonial
The Dutch colonial boasts a large sheltered patio and a double-pitched roof. The ground floor is large and spacious, while the first floor often comers with dormer windows. This house is typically made of stone and bricks with little to no decorations. It is usually wide rather than deep, focusing on simplicity and practicality.
19.

Country House
Country houses are large dwellings placed on large, open, wide fields. Typically, the landowner only had the property itself, while the feudal state was the owner of the land. This was common in the European feudal style and it was the home of nobility. Nowadays, country houses can be significantly smaller, but they retain the elegance and opulence.




20.

Brutalist Architecture
The brutalist architecture contains blocks and other simple "rough" elements. It comes with plain geometrical shapes and has a concrete-like color, without any details or ornaments. This style had been adopted by numerous institutions before the 1980s, but you can still find its influence nowadays.
21.

Tuscan Style
With a rustic vibe, Tuscan architecture is stylish and similar to the Mediterranean style. All materials used are local – such as limestones. These homes are usually so sturdy that they are used by numerous generations, so they have an antique flair.




22.

Italian Villa
The Italian villa is an impressive dwelling that was created in the 19th century. With elongated, slim windows, and a symmetrical structure, the Italian villa can still be found in numerous towns in the US. It is beautiful, simple, and has a timeless design that takes advantage of the space available.
23.

Prairie Style
The prairie style is perhaps the first American house style, not considering the craftsman style that came from England. The main feature of this architectural style is the strong lines that blend so well with the North American prairies. These homes typically boast an open, airy ground floor with plenty of light.




24.

Shingle
As the name suggests, this home design uses shingles, although there are some variations to it. Originally invented in North America, shingle-style houses have one main gable, like the photo above. They also emphasize little décor and ornaments, focusing mostly on verticality.
25.

Southwest
The Southwest style is simple but scrumptious. These houses usually have only one story and a pronounced flat roof. Porches are covered, and you may find a few scarce columns. They are usually stone-made and have plenty of shaded areas. As you perhaps already noticed, this style has some common elements with the Mediterranean style.