---
Deciding on cloth diapering can be a daunting choice when you are about to have a baby.  The world of diapering is an overwhelming one and once you have that sweet baby in your arms, there is nothing that you want to be a hassle in your life.  There are entire sites devoted to cloth diapering;  the covers, the types, the sizes.  It's truly enough for most new parents to throw up their hands, even before they get started. The following guide will hopefully demystify the task of cloth diapering your babe. Below are the basics and a tutorial on the most frugal system of cloth diapering.
The most economical option in cloth diapering is done using a waterproof cover over a fastened prefold diaper.  You can find prefold diapers and diaper covers by easily searching the internet or a diapering store.  There are also many sellers on Etsy who sell handmade goods.
A prefold  is a cloth diaper that has folds sewn into place with a center panel containing 6-8 absorbent layers (where greatest absorbency is needed) and 2-4 layers on the two outer edges. Prefolds can be made of flannel,cotton, hemp, or organic cotton. They are very easy to sew up for yourself as well.
Below you will find three ways of folding a prefold.  Each one is just as absorbent as the next, but personal preferences may come into play.
For each way of folding, you will begin with a flat prefold. 
The first fold, and my most favorite, is called the bikini fold.  This is done by simply twisting the center of the prefold as shown.
Lay the baby on the twist center and fold up the front, securing the back wings of the prefold at the front using diaper pins or a diaper fastener such as a Snappi. 
This fold is my favorite, as it seems to have the most close fit.
The second fold is called the trifold. It creates an absorbent pad that you place inside a diaper cover.  To do this fold, you will fold the two outer panels of the prefold over the center panel.  If you have a smaller baby, you can fold the front of the trifolded prefold upwards a few inches to add absorbency to the front of the diaper.
This fits perfectly inside of a diaper cover and eliminates the need for pins or a Snappi.
The last fold is the angel fold. it  is the most traditional fold style.  It is done by folding in the front corners of the prefold as shown.
You simply place the baby on the diaper as shown and fold up the front, more narrow section of the diaper. 
The angel wings at the back of the prefold will wrap around the baby's waist from back to front and can be secured with diaper pins or a Snappi to hold it in place under the diaper cover.
If you need a little extra absorbency for heavy wetters or for nighttime, you can use a cloth diaper doubler, such as a microfiber, flannel, terrycloth, or bamboo liner for extra absorption.  Place the doubler on the center panel of the prefold before folding the prefold diaper up, making sure that only natural fibers touch the baby's skin. 
All of these diaper folds above need to be covered with a waterproof cover to be effective.  Cloth diaper covers serve to give a waterproof outer covering to go over prefold or fitted diapers. Diaper covers are usually made of PUL fabric, laminated cotton, wool, or fleece and are usually secured with velcro or snaps. They are quite simple to make for yourself as they can be knitted, crocheted or sewn.
Fiber covers are good for a more breathable option.  They slip over the fastened prefolds and the wool helps to wick moisture away from the baby's skin. 
Longies are another option for a fiber cover. They not only keep the baby dry, but they also provide warmth.
Some babies have sensitivities to wool; in this case, you can use a waterproof diaper cover as shown below.
Diaper covers come in different sizes for babies of different ages.  These have a more genuine fit, but as fast as babies grow, they will go through many diapers and sizes over their diapering career.
Diaper covers also come in the ever-popular and most economical one-size option. These are geared to be worn for the entire time that your baby is in diapers.  
Some diapers have snaps on the sides for easy adjustments to baby's size.
Others have velcro closures.
The one-size option of cover usually has snaps that rise up the front of the diaper.
To adjust the rise of the diaper, the two bottom levels of snaps can be secured to the upper level. 
This allows for the diapers to be worn from newborn up to the age of potty training.
When buying or making these diapers, you want to be sure that there is either a gusset, or elastic at the leg holes and the back of the cover. 
This ensures that there will be no leaks when being worn.
Numberwise, you should have enough diapers to last about a few days between doing laundry. Some estimate that 30 diapers are needed for a newborn since they need more frequent changes. An older baby or toddler may need only 24 diapers. You will also need between 5 and 10 covers.  Waterproof covers can be air-dried between uses, without laundering if needed.
Washing and caring for your cloth diapers is much simpler than you probably think it would be. They can be laundered in a washing machine and even in a dryer, although I have found that cloth diapering supplies tend to wear better when they are air dried. There are several different methods of laundering, but most are quite simple once you get the hang of it.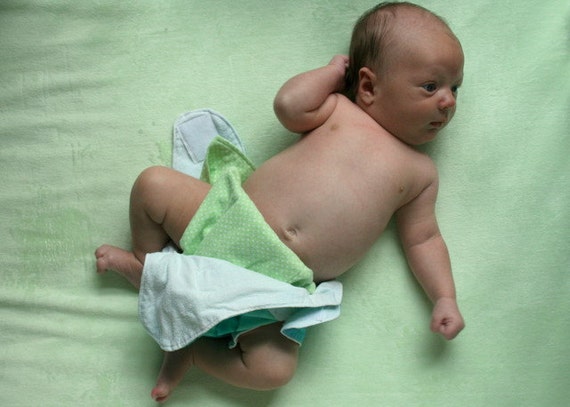 If you are interested in sewing your own cloth diapering supplies, including some of the diapers and prefolds shown in this tutorial you can find tutorials and patterns for them here.
:::::::::::
Julia Daby is a Registered Nurse who  lives happily with her husband and little boy in the Adirondack  Mountains of New York.  She enjoys crafts of all kinds, eating good food, reading, and being outdoors.  Most important of all….she enjoys spending time with her family and friends. She has a small store on etsy where she and her twin share sewing and fiber tutorials to inspire creativity in other Mamas.  She writes about life, family and creativity at Happiness Comes and We Deserve This.  She also can be found at Windfall Dolls, where she and her sister give away Waldorf inspired dolls to deserving little ones.